Getting Ready For Beach Season With The Total Gym XLS
How's that New Year's resolution working out for you? Like many others, I signed up for a gym membership in January with nothing but the best intentions. But it's been over three months now, and I've barely set foot in there. Hundreds of dollars wasted on a gym membership that's not being used.
Sure, it's easy to make excuses about why you didn't go – The gym is really crowded, the people there are intimidating, my schedule's too busy, I don't know what I'm doing, etc.
And before you know it, three months have passed and you're no closer to your goals. Worse yet, it's now just a few months away from beach season, and you've still got that unsightly beer gut. What can you do?
Many people will resort to diets, but the truth of the matter is that dieting alone can't give you the results you want. The only way to get a fit and toned beach body is to develop a workout plan designed to sculpt your muscles and melt away those excess pounds.
My solution? The Total Gym XLS. Yes, the same gym equipment that Chuck Norris and Christie Brinkley have been endorsing for over a decade. The Total Gym XLS provides an entire gym full of equipment in a single machine, and in just 10-20 minutes a day you're able to get in a full body workout.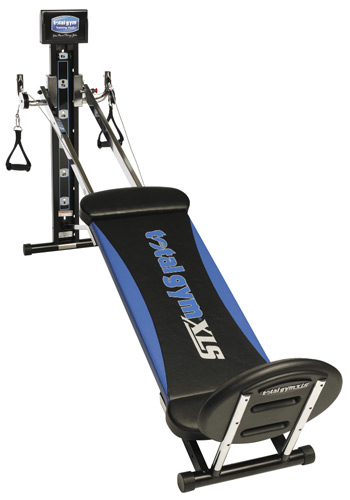 I decided to go with an in-home gym system over a traditional gym membership because of the convenience factor. I can wake up at 7:15am, whip up a protein shake in the kitchen, do a 20-minute workout on the Total Gym XLS, hit the showers afterwards, and be ready to leave for work at 8:00am.
Going to my local gym would add an extra 30-45 minutes to my schedule, when you factor in travel time and waiting around for free machines. Personally, I'd much rather enjoy an extra 45 minutes of sleep over waking up at 6:30am each morning!
Unlike other home gym equipment, the Total Gym XLS isn't a space-hogging fitness machine. The Total Gym helps you strengthen and sculpt every major muscle group in your body using a single glide board and a few handy attachments, and works by making you lift a percentage of your body weight against gravity, creating a smooth and fluid resistance. As your strength and conditioning improve, you increase the total resistance by boosting the incline, thus increasing the body weight lifted in the exercise.
The Total Gym XLS not only works your upper body, but also your lower body, abdominals, and even your cardiovascular system. And by reducing body fat and increasing the proportion of lean muscle mass in your body, the strength training effectively turns up the thermostat so that your body burns calories constantly.
The Total Gym XLS also comes with a complete line of workouts and workout tools, taking the guesswork out of getting into shape. It's never been easier to get in shape, and I can't wait to update you all on my progress after a few more weeks with the Total Gym XLS.
Want to get a Total Gym XLS of your very own? Take advantage of Total Gym's 30 day trial for only $1.
With a 30-day risk free trial, and interest-free payment plans available, now's the perfect time to get that beach body you always wanted!
Disclosure: Guys Gab was provided with a Total Gym XLS free of charge, however the opinions expressed are my own.