Toyota Wants You To Get Dirty With The TRD Pro Series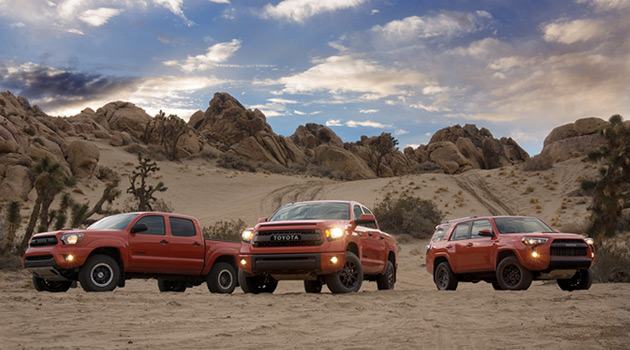 If you're an offroad enthusiast, you already know what TRD is. Toyota Racing Development is the company's factory-tuned gear for their vehicles and is most well known for its excellent offroad and off-track gear for four-by-fours like the Tundra, Tacoma, and 4Runner. Now, for the 2015 model year, TRD has announced the new TRD Pro Series for the new lineup of TRD Pro Series vehicles coming in 2015.
Many of these offerings are old favorites from the TRD lineup, others are a new take on those concepts while still more are all-new. Here's a look at the 2015 TRD Pro Series lineup of goodies and some of the awesome packages they're creating with them.
The provenance for the TRD offroad series starts in 1998 when the 4Runner was king of the trail-ready SUVs and the Tacoma was a new brand (taking over from the SR5 pickup truck series). While most TRD packages had been previous engineered for racing on the track (TRD began in 1979), it was when the TRD nameplate began to be added to the offroad packages of the Tacoma that it became a household name for enthusiasts.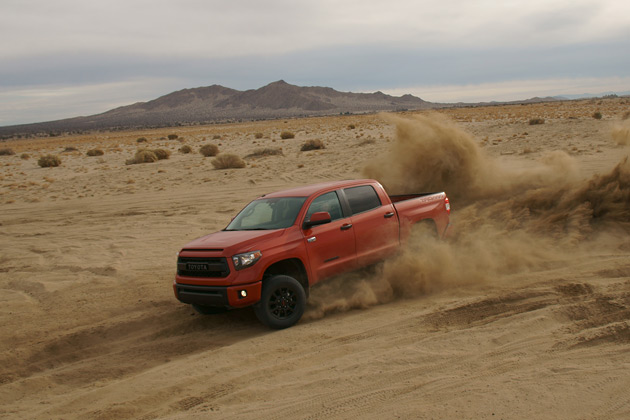 Since then, it's only grown and is now the most-likely package option to be added to the Tundra, Tacoma and 4Runner at purchase.
All 4×4 models of the 2015 Toyota Tundra, Tacoma, and 4Runner with the TRD Pro Series packaging will include:
TRD-spec Bilstein shocks with remote reservoirs
TRD-tuned front springs
TRD front skid plate
Retro front grille with TOYOTA badging
TRD floor mats
TRD shift knobs
Black wheel option
In addition to this, color options include the popular Black and Super White along with a new scheme, Inferno. All of the above items are on all TRD Pro Series vehicles. In addition to that, though, specific vehicle models will have package upgrades to go with those standards that include names as cool as their bonus features.
The Tundra TRD Pro will include all of the above standard items plus a few things to make it the ultimate all-around offroader:
TRD-tuned springs with a two inch lift for the front of the truck
Decreased spring rate to improve ride quality on harsh surfaces
All-black 18-inch alloys with Michelin ORP tires
TRD dual exhaust system
TRD PRO quarter panel bed stamping
Unique interior treatments including red stitching and ornamental inserts on the instruments
The Tacoma TRD Pro Taco Supreme becomes a rally champ with the following upgrades to the above standard items:
TRD-tuned springs with two-inch lift at front and a Decreased spring rate
16-inch black beadlock-style wheels
BFGoodrich All-Terrain LT265/75 tires
TRD Exhaust
Black TRD PRO badge
The Rock Star 4Runner TRD PRO will be exclusively fitted with:
1.5-inch lift for the front of the SUV
A full inch of extra wheel travel
All-new 17-inch TRD all-black alloy wheels
Black TRD PRO badging
Black front and rear lower bumper accents
Watch them in action:

Can't wait for the 2015 model year TRD Pro Series vehicles to hit dealerships? Well, you can jump into them at www.ToyotaSuperOffRoad.com in the new Super Off Road: TRD Pro Edition Presented by Toyota game. They'll also be on display at the Chicago Auto Show.
And you thought you didn't have anything going on this weekend..