Velocity's 'AmeriCarna' Premieres Tonight!

AmeriCarna, a new series debuting tonight on Velocity, follows NASCAR racing champion Ray Evernham and his crew as they scour weathered barns, garages, junkyards and even basements for hidden historic racing cars, classic cars, folklore and automotive legends – all in the pursuit of authentic AmeriCarna.
Three-time NASCAR champion Ray Evernham hosts this cross-country trek, chasing down the cars that had a profound impact on shaping our national identity. From the inception of American racing at the turn of 20th century, to the Woody wagons that defined California culture in the 50's and 60's, to the infamous drag strips of the 70's, automotive history has left an indelible imprint on the American experience. AmeriCarna lifts the hood on legendary four-wheeled treasures that continue to have a profound influence on our cultural DNA.
"The automobile is a quintessential part of the American experience – they're synonymous with freedom, adventure," said Bob Scanlon, General Manager of Velocity. "Since the first Model T rolled off Henry Ford's assembly line, cars have continually helped evolve our culture, and we're honored to have a true godfather of American car culture, Ray Evernham, host AMERICARNA. The stories and characters featured are even more unforgettable than they cars themselves."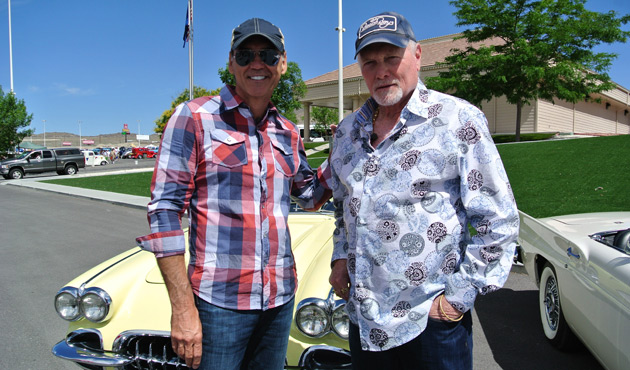 "Over my career, I've visited every corner of the country and learned firsthand about America's rich, diverse love affair with automobiles," said Evernham. "Cars hold the key to many of America's historical secrets, and I'm proud to share my journey through barns, along coastlines, and inside racetracks and garages with viewers on Velocity this January."
The premiere episode brings Ray together with a surfing legend and revolutionary waterman, Laird Hamilton. The focus of the episode is the iconic Woody Wagon – a staple in the beach community – popularized by in the 50's and adopted by surfers nationwide as a fitting chariot to transport their gear. Additional episodes feature historical automotive insight from famed director Ron Howard (Arrested Development, The DaVinci Code, Apollo 13) , music legend Mike Love (The Beach Boys), Country superstar Brad Paisley, and Hot Rod racing guru Don Prudholme.
I'm a sucker for car shows, so you can be sure I'll be tuning in tonight. Make sure you do as well, and let me know what you thought of it afterwards!