Denver Broncos Linebacker Von Miller Is The New Old Spice Guy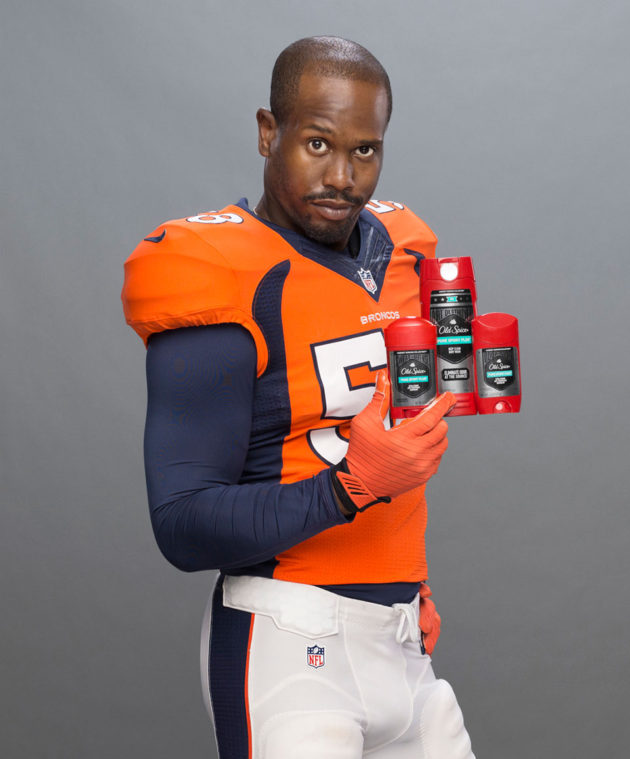 Von Miller is a Super Bowl MVP, has appeared on Dancing with the Stars, and started a chicken farm. What's next for this all-star? He's been tapped as the new Old Spice Guy to represent the legendary performance of the Hardest Working Collection.
"Between winning the Super Bowl, solidifying my status with the Broncos and being named the newest Old Spice guy, 2016 is shaping up to be quite a year," said Von Miller. "I've had my favorite Old Spice scents for a long time and I only trust the Hardest Working Collection to give me a deep clean after practices and keep me smelling fresh on and off the field. There's a reason you find Old Spice in every team's locker room."
The Denver Broncos linebacker will be the face of Old Spice's 2016 NFL campaign, featuring brand's Hardest Working Collection, their most powerful Old Spice anti-perspirants and body washes available. Given Von Miller's colorful personality and pastimes, we're sure his upcoming commercials will be epic!
Hardest Working Collection Lineup
Sweat Defense Anti-Perspirant: This soft solid anti-perspirant is Old Spice's gold standard, delivering stronger and longer sweat protection for all-day dryness. Old Spice Sweat Defense delivers 66% sweat reduction, outperforming the 20% category standard for anti-perspirants. It's also turbocharged with Old Spice's proprietary BCD technology that traps and locks away bad odor as it occurs while releasing fresh, manly scent in its place.
Odor Blocker Anti-Perspirant: This most powerful invisible solid anti-perspirant delivers legendary performance through stronger and longer sweat protection and a 50% increase in BCD odor fighting technology that only Old Spice can claim.
Dirt Destroyer Body Wash: This most powerful body wash offers 15% more cleansers, a 30% thicker formula and 20% more scent. The thicker formula results in more dirt-eliminating lather with less product going down the drain for an overall better shower experience.
For more information on Old Spice's Hardest Working Collection, visit OldSpice.com.