We Went Behind-The-Scenes At Domino's HQ In Michigan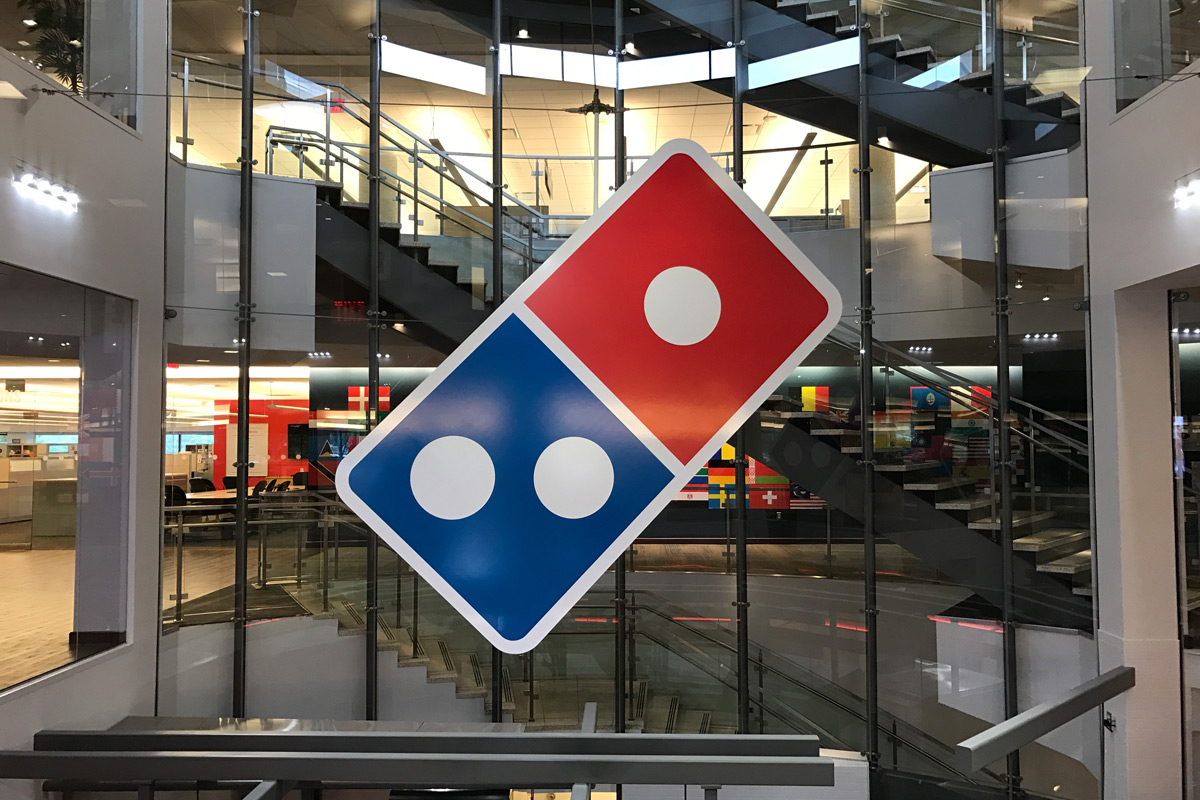 Last month, I had the unique opportunity to visit Domino's World Resource Center in Ann Arbor, Michigan for a behind-the-scenes look at the company as part of their Domino's Digital Insiders Day. I have been eating Domino's pizza since I was a kid, so I was beyond excited to take part in this!
The history of Domino's is rather interesting. Back in 1960, Tom Monaghan and his brother James purchased DomiNick's, a small pizza store in Ypsilanti, Michigan. They borrowed $500 to buy the store. Less than a year later, James wanted out of the pizza game, trading his half of the business to Tom for the Volkswagen Beetle they used for pizza deliveries. That proved to be a very costly mistake.
By 1965, Monaghan had purchased two additional stores, and he renamed the business Domino's Pizza, Inc. Those three dots on the company logo? They represent those first three stores. In 1967, the first Domino's Pizza franchise store opened, and the rest is history. Today, Domino's operates over 14,000 stores in more than 85 international markets, and they are recognized as the world leader in pizza delivery.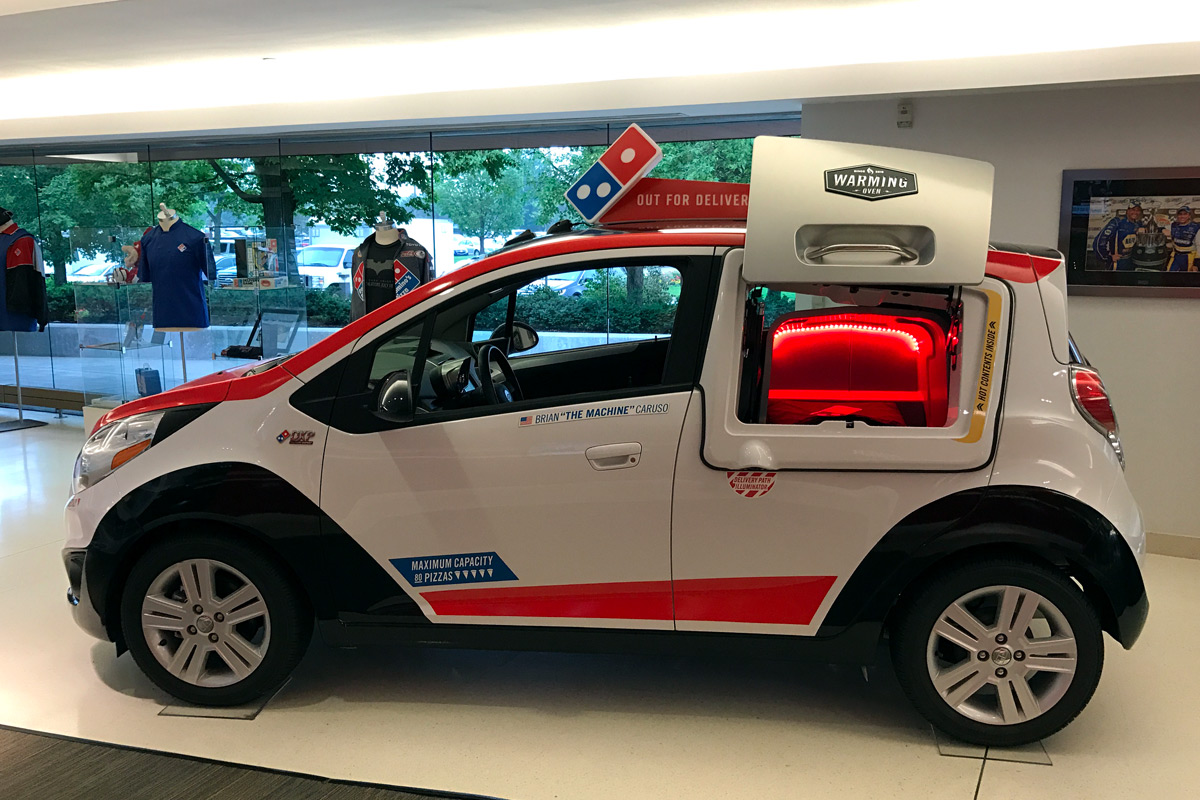 Armed with some history on the brand, we set out on a tour of the building. In the lobby area, there's a replica of the iconic VW Beetle that Tom sold to his brother, along with the DXP, a crazy purpose-built pizza delivery vehicle that can hold up to 80 pizzas, along with other Domino's menu items. It may have started it's life as a Chevrolet Spark, but after Roush got done working their magic on it, you'd be hard-pressed to tell.
With a quick swipe of a security badge, we entered the massive IT department. While you might not think of technology when it comes to pizza, Domino's is a trailblazer in the ever-changing e-commerce landscape, offering customers a multitude of ways to place their orders: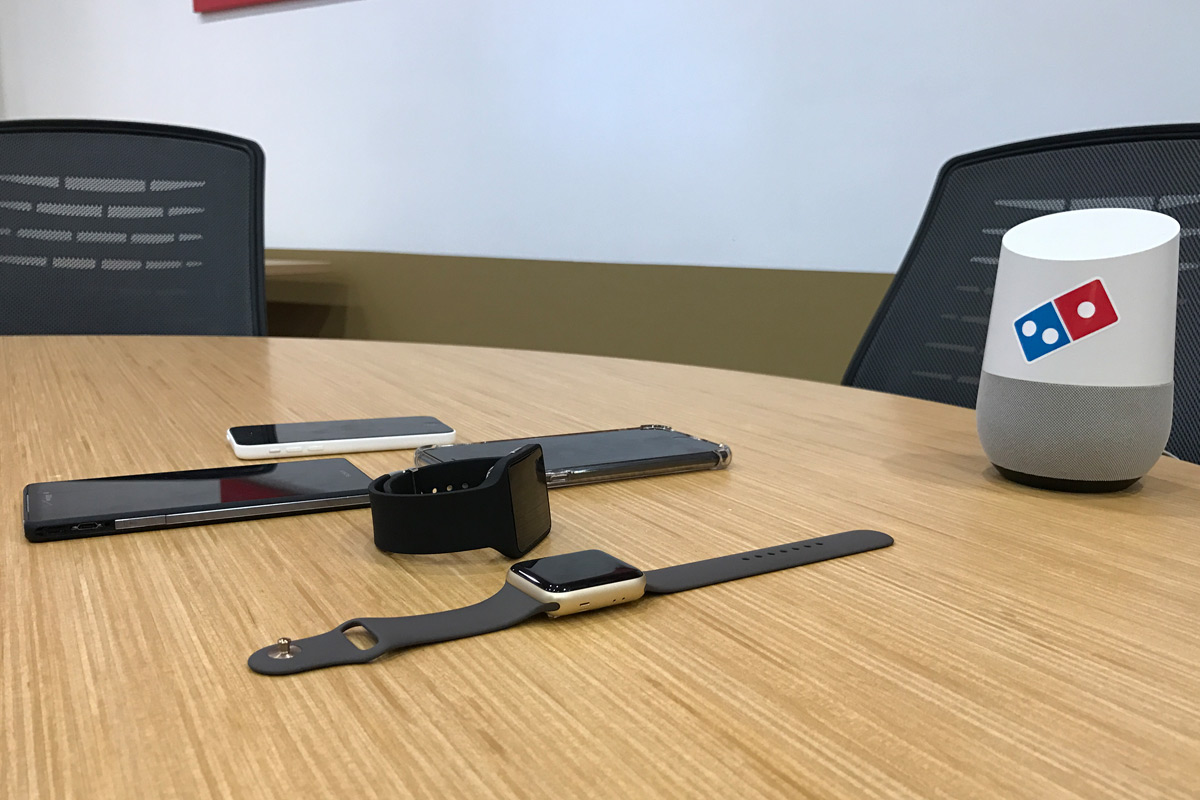 Google Home
Facebook Messenger
Zero-click ordering
Text-to-order
Tweet-to-order
Amazon Echo
Samsung SMART TV
Ford SYNC
Apple Watch / Android Wear
Domino's App
Domino's Website
Voice ordering
Needless to say, it is easier than ever to place an order if you are suddenly in the mood for pizza. We had a chance to place test orders using these different platforms, and they worked flawlessly in each scenario.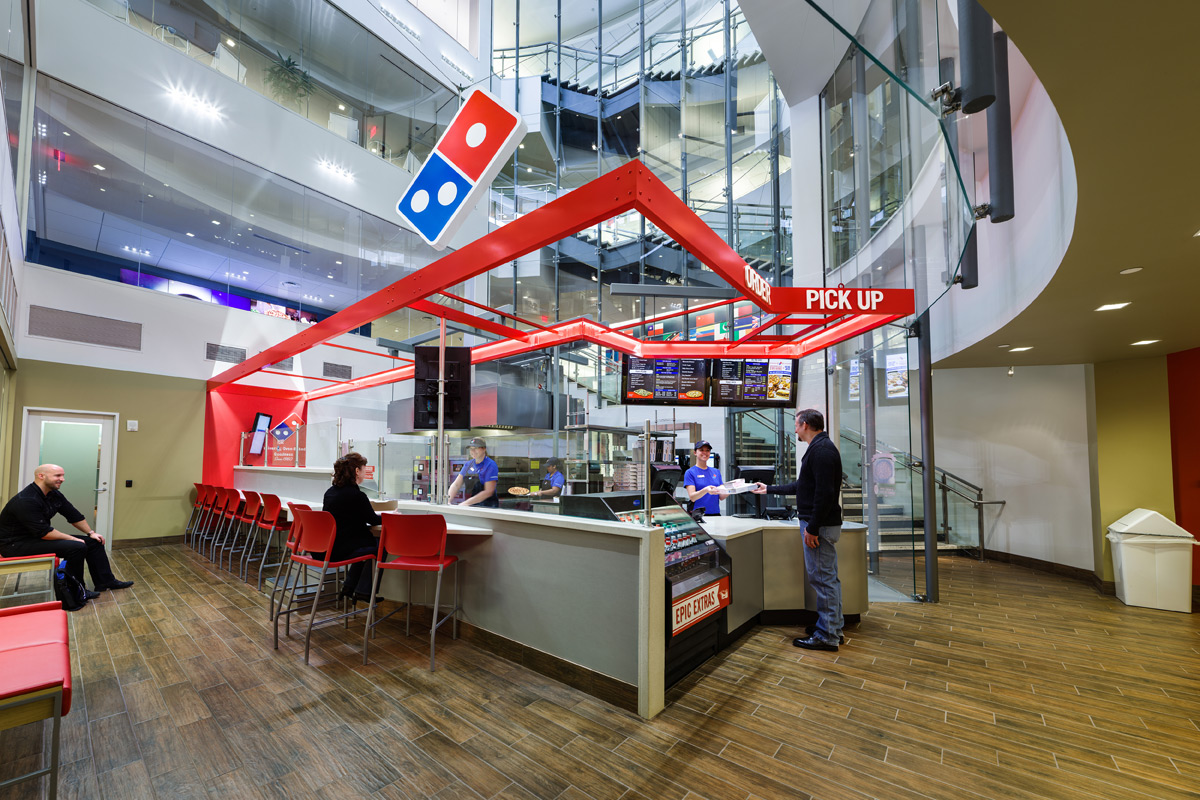 Afterwards, we headed to the Domino's Test Kitchen to learn how to make our very own Domino's pizza! Our instructor made it look easy, but stretching out the dough into a perfect circle is a lot harder than you think. I eventually got the technique down, and my dough looked pretty respectable. Next, I applied my tomato sauce with a ladle, spreading it in a circular motion to ensure even coverage. Then I moved on to the toppings area, where I added a generous amount of mozzarella cheese and pepperoni.
Eight minutes later, my delicious creation came out of the oven, and I was like a proud parent, taking pictures of my precious pizza, before applying a little garlic drizzle to the crust (that's what makes it taste so good). Once we were all done making our pizzas, we got to eat them. The verdict? YUM!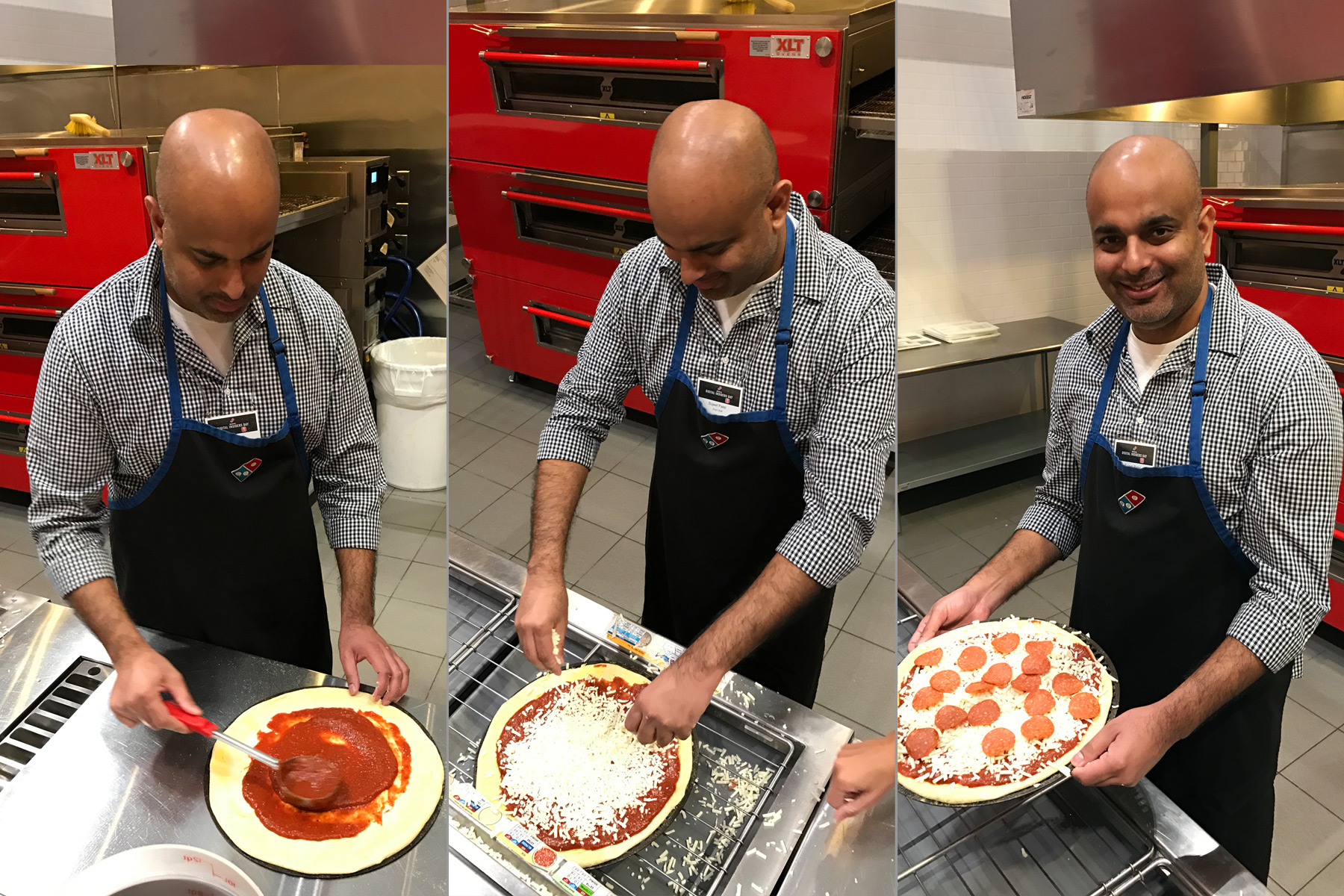 Just when I thought I couldn't eat another bite, the Domino's folks brought in their new Bread Twists for us to try, which come in 3 varieties: Parmesan, Garlic, and Cinnamon. A twist on traditional bread sticks (see what I did there?), these sides are hand twisted and baked to perfection. My favorite one was the Cinnamon Twist (which comes with a side of vanilla-flavored icing), but honestly all three of them were great.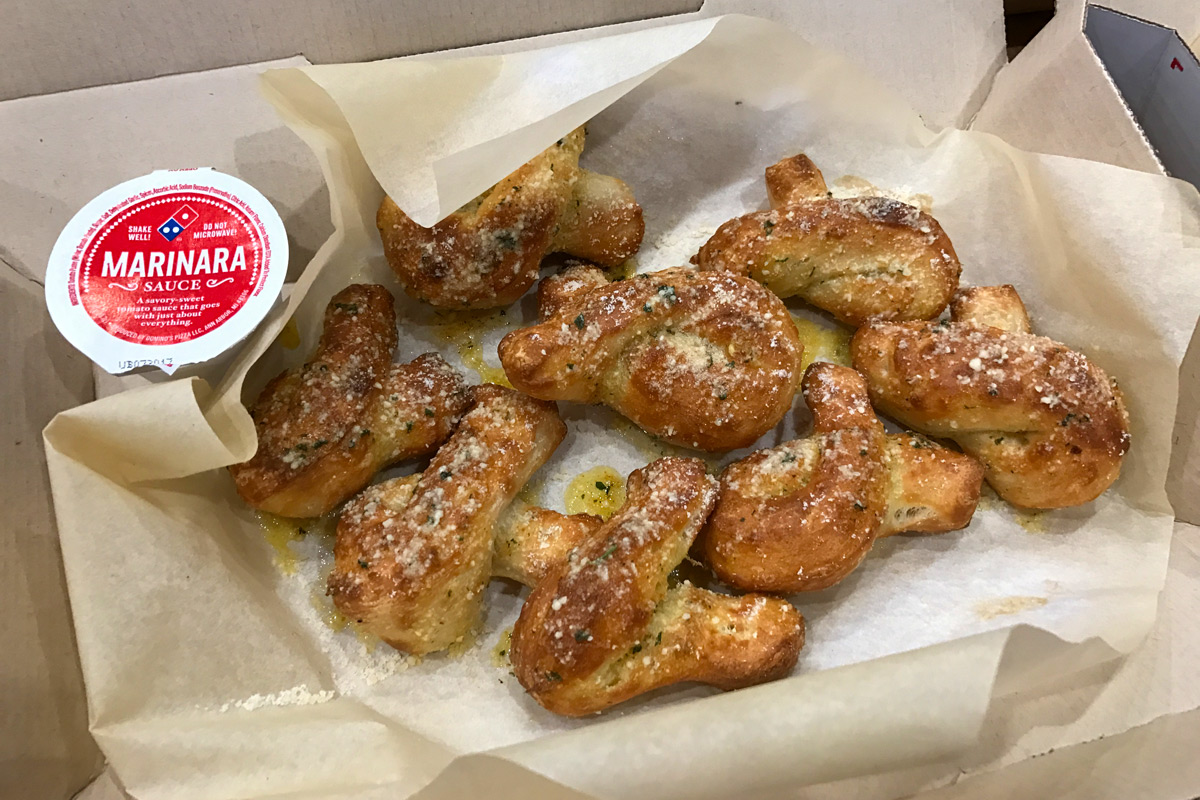 All in all, I had a great time visiting Domino's HQ and learning more about my favorite pizza company. Their expansive menu has something for everyone (they even have salads now), so go check out their menu and place an order today. You won't be disappointed!
—
GIVEAWAY: Guys Gab and Domino's wants to give one lucky reader a $50 Domino's gift card so they they can enjoy some delicious pizza, and it couldn't be easier to enter. Simply leave us a comment below telling which menu item you're most excited to try. We will pick a winner at random on August 14th at 5pm EST. Contest only open to US residents.
Good luck!