Wounded Warriors Mustang GT500 Super Snake Continues 2013 Tour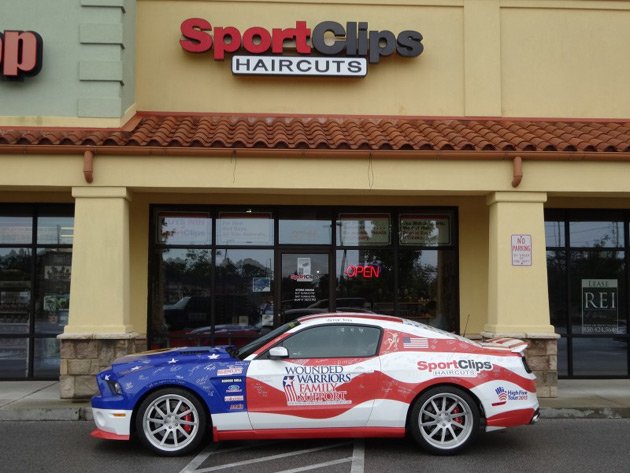 The Wounded Warriors Family Support Mustang Tour is currently in Colorado, going through Denver this weekend as the 2013 Ford Mustang GT500 Super Snake continues its 48-state tour, covering more than 21,000 miles.
Called the High Five Tour, the mission this year is to raise funds to build two "smart homes" for two deserving disabled veterans and their families so they can have a home that accommodates their needs due to severe wounds received serving our nation. The two wounded warriors chosen for support this year are SFC John Masson of Fayetteville, North Carolina and Sergeant Rusty Dunagan of Guthrie, Oklahoma. One hundred percent of the funds donated to the High Five Tour will go towards building these homes.
The red-white-and-blue GT500 Super Snake is touring the nation and drumming publicity and taking donations for the Wounded Warriors Family Support project this year, partnering with Sport Clips locations along the tour to offer free haircuts for those who show their support by signing their thanks on the Mustang for the warriors.
The tour in Denver this weekend ends at Phil Long Ford from 6-8 pm and then proceeds towards Utah, Idaho, then Washington, Oregon and California. From there, other points will include Arizona, Texas, and more. The final stop is Omaha, Nebraska, ending the tour after visiting all 48 states and hundreds of towns along the way.
You may recall that last year, a 2012 Shelby Mustang GT500 Super Snake toured the nation for the 2012 High Five Tour. You can find out about this year's High Five Tour clicking here.
Show your support for the wounded warriors who sacrificed their bodies on behalf of our nation. Sign the Mustang if you can, donate through the Wounded Warriors Family Support website, and spread the word.