10 Gadgets Every Golfer Should Own
Golf is a very competitive sport, and while not every person plays golf as a professional, every player wants to improve their golf skills. There are a number of gadgets out there that can help you improve your golf game. Some gadgets can even help you stay calm and comfortable on the course. So directly or indirectly, all of these items can help you improve your game.
The following are 10 gadgets which every golfer should own:
1. Rain Gloves
Many golfers do not wear gloves while playing the game, and there is nothing wrong with that. But you need to make an exception for rain gloves, which protect your hands and help you grip the club more easily in case of rain. If it suddenly starts raining while you're out golfing, and you are not wearing rain gloves, you may not be able to even hold the club, let alone swing it. That's why you should carry some rain gloves with you, just in case of bad weather.
2. Organizer
The most underrated accessory for any serious golfer is an organizer to keep all of your gear in a single place. A golf organizer is one of the best options out there, allowing for easy access to everything you need (tees, balls, gloves, shoes, shirts, etc) in a pinch, all in their own separate compartments. Organizers come in all different shapes and sizes, so pick the one that best fits the available space you have. A golf organizer is a must-have if you're serious about golf.
3. Golf Pencil
A golf pencil is a must, as it allows you to keep track of scores as well as make notes of the golf course for the next time you visit. Sure, you can take notes on your smartphone if you want to, but sometimes it's just simpler to do things the old-fashioned way. A golf pencil doesn't take up a lot of space either, so toss a few in your golf bag and be done with it.
4. Pitchfork
A pitchfork (also known as a ball mark repair tool) is used to repair a ball mark (a depression in the green where a ball has hit the ground on its approach shot). To repair a divot, you push the tool next to the mark and pushes gently inwards from all sides, loosening the compacted turf to allow rapid regrowth of grass, and then gently flatten the grass with the smooth flat bottom of the putter to smooth the putting surface.
5. Umbrella
You would think that golfers would carry an umbrella with them in case of an unexpected rain shower. However, that's not always the case, leaving many golfers soaking wet and having to wait out the storm. Had they brought an umbrella with them, they could have played through while staying relatively dry. That's why it's important for you to always carry an umbrella with you, especially if it looks like rain is in the forecast.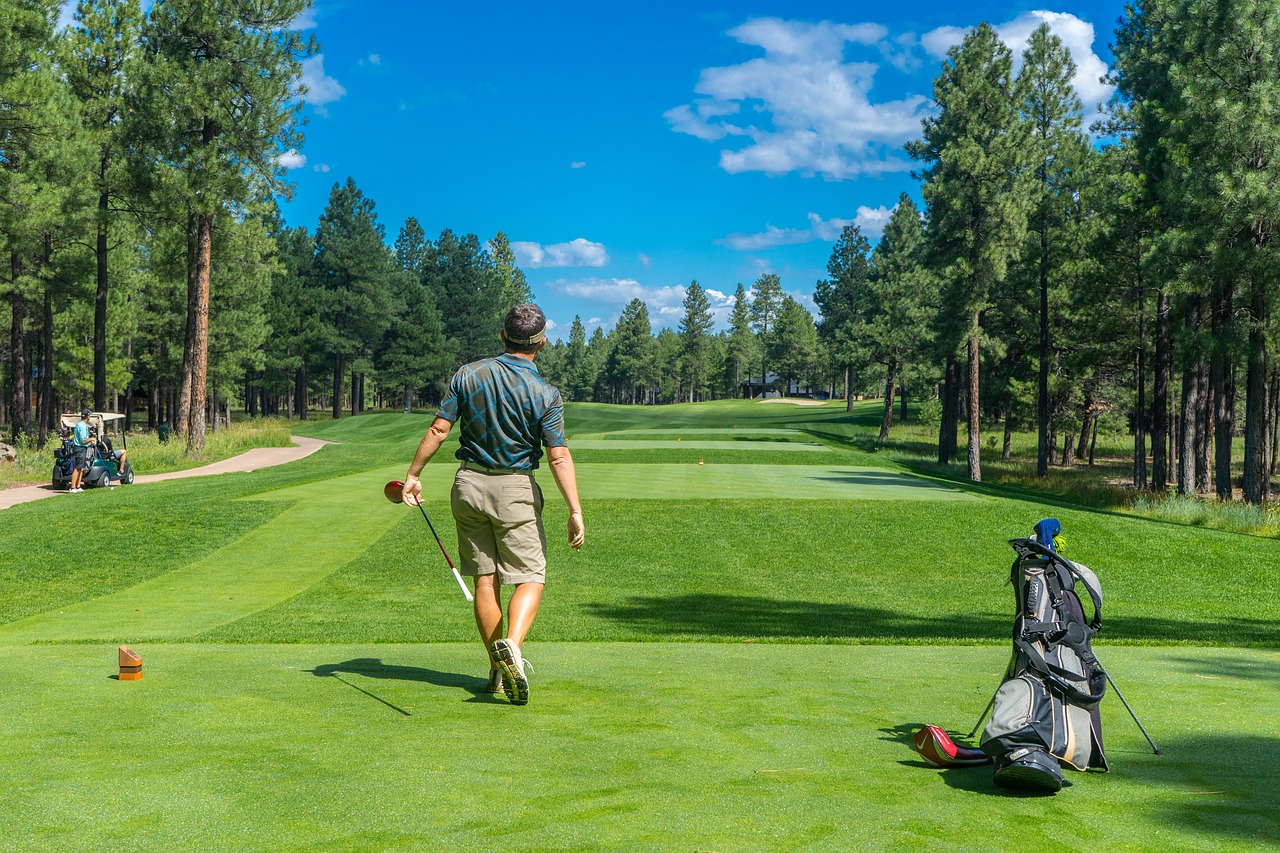 6. Laser Rangefinder
A laser rangefinder is one of the most useful gadgets which every golfer should own, acting as a binocular of sorts to see into the distance, help you determine the distance to the flag with laser precision (to within a few millimeters) and help you decide which club to use to get the ball on the green in the least number of strokes. They're compact and easy to use, and one you use one you'll wonder how you ever lived without it before.
7. Swing Analyzer
A swing analyzer is a small gadget which you can wear on your glove, which analyses each and every swing which you make. The data which is analyzed is fed to a mobile app which provides you with tips on how you can improve your wing. This ensures that with every swing, you are able to analyze your performance, get tips in real-time, and make your next swing even better.
8. Golf GPS
With the help of golf GPS, you can monitor the details of the golf course on the LCD screen, so it will be easier for you to understand the topography as well as the area over which the golf course is spread out. It will also help you pick the right kind of club in order to get that perfect shot. Some of the other features of the golf course which you can know about with the help of golf GPS include:
Water hazards
Bunkers
Out of bound areas
Direction of the target
As you can see, a golf GPS makes it very easy for you to plan your shot accordingly. Just make sure that you charge your unit beforehand, as you don't want it going out while you're playing. Fully charged, they can last through an entire game with no problem. It's definitely a handy gadget for any golf match.
9. Putting App
Most of us carry our smartphones with us when we hit the links. With the help of putting apps, you can improve your putting stroke each and every time, ensuring that you are able to not just improve the swing path but also the power with which you are hitting as well. This should help you improve your short game, which is a pain point for many of us.
10. GPS golf band
An alternative to the golf GPS is the GPS golf band, which acts as a GPS device and wristwatch. This lightweight wearable can show the topography of the golf course, and also provides you with information regarding your recent hit. As a result, you can analyze the stats provided and work on improving your golf skills, without a separate gadget to carry around.
So there you have it, we've shown you 10 handy gadgets that you should definitely check out if you are serious about golf. Whether you're a beginner or an advanced player, these gadgets can certainly help you make your golf game even better. Fore!