2022 Mercedes-AMG GT 53 4-Door Coupe Is The Perfect Sports Car For A Family Man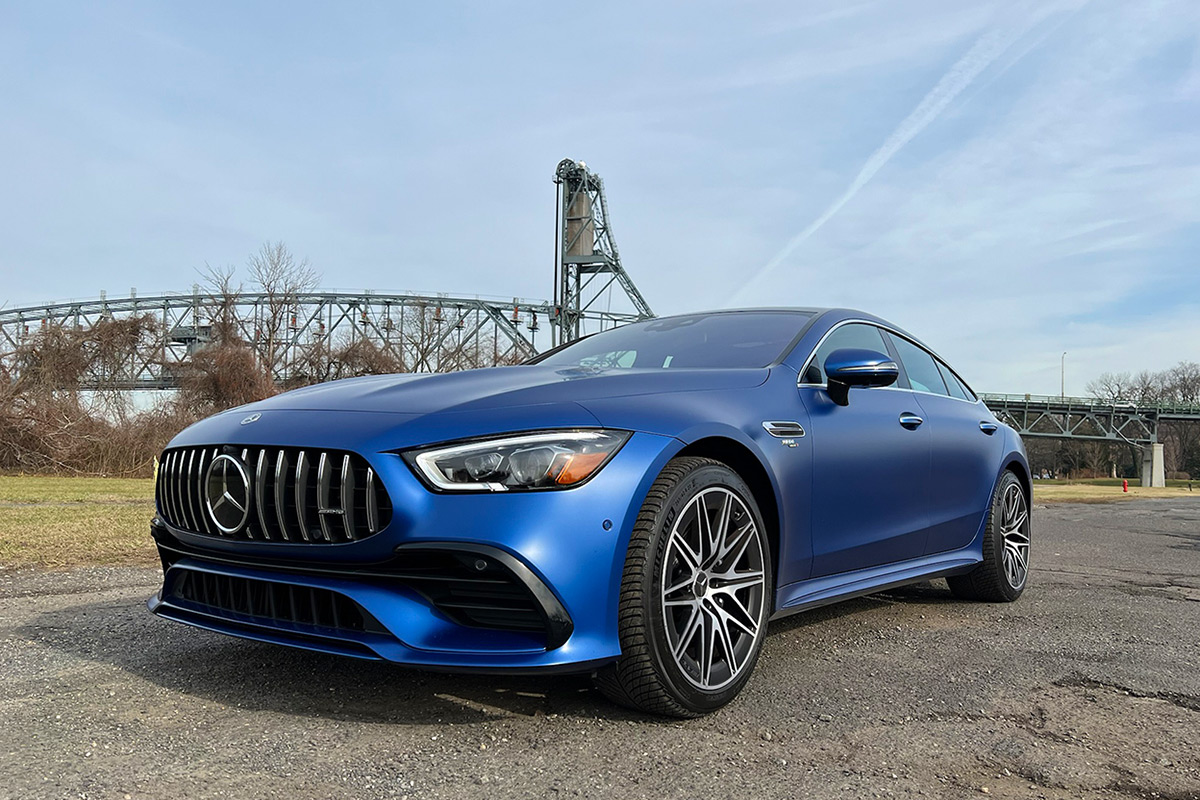 There comes a time in every man's life when he is forced to give up his treasured sports car for something more practical, because he's got kids now and needs something bigger to haul the children, strollers, luggage, and more. So the canyon carver gets replaced by a boring SUV, or even worse a minivan, because #DadLife.
With that said, there are still a number of fun SUVs available that offer a decent compromise of performance and utility for those Dads who still have the need for speed. We've driven some of Mercedes-AMG's SUVs, and they're an absolute riot to drive, delivering blistering acceleration, with solid handling (for an SUV), and making all the right exhaust sounds.
Buuuuuuut, at the end of the day, they are still SUVs, and all the engineering in the world can't hide that fact. Dive into a tight corner, and you'll feel the weight and the high center of gravity of the truck as it starts leaning to the side, begging you to let off the throttle. So what's an enthusiast to do? Enter the 2022 Mercedes-AMG GT 53 4-Door Coupe.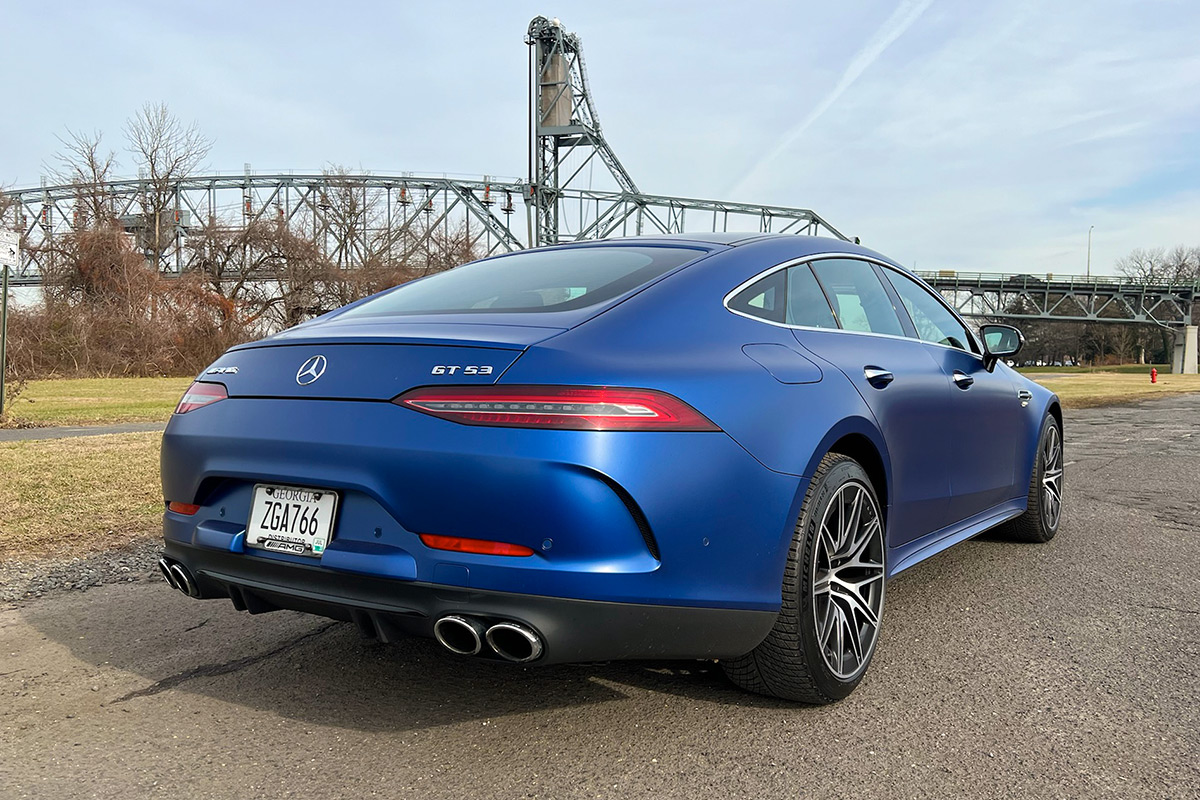 The Mercedes-AMG GT 53 4-Door Coupe is basically a Mercedes-AMG GT sports car with room for the whole family, with four doors and rear seating that was more than comfortable enough for this 6'2″ person. Add in the safety of 4MATIC+ all-wheel drive, along with a host of luxury and convenience features, and it becomes a much easier prospect to sell the wife on.
But don't let its practicality fool you, as this car is an undercover beast. Under the hood lies a turbocharged and mild-hybrid-assisted 3.0-liter inline-six that puts out 429 horsepower and 384 lb-ft of torque, with a nice fat torque curve. With standard AWD and an AMG-specific nine-speed automatic transmission, this sucker launches HARD, rocketing you from 0 to 60 mph in just 4.1 seconds. You'll never be late for Timmy's soccer practice again!
Handling is another strong suit of the GT 53, with its sport-tuned suspension delivering flat, responsive cornering and sports-car levels of grip, while still offering a comfortable ride. You'd expect a bone jarring ride from a high-performance vehicle like this, but that's not the case at all. It's also fairy quiet inside (unless you have the exhaust in performance mode), making for a nice long-distance cruiser.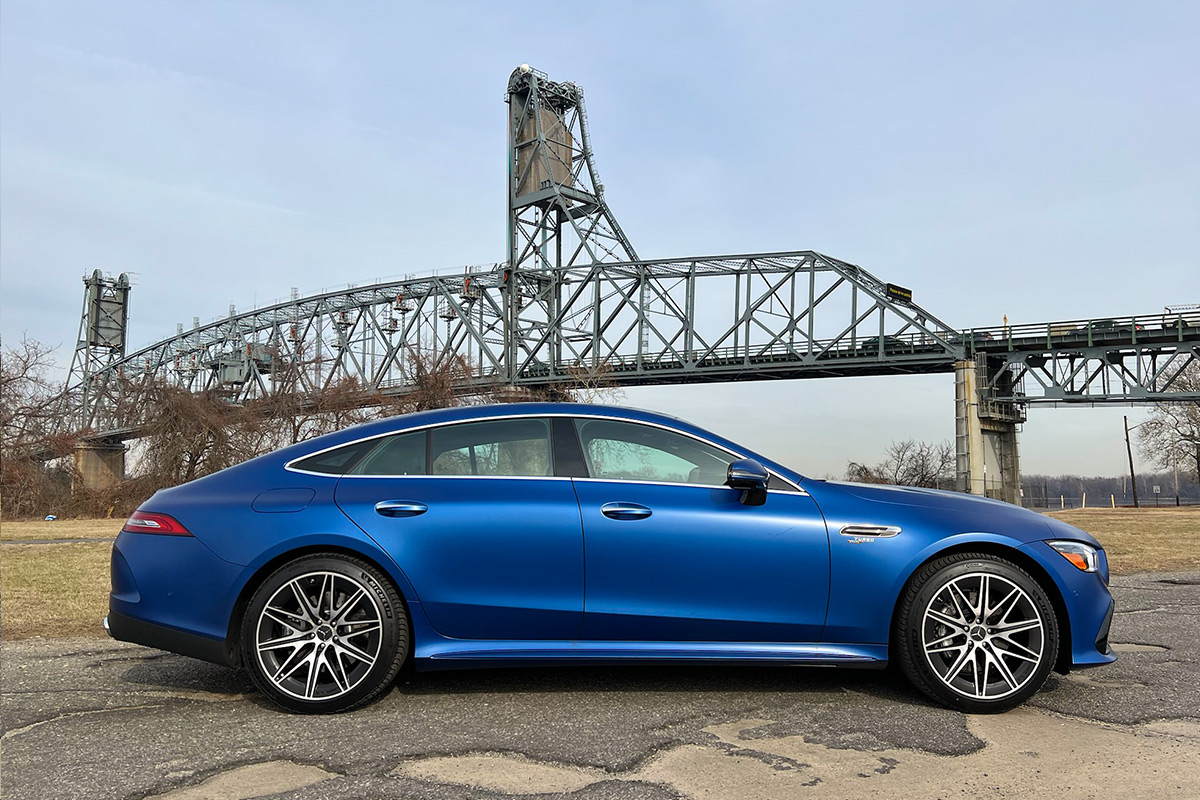 Visually, the 2022 Mercedes-AMG GT 53 is a stunner, with that aggressive AMG GT front fascia and the rakish fastback style that brings up the rear. Adding to the car's striking good looks was the matte finish Starling Blue Magno paint that our car had. At $3,250, it's not exactly cheap, but it really makes the GT 53 pop compared to other normal colored ones we've seen.
The interior of the GT 53 is equally impressive, borrowing heavily from the Mercedes CLS, but incorporating the center console from the GT sports car. It's the perfect blend of sporty and luxury, with a decidedly futuristic vibe, especially with the interior lighting. Aggressively bolstered sport seats are standard and comfortable, while a fat and flat-bottomed steering wheel, aluminum trim, and digital gauge cluster complete the high-performance look.
As we mentioned, rear seating is a big draw for the Mercedes-AMG GT 53, and it can be had with your choice of a three-seat bench ($1,000) or two bucket seats. Our tester had the bench seat, but the middle spot is best suited for a child. Unlike many four-door coupes, rear-seat headroom isn't compromised at all, and four adults could comfortably travel long distances without issue. In fact, the only trade-off with regards to the coupe-like design is the fact that rear-view visibility is a bit limited. But it's a small price to pay honestly.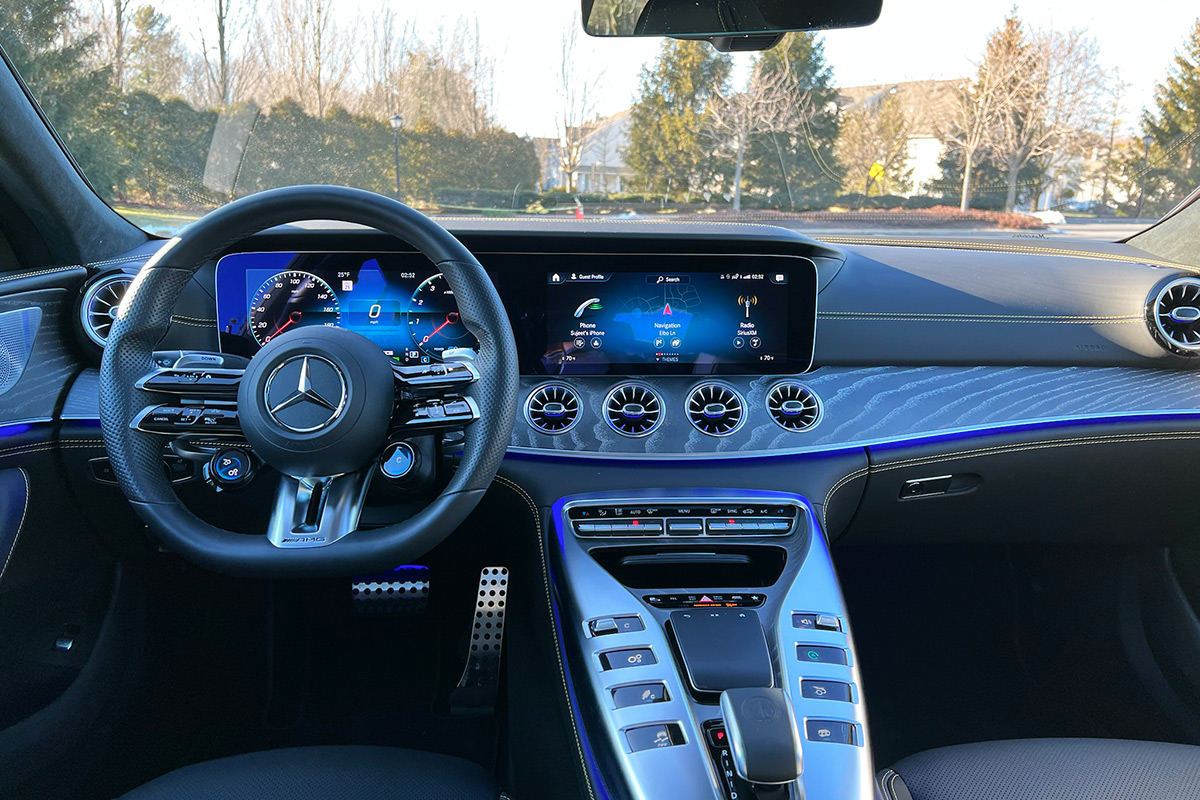 Being as this is a hatchback, the rear seats do fold down to increase the already generous 12.7 cubic feet of cargo space, allowing you can fit a TON of stuff in there, and once again making the argument that most people really don't need an SUV.
Mercedes certainly didn't skimp on the technology and safety features, equipping this car with everything you could think of, along with a bunch of stuff you never would have thought of. The MBUX infotainment system is a bit overwhelming, and I've complained about it in other MB reviews, but it is impressively capable nonetheless. Its 12.3-inch screen is massive, and Apple CarPlay / Android Auto integration is standard along with wireless phone charging and navigation. The Bermester surround sound system is also top notch!
In addition to all the standard features, there are a plethora of options to choose from as well. The Driver Assistance Package ($1,950) adds a bunch of self driving tech, along with more safety features. The Warmth and Comfort Package ($1,050) adds heated front armrests, heated steering wheel, and rapid heating functionality for the front seats. The Acoustic Comfort Package ($1,100) makes the car vault-like quiet through increased cabin insulation and special side windows and windshield. And who can forget about the massaging front seats ($1,320), which are amazing on long trips!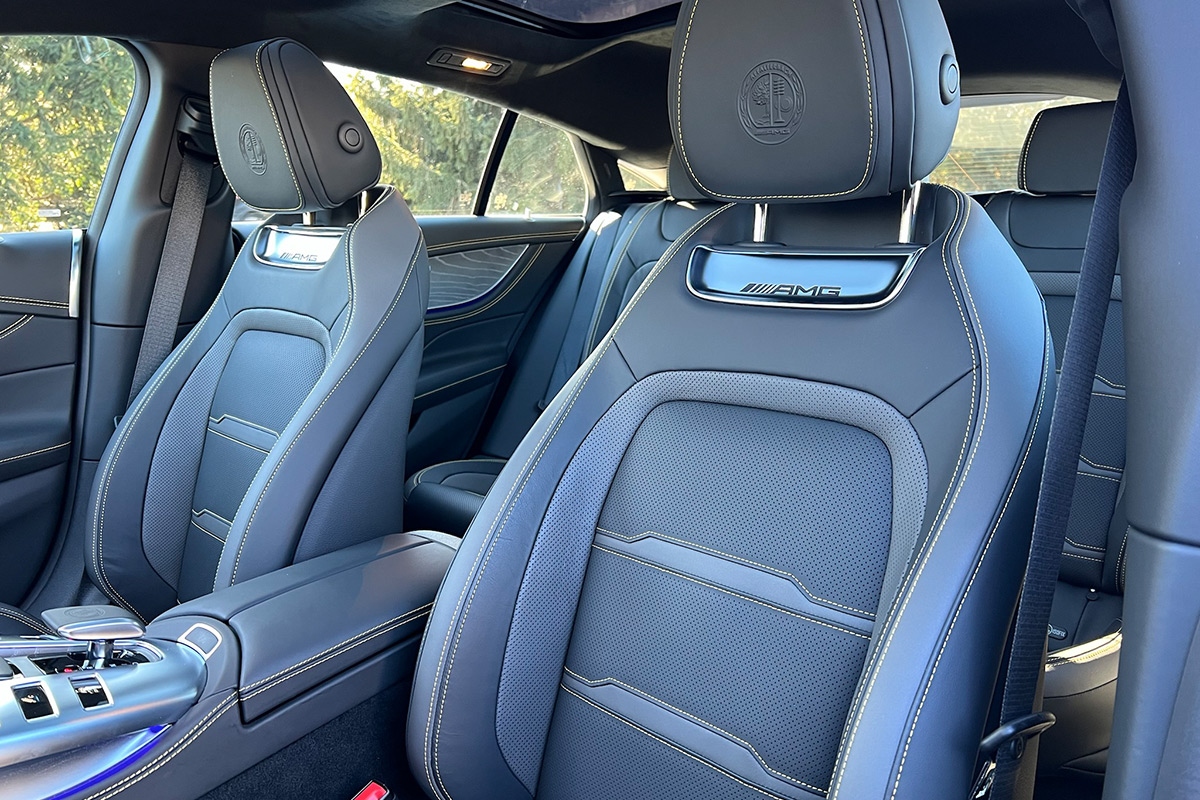 Believe it or not, but the 2022 Mercedes-AMG GT 53 4-Door has a number of competitors that it faces off against, including the BMW M5, Audi RS7, Cadillac CT5-V Blackwing, and Porsche Panamera, just to name a few, each with their own pros and cons. Having driven a few of these before, I can tell you that you can't go wrong with any of these performance sedans, it really comes down to brand/personal preference.
Pricing for the 2022 Mercedes-AMG GT 53 4-Door starts at $102,600, while our well-equipped tester clocked in at $124,220. While that might give some a little sticker shock, you're getting a lot of car for the money here, one that you can take the kids to school in during the week, and to the race track on the weekends. Its like having two cars in one!
As a single guy, I've always owned impractical sports cars. But if I suddenly found myself with a family and having to make a concession for the greater good (because happy wife, happy life), the 2022 Mercedes-AMG GT 53 4-Door Coupe would be on my short list for sure.