Apple Unveils The iPhone 4S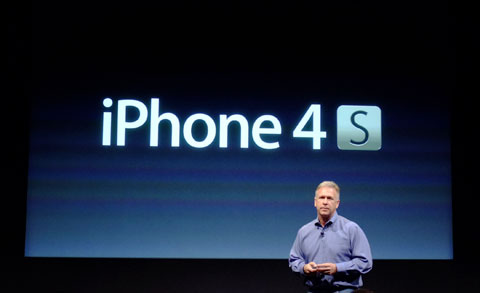 After months of speculation, Apple finally drew back the curtains at Apple's HQ in Cupertino CA this morning, and introduced us to the iPhone 4S.
Sorry folks, no iPhone 5 yet, but the 4S does provide significant improvements over the old iPhone. While the outside remains the same as the iPhone 4, it's all new inside. The star of the show is the A5 chip, the same as the iPad 2. The 4S is also a world phone, meaning it has both GSM and CDMA network capabilities. That's huge for Verizon!
Apple also claims that you can get 14.4Mbps down now on the iPhone 4S, which makes it competitive with devices that can use faster 4G wireless networks! The new chip is twice as fast as the older one, we are told. Battery life is 8 hours of talk time on 3G, 14 hours on 2G, 10 hours of watching video.
But it's not all about speed. How about a new and improved camera?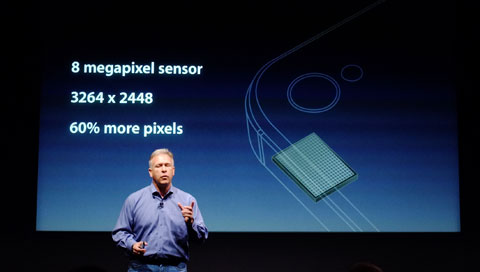 The iPhone now sports a camera that competes with the best point-and-shoot cameras. The camera has an 8-megapixel sensor, 60% more pixels than the iPhone 4's camera. It has a backside-illuminated CMOS sensor that captures 73% more light. It's 33% faster.
The iPhone 4S takes 1.1 seconds to take its first photo once you start up the Camera app. The Droid Bionic, by comparison, takes 3.6 seconds.
The same camera system also works for video, which is now 1080p – The highest high-definition standard available. There's also video image stabilization.
This is all great.. But the real star of the show is Siri: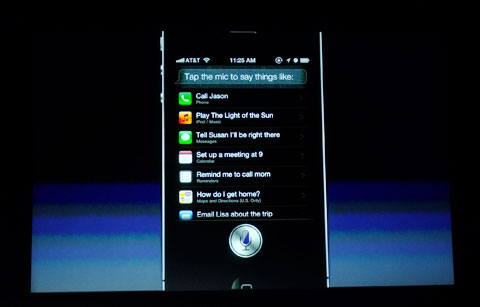 "We left one thing out," says Mr. Schiller. "It's about our voice." This is the fruit of Apple's acquisition of Siri, a startup that has been working on voice-control features. Siri is now a feature on the iPhone. "It's an intelligent assistant that helps you get things done, just by asking."
"Probably the craziest thing you can do is do a voice-recognition demo on stage, live," says Mr. Schiller. "But we're going to do it anyway."
It's pretty wild.. Siri can schedule events in your calendar, read messages, take dictation, all by voice. You can create a reminder by voice. "Remind me to call my wife when I leave work," says Mr. Forstall. Siri, based on previous conversations, knows who your wife is and uses geolocation to remind you when you leave a location. You can search Wikipedia by voice.
Anywhere a keyboard appears on the phone's screen, there will be a microphone button, so you can dictate anything. Siri will initially support English, French and German. It will be released in a beta version, with more languages and features added in time.
We are clearly headed to Terminator/HAL territory here. Humans are doomed. Deal with it.
Pricing:
Prices for the iPhone 4S are as follows: $199 for 16 gigabytes of storage, $299 for 32 GB, and $399 for 64 GB. There will be an iPhone 4 with 8 GB for $99. And there will be an iPhone 3GS for free (with a two-year contract).
Preorders for the 4S start October 7th, delivery on the 14th.
No word if iPhone 4 users will be eligible for an early-upgrade to the 4S, but I'm sure we'll find out more about that in the coming days..
—
While Siri is pretty intriguing, I don't know if it's enough to get me to upgrade from my iPhone 4. (Unless someone wants to buy my iPhone for $300+, in which case it's a no brainer..)
What do you think?