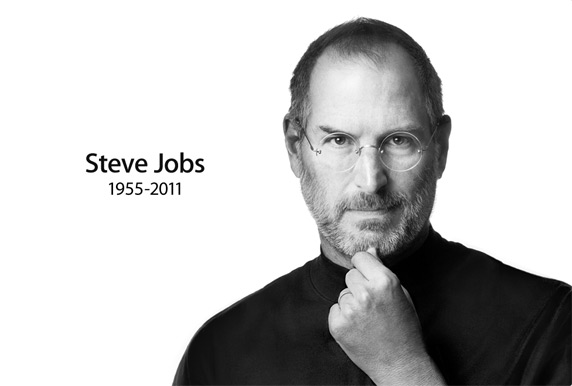 Last night, like many of us, I learned of Steve Jobs' death on a device that he helped invent. He truly changed the landscape of the world, and will be mourned by millions around the world today. Apple posted a statement on their website today that sums it up best:
We are deeply saddened to announce that Steve Jobs passed away today. Steve's brilliance, passion and energy were the source of countless innovations that enrich and improve all of our lives. The world is immeasurably better because of Steve. His greatest love was for his wife, Laurene, and his family. Our hearts go out to them and to all who were touched by his extraordinary gifts.
Steve Jobs was an innovator. Someone who likes to play with technology and create products that everyone could enjoy. That's actually what got him originally fired from Apple, the company he founded. Those in charge at the time couldn't control him, couldn't get him on "the plan" they had for the company, and he refused to change to fit what they needed. Jobs said of this, "I didn't see it then, but it turned out that getting fired from Apple was the best thing that could have ever happened to me. The heaviness of being successful was replaced by the lightness of being a beginner again, less sure about everything."
From there he went out to create the company NeXT in 1986 and took many of the more innovate members of Apple with him. At NeXT he did what he wanted, and created the corporate culture that he felt had hurt Apple. Everything from salaries to benefits was completely different from any major corporation at the time, and included health insurance for unmarried couples and same sx couples. The idea was that NeXT was to be a company that allowed people to THINK, to CREATE.
In 1996, Apple bought NeXT and the company soon became the foundation of the new Apple. The corporate culture that he created at NeXT was transported into Apple and all the officers and senior members of Apple were replaced with NeXT counter-parts. The NeXT operating system became the new Mac OS systems.
We all know the story after that, of the enormous success that Apple had, the products created and how they have changed the world. He singlehandedly changed the smartphone market forever with the introduction of the iPhone. And then for his next act, he developed the iPad – A product we didn't need, but one that we now can't live without.
Countless statements were released reacting to Jobs' death, including some notable ones seen below:
Steve was among the greatest of American innovators — brave enough to think differently, bold enough to believe he could change the world, and talented enough to do it. By building one of the planet's most successful companies from his garage, he exemplified the spirit of American ingenuity. By making computers personal and putting the internet in our pockets, he made the information revolution not only accessible, but intuitive and fun. And by turning his talents to storytelling, he has brought joy to millions of children and grownups alike. Steve was fond of saying that he lived every day like it was his last. Because he did, he transformed our lives, redefined entire industries, and achieved one of the rarest feats in human history: he changed the way each of us sees the world. — President Barack Obama
I'm truly saddened to learn of Steve Jobs' death. Melinda and I extend our sincere condolences to his family and friends, and to everyone Steve has touched through his work. Steve and I first met nearly 30 years ago, and have been colleagues, competitors and friends over the course of more than half our lives. The world rarely sees someone who has had the profound impact Steve has had, the effects of which will be felt for many generations to come. For those of us lucky enough to get to work with him, it's been an insanely great honor. I will miss Steve immensely. — Bill Gates
Steve Jobs was the greatest inventor since Thomas Edison. He put the world at our fingertips. — Steven Spielberg
We've lost a unique tech pioneer and auteur who knew how to make amazingly great products. Steve fought a long battle against tough odds in a very brave way. He kept doing amazing things in the face of all that adversity. As someone who has had his own medical challenges, I couldn't help but be encouraged by how he persevered. — Paul Allen
Steve, thank you for being a mentor and a friend. Thanks for showing that what you build can change the world. — Mark Zuckerberg
Jobs is survived by his wife of 20 years, Laurene, and four children, including one from a prior relationship.
R.I.P. Steve!