Bellroy Slim Sleeve Wallet – Slim Design To Reduce Pocket Bulk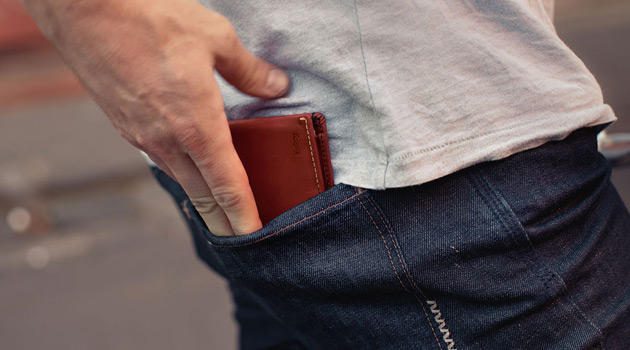 It's a topic that we've talked about before, the overstuffed wallet. Many of us are guilty of this man crime, and for some, it's literally a pain in the ass.
Well you don't have to suffer anymore, because Bellroy has a better way of holding your cards and cash. It's called the Slim Sleeve, and this crowd favorite has evolved even further, stripped down to the essential elements – pretty much just veg tanned leather, thread and a whole lot of Bellroy love.
They call it their Nude Approach, and this video shows you how little is in the wallet:

There are no linings and less waste; leaving you with a noticeably slimmer silhouette. But despite it's small size, the Slim Sleeve is able to hold quite a bit. Your 2 primary cards go in the quick access card slots, a tab lets you access your less frequently used cards, and cash fits in the opposite end with a simple half fold. It might seem a little strange at first use, but once you get used to it, it becomes totally natural.
I've been rocking the Slim Sleeve for awhile now, it's really been quite a liberating experience. I've gotten rid of the cards that I don't need on a daily basis (library card, anyone?), and I can sit without my bulging wallet causing me to lean to one side.
Enjoy the freedom of casting off the unnecessary, with the Slim Sleeve Nude. Order yours today from Bellroy for just $79.95.