BMW i8 Concept Spyder Debuts At New York Auto Show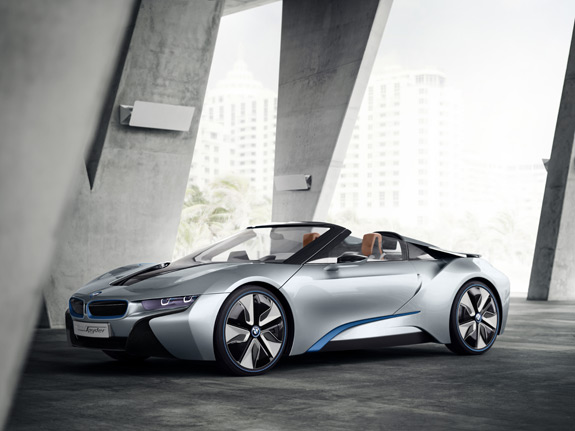 The BMW i8 Concept Spyder with eDrive is an open-top two-seater embodying a form of personal mobility with equal sporting and emotional appeal.
BMW is moving ahead with its plans to electrify the driving experience. The company has already shown the i3 and i8 numerous times, and both are headed for production. Not BMW will unveil a convertible version of the i8 at the New York Auto Show.
Electric motors in the front and rear drive all four wheels of the i8, teamed with a 1.5-liter turbocharged three-cylinder engine. Total system output is 354HP and 406 lb-ft of torque. BMW says the i8 will accelerate from 0-60 mph in under five seconds, will have a top speed of 155 mph, and will get 78 mpg.
Being eco-friendly never sounded so good!
We'll be on hand at the New York Auto Show later this week, and we'll be sure to bring back some photos of the i8 Concept Spyder. Until then, these press photos will have to suffice: