Booker's Bourbon Celebrates 25 Years with Exclusive Limited-Edition Release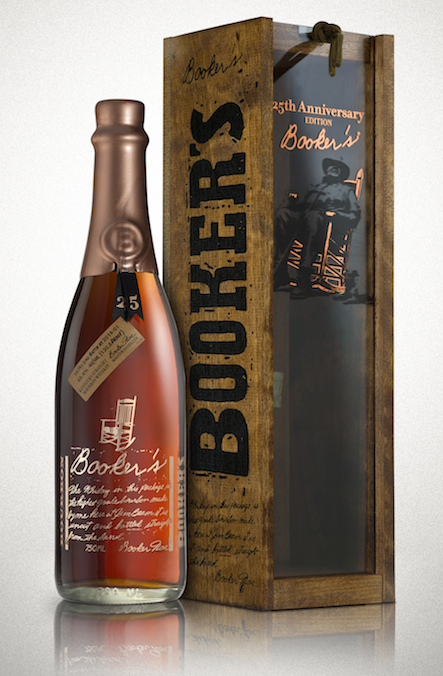 In honor of 25 years, Booker's Bourbon is giving bourbon enthusiasts a reason to celebrate with a limited edition release of an exclusive bottling that is the most unique liquid produced to date. Batch No. 2014-1 pays homage to its namesake, 6th Generation Beam Master Distiller, Booker Noe, who was a lot like his favorite bourbon: uncut, unfiltered and straight up.
To mark this occasion in bourbon history, Booker's son, Beam Family's 7th Generation Master Distiller and 2013 Bourbon Hall of Fame Inductee, Fred Noe, and Booker's grandson, Freddie Noe, selected barrels that were aged longer than any Booker's Bourbon batch to-date – ensuring an exceptional, one-of-a-kind flavor to honor Booker and his legacy. The barrels were among the last that Booker laid down in the rack house before he passed away.
"One of Dad's last requests for me was to take care of his Booker's, and we plan to do just that by sharing it with you all, which I know he would have done himself," said Fred Noe. "This will be a special bottling for our loyal fans of Booker's® – they have never ever had one that is going to taste like this particular batch."
With a robust vanilla nose and wide range of flavors – from oak tannin to mocha notes – this exclusive and extremely limited batch has a deep taste with a smooth finish.
Booker's Bourbon, inspired by a 200-year-old family tradition, came to life when Booker Noe selected the first bottles of Booker's® as holiday gifts for his friends and family. With its instant popularity within Noe's close circle, Booker's Bourbon was soon after bottled and made available on shelves for everyone to enjoy. Twenty-five years later, Booker's Bourbon Batch No. 2014-1 is taken from the center-cut of Booker's favorite rack house, bottled at its natural proof, uncut, unfiltered and extra aged to bring out the true flavor profile of this small batch bourbon.
Available in select markets now and nationally in early March, Booker's Bourbon Batch No. 2014-1 comes inside a commemorative wooden case and was selected with the following characteristics:
Proof: 121 – 130
Age: 9 – 11 years
Nose: Vanilla
Finish: Long, smooth finish
Sipping Suggestions: With ice or cut with water
Watch this video for a special look inside the barrel selection of the Booker's 25th Anniversary Batch:

Booker's Bourbon 25th Anniversary Batch No. 2014-1 is available nationwide in March in extremely limited quantities for a suggested price of $99.99 for a 750ml bottle.