Bud Light Debuts New Cocktail-Inspired MIXXTAIL Beverages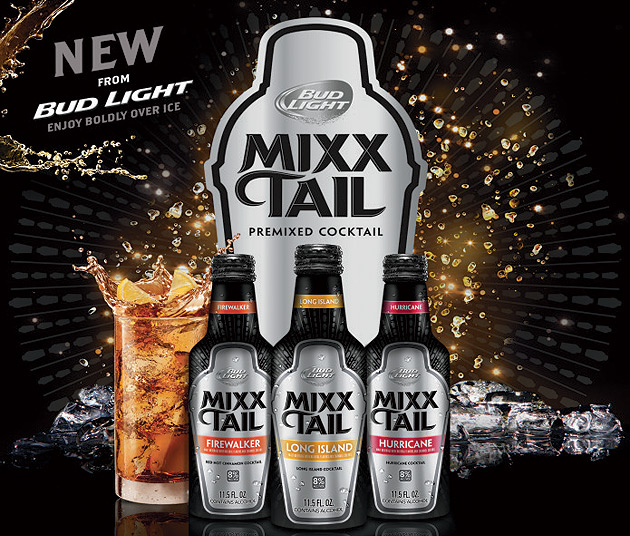 Bud Light is introducing a brand-new cocktail-inspired product that sounds pretty sweet.. Literally. Bud Light MIXXTAIL is an 8% ABV cocktail-inspired beverage available in three flavors (Long Island, Firewalker and Hurricane) that combines the great taste of America's favorite cocktail flavors with the uniquely smooth and refreshing finish expected from a Bud Light.
"With Bud Light MIXXTAIL, we created a cocktail-inspired beverage to quench consumers' demand for more variety, mixology and easy, convenient cocktail solutions. MIXXTAIL's bold cocktail taste makes it the perfect pregame in a bottle," said Alexander Lambrecht, vice president, Bud Light.
Like the cocktails that inspired it, Bud Light MIXXTAIL is best served over ice. The new drink will be available in 8-packs of 11.5 oz. recloseable aluminum bottles and single-serve 16 oz. & 25 oz. cans beginning Feb. 16.
To celebrate the launch of this exciting new product, Bud Light MIXXTAIL partnered with MICK to create the ultimate pregame MIXXTAPE; a tribute to NYC artists in celebration of All-Star Weekend:
I'm not much for Long Island Iced Teas, but I'm definitely interested in trying out the Firewalker and Hurricane varieties. Once I do, I'll be sure to let you know what I thought of 'em.
For more information on Bud Light MIXXTAIL, visit www.BudLight.com.