DEMOCRACY Revolving Wireless Bluetooth Portable Speaker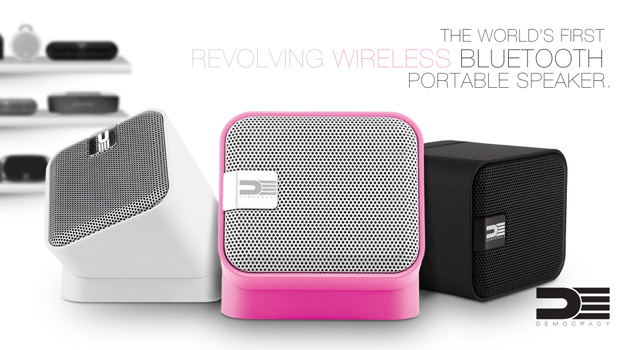 New lifestyle brand DEMOCRACY has just launched their initial product, the world's first Revolving Wireless Bluetooth Portable Speaker.
While Bluetooth speakers are not exactly new, never before has there been a portable speaker that allows you to angle the speaker for situations where you can't have it positioned in front of you. Now there is.
The DEMOCRACY Wireless Bluetooth Portable Speaker features a proprietary Revolving Axis System, a three-way pivoting mechanism built right into the enclosure, that allows the speaker to be directed at three different angles with just a twist of the wrist for optimal speaker placement & maximum sound dispersion.
The Wireless Bluetooth Portable Speaker comes with the latest Bluetooth technology, assuring you seamless streaming of your music collection on from any Bluetooth-enabled device, meaning you're no longer bound by wires that cramp your style. This is great for travelers, house parties, or any other situations where you need portability. And thanks to a best-in-class lithium ion battery, you can enjoy up to eight hours of music per full charge, ensuring that you're never left without your tunes. And the SmartLED Power Indicator lets you know the status of the power reserve, so you're never caught off guard.
But the heart and soul of the DEMOCRACY Speaker is the driver. The speaker performs in high-fidelity with clear room-filling sound and minimum distortion praise to its CSR and NeoMAG Technology working in sync to deliver pure, unadulterated sound replication. While excelling in its main function as a music speaker, the Integrated SharpMic provides crystal clear sound transfer for hands free conference calls whether business or personal. All of these revolutionary technologies are packaged into an attractive Climate Shield protected exterior shell that protects against everyday hazards and light bumps and knocks.
The DEMOCRACY Bluetooth Speaker is your ultimate personal entertainment for power and versatility, and you can order one today for just $69.95.