Dodge Debuts Plum Crazy Heritage Hue For 2016 Challenger And Charger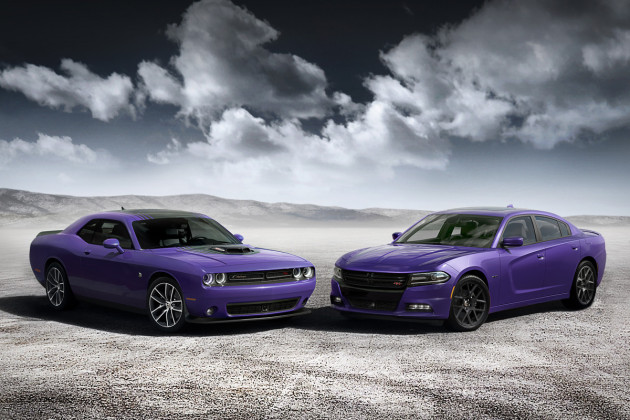 MOPAR muscle cars of the 60s and 70s came in a variety of outrageous colors, but none were more popular than Plum Crazy. It's an amazing color that's stood the test of time, and the iconic paint color is coming back for a limited-production run on the 2016 Dodge Challenger and Charger models.
"From the aggressive and in-your-face styling of the SRT Hellcat models, the reverberating black stripes on our Shaker models, to the nostalgic dual A-line side stripes in satin black or gloss white on the R/T Classic model – Plum Crazy further builds on Dodge brand's muscle-car roots and adds to Challenger and Charger's vibrant legacy," said Mark Trostle, Head of Dodge and SRT Design, FCA US LLC.
Dodge dealers will take orders in September for the 2016 Dodge Challenger or Charger in Plum Crazy, with production beginning this November. Models available in Plum Crazy include:
2016 Dodge Challenger SXT Plus, R/T, R/T Plus, R/T Classic, R/T Shaker, R/T Plus Shaker, R/T Scat Pack, 392 HEMI Scat Pack Shaker, SRT 392, and SRT Hellcat.
2016 Dodge Charger SXT (when equipped with 20″ wheels), R/T, R/T Road & Track, R/T Scat Pack, SRT 392, and SRT Hellcat.
Considering the limited nature of SRT Hellcats in general, a Plum Crazy Challenger SRT Hellcat sounds like a pretty sound investment to me.. Good luck selling your financial advisor on that though.. 🙂