One Glorious Day With The Beastly 2015 Dodge Charger SRT Hellcat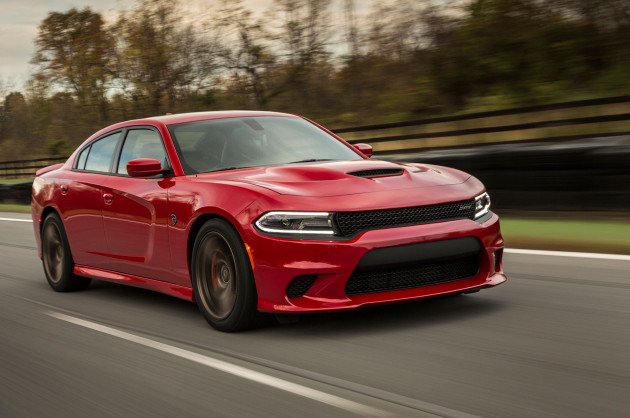 Yeah, so a Hellcat happened.. I was standing outside, minding my own business, taking photos of a purple Prius when a rumbling started. Quiet at first, off in the distance. I thought it was a train or military jet. It kept getting closer. The Prius looked nervous.
Then it arrived.
It was beastly. So sinister, without a hint of metallic shine anywhere on its body. It approached menacingly, brooding over its own command of the road. The Prius shook visibly. It might have been from the pavement as the beast approached, but the puddle of antifreeze under the car said otherwise. It was afraid.
The beast stopped before me. And like Neo, I had a choice.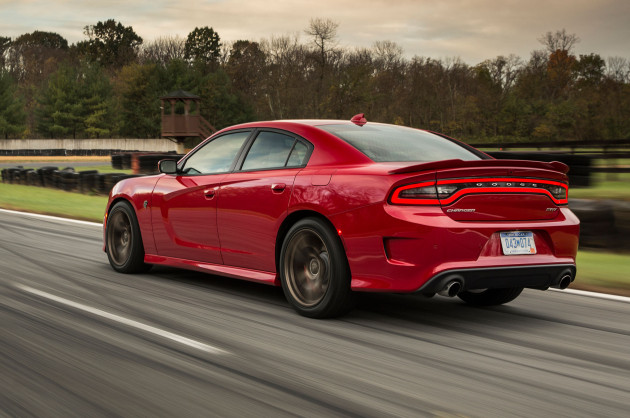 The Prius was a 50 mile per gallon, five-seat wonder machine. This was a 4-second zero-to-sixty monster that also seats five. The choice was clear. Take the kids for a leisurely drive with great fuel economy or put them in the Charger Hellcat and have fun at the edge of death while achieving speeds unthinkable by most mortals.
So the Hellcat happened. There really was no choice.
For one glorious day, I had a 2015 Dodge Charger SRT Hellcat. I spent it all driving. I didn't stray more than ten miles from my home, yet I managed over 150 miles of driving in less than 24 hours. It was magnificent. Rubber burned, 0-60s in less than five seconds ensued, and every man in town wished they were me for a day. I now have at least three bonafied enemies – wives of those whom I converted to the Hellcat side of the force.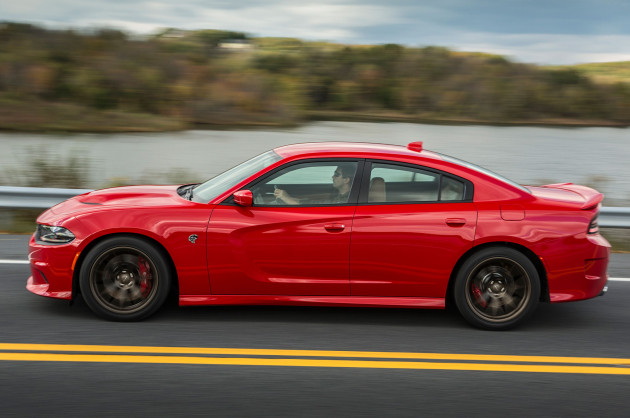 The 2015 Charger Hellcat is a 707-horsepower growling beast with 650 pound-feet of torque, all going to the rear wheels. Under the aggressive hood, with all of its scoops and lines, is a 6.2-liter supercharged V8 that runs through an eight-speed automatic transmission. A truck-sized driveshaft runs down the transmission tunnel to the rear end, which boasts a 2.62 ratio and anti-spin differential.
This translates to solid 4.4-second 0-60 mph runs from idle and 12-second quarter miles. My kids screamed in terrified delight during all of those runs. My 4-year old daughter still talks about them. She had a good view from her car seat in the back of this four-door beast. Yes, this is a family muscle car. All the better.
This doesn't mean that the $71,000 Charger SRT Hellcat doesn't have some downsides. It's rear-wheel drive and exceedingly powerful, both of which have some negatives. Speeding tickets are just waiting to happen in this car. Women universally seem to hate the Hellcat because it easily demolishes their "sports cars aren't practical" argument. Dodge basically took the perfectly practical Charger and slapped 707 horses under the hood and said "HA!"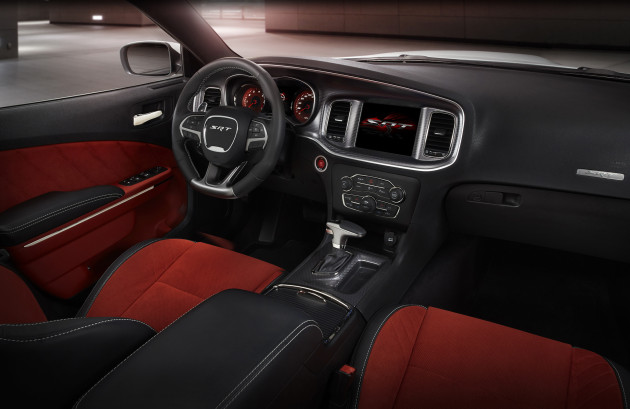 I should also mention corners. The 2015 Dodge Charger SRT Hellcat doesn't like them much. It will turn them at a leisurely pace, but if you really want to hit them hard, as you would in some sports cars, the Charger will make complaints. This has much to do with the big, heavy, cushy-chassis'd sedan and little to do with the drivetrain. This is a straight-line car, not a GT ride.
But enough about the negatives. This is a Hellcat. It's 707 horsepower worth of tire screeching mayhem. With four doors and seating for five. The Charger Hellcat can commute to work, pick up the kids, get the groceries, and make a stop at the drag strip along the way. Not even a diesel-spewing coal burner of a pickup truck can make a Prius tremble like the Charger SRT Hellcat can. And for one ear-splitting, underwear-staining day.. we had one. And it was magnificent.