Doing The Brickyard 400 VIP Style With Crown Royal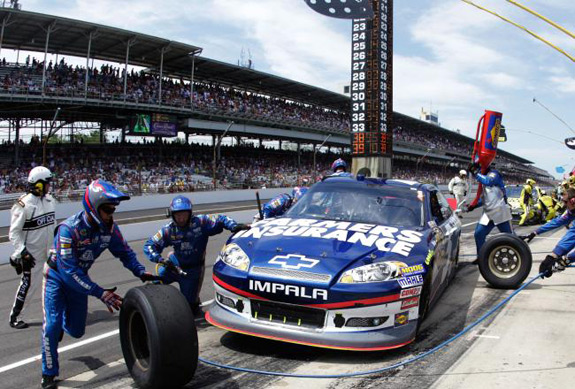 This past weekend, Crown Royal flew me out to Indianapolis to attend the Brickyard 400 (also known as "Crown Royal Presents The Curtiss Shaver 400 at The Brickyard"). We posted last week about how Curtiss won the naming rights for the race, it's really quite an amazing story.
This was the first NASCAR race I've ever attended, and it was really a lot of fun!
Of course, being a guest of Crown Royal, we got the VIP treatment – A "Hot Pass" which gave us full access into the pits and garages, a ride-along in a pace car (where we hit 120mph in an Impala), and access to Crown Royal's suite in the Pagoda, which overlooked the starting line. Without question, we truly had the best seats in the house!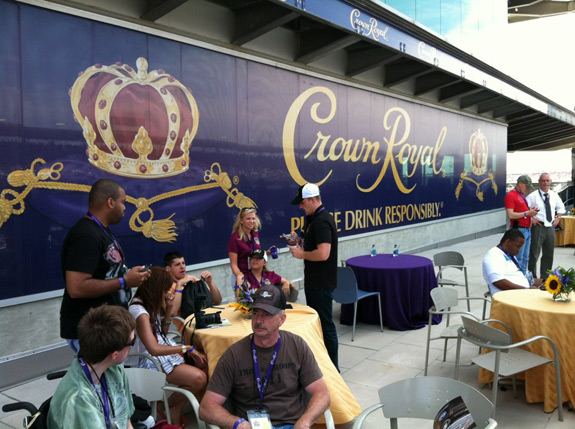 Most of the weekend centered around a "Capture The Crown" scavenger hunt at Indianapolis Motor Speedway. Like every other scavenger hunt you've ever been on, we were tasked with finding all kinds of goofy things around IMS. While we didn't win, it was still a lot of fun, and we got to explore every nook and crany of the racetrack in the process.
I had no idea just how MASSIVE the Indianapolis Motor Speedway grounds were. We had golf carts to get around the complex, and thank god for that. RV grounds, the IMS museum, huge fields where concerts were held, concession stands at every turn, and a massive infield where tens of thousands of people hung out during the race, there was action going on in every corner of Indianapolis Motor Speedway.
Throughout the weekend, Big Machine Label Group held a number of concerts, including The Band Perry, The Mavericks, Justin Moore and Greg Bates. My buddy's a huge country music fan, and he would have loved to see all these bands performing in one place.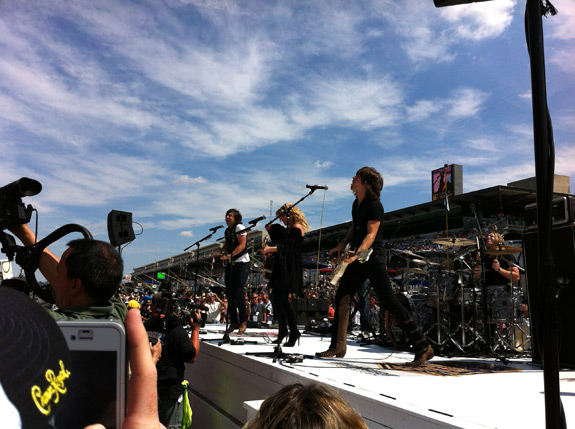 As you can see from the picture above, we were literally inches away from The Band Perry, thanks to our awesome VIP credentials!
Being my first NASCAR race, there were a few things that surprised me..
1) The cars are unbelievably loud, so earplugs are an absolute MUST!
2) 175mph is really FAST! It doesn't look that fast on TV for some reason.
3) It's incredible how close you can get to the action with a Hot Pass!
The race itself was great, with Jimmie Johnson ultimately taking home the win. Our team was rooting for Jeff Gordon, but he couldn't pull it off.. After the race, we watched him do a nice smokey burnout, receive his trophy, and then "kiss the bricks" with the rest of his team.
A great end to a great weekend, and I now understand why NASCAR fans are so passionate about the sport. Many thanks to Crown Royal for their unbelievable hospitality, it was a great weekend that I won't soon forget!