Fast & Furious Supercharged Thrill Ride Comes To Universal Studios Hollywood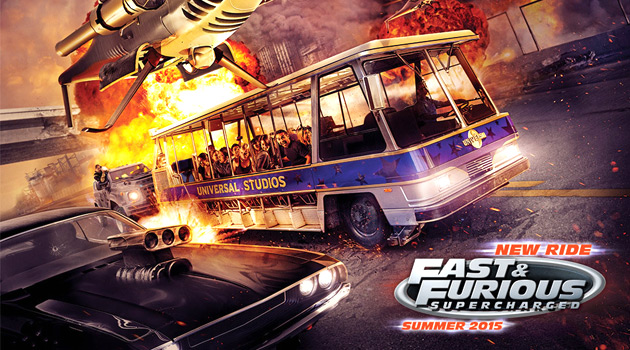 I've been a fan of the Fast & Furious franchise since the beginning. The cars, the stunts, the action, what's not to love? Of course, you can't exactly play out your F&F fantasies on the streets, or you'll end up in jail. But Universal Studios Hollywood has the next best thing, a ride called Fast & Furious—Supercharged which is set to open on June 25th.
Fast & Furious—Supercharged is a technologically advanced, epic ride that reunites stars from the Fast & Furious series in a groundbreaking mega-attraction, conceived as a new installment to the Fast & Furious films. Featuring Vin Diesel (Dominic "Dom" Toretto), Dwayne Johnson (Luke Hobbs), Michelle Rodriguez (Letty Ortiz), Tyrese Gibson (Roman Pearce) and Luke Evans (Owen Shaw), the ride catapults guests into the high-stakes underground world of fast cars in a harrowing escapade – at perceived speeds in excess of 120 miles per hour – to save one of their own from an international crime cartel.
This high-octane, adrenaline-fueled thrill ride is the new grand finale to the world-famous Studio Tour. The dynamic hydraulic motion-based ride will tell an original Fast & Furious story that fuses sophisticated hyper-realistic special effects with a state-of-the-art 3D audio system and 3D-HD imagery, projected on the world's longest and most expansive 360-degree screen. Spanning nearly 400 feet in length to encircle Studio Tour guests within a newly constructed 65,000-square-foot structure on the legendary backlot, the custom-built screen will employ 34, 4K projectors and a sophisticated projection configuration system to envelop park guests in unprecedented realism.
This ride sounds freaking awesome, and I can't wait to check this out the next time I'm out in California!