First Drives: 2016 Scion iA and iM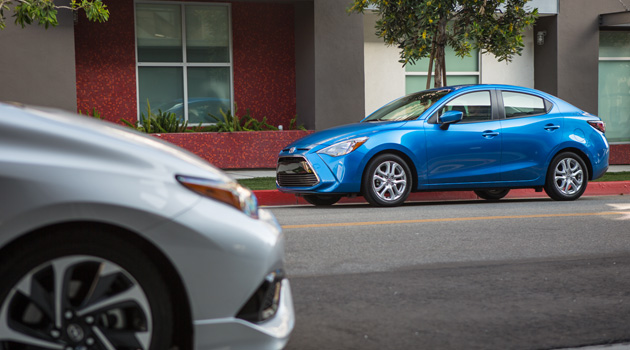 Last month, Scion invited us to Philadelphia to drive their two newest cars, the 2016 Scion iA and Scion iM. With these two cars, Scion moved away from their familiar design language with boxy side panels and sharp angles for a sleeker, sporty aesthetic, and it's a welcomed change for this reviewer.
Since the Scion iA and iM were unveiled together at the New York Auto Show earlier this year and are being marketed together (have you seen the new Scion commercial with James Franco?), I decided to review them together as well. But make no mistake, these two cars couldn't be more different if they tried.
2016 Scion iA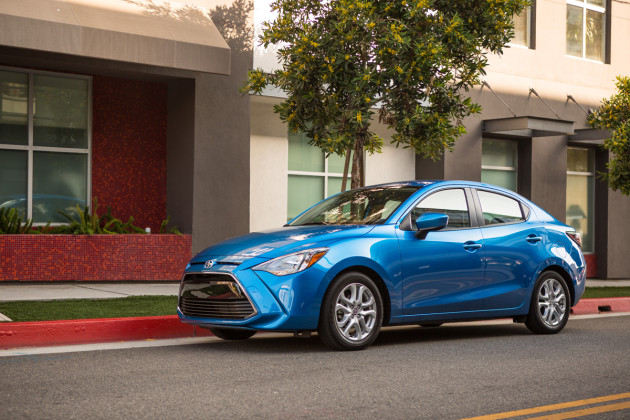 The 2016 Scion iA is the brand's first-ever sedan, and it faces stiff competition from established players in the subcompact market, including the Ford Fiesta, Chevy Sonic, Hyundai Accent, and Nissan Versa. But thanks to their one-time agreement with Mazda (it's based off of the Mazda 2), they've brought to a market a vehicle that's more than ready to take them on, on all fronts.
Scion's goal was to develop a segment-buster that would change people's perception of subcompact sedans, with sleek styling, sporty driving dynamics, a high level of standard equipment, and above all value.
The Scion iA cuts a striking profile that certainly stands out in a crowd. To make the most of its sophisticated sedan breeding, the iA also sports an upscale looking piano black bumper treatment, chrome grille surround and chrome tailpipe. The color choices deliver a range of vibrant intensity: Stealth black, Abyss, Graphite, Pulse, Sapphire, Sterling and Frost.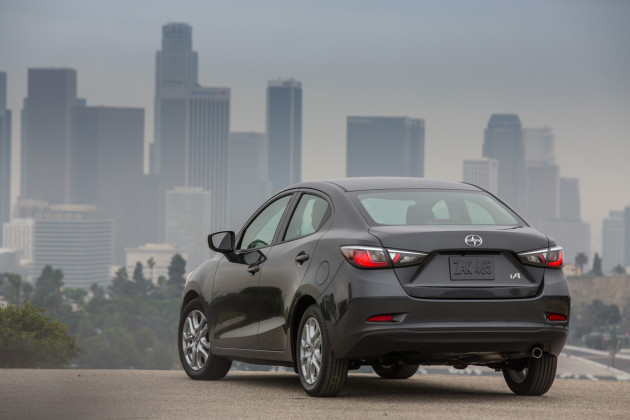 We were concerned that the iA might be a little sluggish given that it only puts out 106HP. But thanks to it's low curb weight (2,385 lbs), it had plenty of Zoom-Zoom, and we had a blast zipping around the twisty rural roads outside of Philadelphia. The driving dynamics are decidedly Mazda, and that's a great thing, as they know a thing or two about fun-to-drive cars.
As a well-equipped mono spec model, the iA comes standard with high-end features like keyless entry with push-button start, low-speed pre-collision system, 7″ touch screen multimedia system with voice recognition, and a rear-view backup camera. And of course, they come with standard features like power windows, cruise control, power steering, Bluetooth phone connection, ABS, stability control, traction control and more. While it's easy to take those features for granted, on some cars in this segment those can be extra-cost options.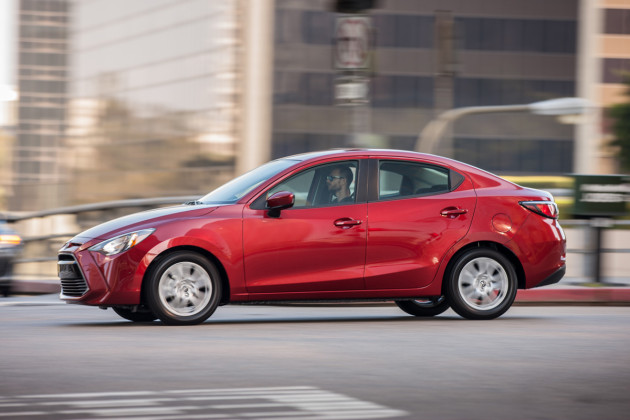 In fact, besides color, the only other decisions buyers must make is whether they want the optional automatic transmission or not. Personally, I thought the six-speed manual transmission was a delight to drive (even better than the manual in the iM), and it definitely adds to that sporty factor.
But the best part about the Scion iA? The price. The iA has an MSRP of $15,700 for the manual and $16,800 for the automatic. You get an amazing amount of vehicle for the money, not to mention great fuel economy (33 city / 42 hwy) and free scheduled maintenance for 2 years/25,000 miles. What more could you ask for?
2016 Scion iM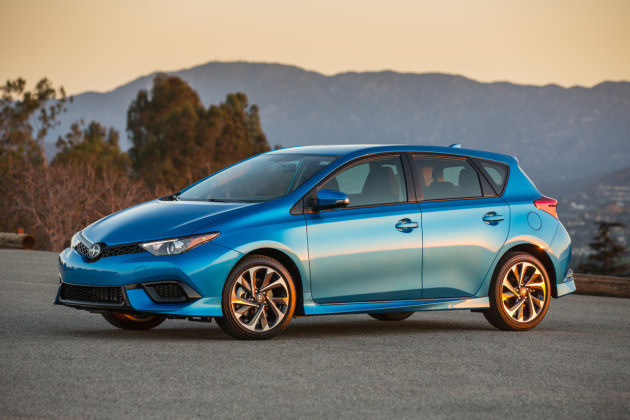 The 2016 Scion iM is a sporty and versatile 5-door "fun-hatch" that's packed with amazing standard features, bold design and sporty, dynamic performance. The hatch design offers plenty of room to handle whatever adventures might come your way, and it fills the void left after Toyota discontinued the Matrix.
As with the iA, the Scion iM faces some stiff competition from cars like the Ford Focus, Hyundai Elantra GT, Volkswagen Golf, and Mazda 3. Scion hope to stand out from the pack based on the car's fun factor, bold and aggressive design, premium standard features, and high fuel economy, all at a very competitive price.
The Scion iM's styling is certainly a love it or hate it affair, and while I'm still on the fence about it myself, I'm also considerably older than the demographic they're aiming for here. But it's definitely distinctive, and it will get lots of attention, especially if you get one in Spring Green Metallic (Neon Yellow) or Electric Storm Blue.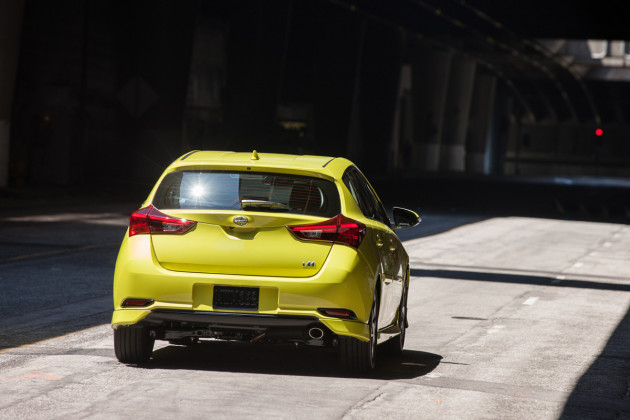 The interior is a considerable step up from the iA, with high quality materials abound throughout the Scion iM cabin, where the layered dashboard design combines sports car-inspired instrument panel styling with easy to reach, easy-to-use controls. The iM comes with a 7″ Pioneer Display Audio unit with Bluetooth, HD Radio, rear-view backup camera and 6-speaker sound.
The leather-wrapped steering wheel has fingertip switches for audio, multi-info display and hands-free phone calls. The 4.2″ TFT multi-information display between the main instrument gauges provides displays for the car's audio system and other functions. You also get dual-zone automatic A/C control, color-keyed heated power-folding exterior mirrors, and auto on/off headlamps, features normally found in a higher segment.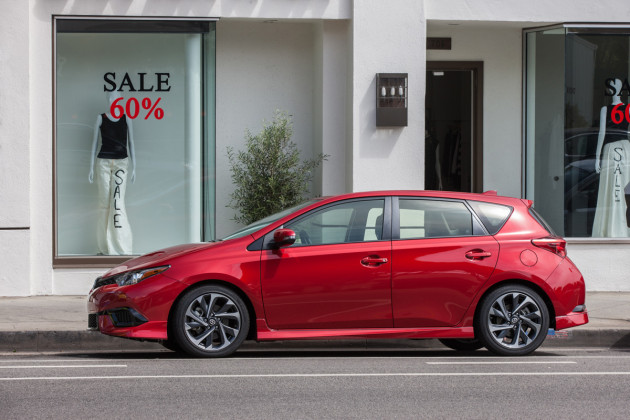 On the road, the Scion iM delivers on it's sporty premise, delivering lively performance (from it's 1.8L engine that puts out 137HP) and handling (thanks to it's double-wishbone rear suspension and wide 225mm tires) that kept us entertained throughout our drive. But perhaps most surprising was how GREAT the CVT in the Scion was, possible the best one I've ever driven! It's tuned for instant feedback and response, and it really delivers. Honestly, I'd take this CVT over the manual, and that's something I never thought I'd be saying..
With a starting price of $18,460 for the manual and $19,200 for CVTi-S, the Scion iM should definitely be a competitive option in the compact segment. The sporty styling, estimated 37 mpg highway, and versatile space lets drivers envision their own ordinary – or odd – adventures.
Visit www.scion.com to get more information about the Scion iA and iM.