First Ride: 2013 Ford Escape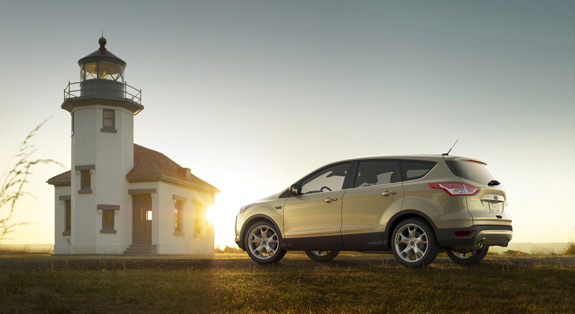 When I came up for the New York Auto Show a few weeks ago, I got a chance to take a ride in the new 2013 Ford Escape. I'd seen the new Escape at other auto shows earlier in the year, but this was my first time actually getting to experience the car first-hand.
It's clear that the new Escape is quite a departure from the model it replaces. At first, I wasn't really feeling the new design.. But just like with the new Fusion, it looks much better in person.
"Escape is America's best-selling utility vehicle, and the Ford team has worked hard to make sure we deliver even more of what small SUV owners really want," said Derrick Kuzak, group vice president, Global Product Development.
So besides the obvious exterior changes, what's new with the 2013 Ford Escape? Better fuel economy, more cargo volume, TONS of technology (including an available hands-free power liftgate that's really trick), better driving dynamics, and a new 4WD system that provides even better traction off-road.
"We call our all-new Ford Escape the 'Smarter Utility Vehicle' because it offers the strengths that customers today really value – fuel economy, versatility and new technology that makes driving and living with the vehicle easier and more fun – all wrapped in a sleek, more modern design," Kuzak said. "Ford understands that more people every year are looking at vehicles like Escape, and we want to give them even more reasons to buy."
I could go on and on about all of the new technology packed into the new Escape, but here are some of the highlights:
Hands-free Power Liftgate – A gentle kicking motion under the center of the rear bumper activates, unlocks and raises the liftgate when the driver has the Escape key fob. This allows quick and easy access to the cargo area.
SYNC with MyFord Touch – The gold standard of car infotainment, offering multiple ways for customers to manage and control information through voice commands, menus accessed through controls on the steering wheel, touch screens, buttons or knobs.
Active Park Assist – With the press of a button, the system detects an available parallel parking space and automatically steers the vehicle into the space. Drivers control only the gas and brake pedals
Blind Spot Information System – Maneuvering parking lots and traveling open roadways becomes even safer and less stressful with Escape's sensor-based System with cross-traffic alert.
Curve Control and Torque Vectoring Control – The all-new Ford Escape is the first Ford SUV to combine class-exclusive technology to automatically slow the vehicle when it's cornering too fast or help accelerate through a turn.
That's all well and good, but if you're like me you're probably wondering about performance. You've got three engines to choose from:
2.5-liter I-4 putting out 168HP and 167lb-ft of torque
1.6-liter EcoBoost I-4 putting out 173HP and 177lb-ft of torque
2.0-liter EcoBoost I-4 putting out 237HP and 250lb-ft of torque
Being green never sounded so good! 🙂
Since I haven't gotten to drive the new Escape yet, I can't really comment on how it drives.. But I was REALLY impressed with the vehicle on my ride through New York City. Fit and finish are impeccable, the car is stunning in person (especially in Deep Impact Blue), and the interior is on-par with many luxury vehicles I've driven.
Base price for the 2013 Ford Escape starts at $22,470, with a loaded Titanium model tipping the scales at just over $30K.
For more information, head on over to http://www.ford.com/suvs/escape/.