Ford Introduces OlsbergsMSE Fiesta ST GRC Race Car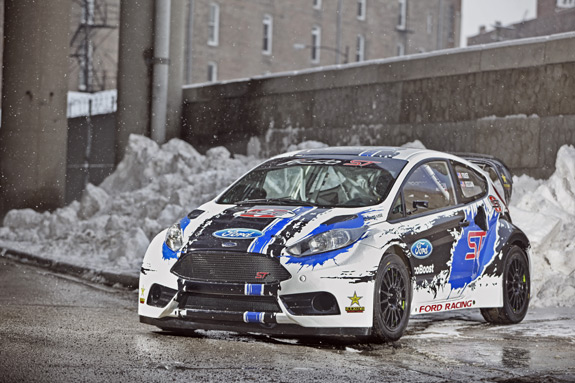 In many ways the 2014 Ford Fiesta ST is a race car built for the street. Global Rallycross Championship (GRC) fans will soon get an up-close view of the same car built exclusively for competition at the Chicago Auto Show.
With the global launch of Fiesta ST under way, Ford Racing will introduce the ST performance badge in the 2013 season of the Global Rallycross Championship and Global X Games events.
The move is part of an expanded Global Rallycross program for Ford as it capitalizes on the growing popularity of the series and its increased visibility through X Games and some larger-than-life personalities, including Tanner Foust, Brian Deegan and Ken Block.
The first Fiesta ST GRC cars will debut this season with Block, Deegan and Foust. Foust and Deegan will give performance car enthusiasts and media the first look at the OlsbergsMSE Fiesta ST GRC race car this week at the Chicago Auto Show.
To support development of the RallyCross Fiesta ST program, Ford Racing has formalized its manufacturer partnership with OlsbergsMSE, whose credentials include two consecutive GRC driver championships with Foust, and podium finishes at all six rounds in 2012. The team has helped Ford earn GRC manufacturer's championships in 2011 and 2012. OlsbergsMSE will field the Fiesta STs for Foust and Deegan.
Rounding out Ford's GRC program is Ken Block and the Hoonigan Racing Division. Block's strong 2012 Global Rallycross season was highlighted by a silver medal at X Games 18 behind World Rally Champion Sebastien Loeb, and he posted top two qualifying positions in each of the series' last four rounds.
You can see photos of Ken Block's Fiesta ST Global Rallycross Championship car for 2013 on our Facebook page.
"I'm stoked to be able to say I'm going to be continuing to race Fords in Global Rallycross for the next few years, especially with the four X Games events this summer," said Block. "For the upcoming 2013 season, my team is taking everything we learned during my rookie season last year and applying it to an all-new RallyCross car. It's going to be a fun season."
What do you think of the Fiesta ST GRC Race Car?