Guinness Debuts Black Lager Across US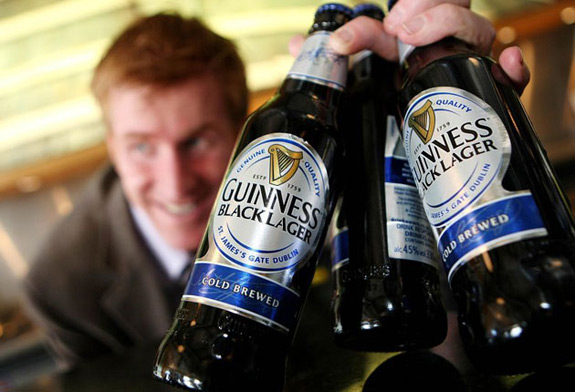 Guinness held a special event yesterday in Los Angeles to help kick off their latest product, Guinness Black Lager. Since we couldn't attend, they shipped some to us instead!
Arrangements were made for Guinness master brewer Fergal Murray to call us and talk about the Black Lager. For 3 days, those icy cold beers taunted us everytime we opened the fridge. But we waited to get him on the phone before cracking open those bottles..
Surely this master brewer would share some secret information on the best way to consume this frosty beverage. The proper glass? The perfect pour?
NOPE!
"Just drink it out of the bottle," says Murray. Fine by us!
It's quite a departure for Guinness, but I thought it was fantastic! I've been drinking Yuengling forever, but Guinness' Black Lager had me thinking otherwise..
While some bars and liquor stores may have the new lager already, the official launch date is September 1st. Interestingly enough, Guinness Black Lager is not available in Ireland, the company's home and one of the hardest-drinking countries in Europe.
"Is it a Guinness or is it not a Guinness?" Murray asked. "It is a Guinness lager and it's going to be positioned against other lagers in the marketplace."
That could be tough to swallow for the devotees of the iconic stout, who make the pilgrimage to the brewery in St. James's Gate in Ireland to bow their heads in reverence to a beer that dates back to the 1700s.
Of course, trends change through the centuries. Guinness believes its latest beer helps the company keep up with an expanding marketplace. But will consumers buy it or see the company as pandering to American taste buds? Only time will tell..
Have you tried the new Guinness Black Lager? If so, tell us what you thought of it!