High-Tech 'Coolest' Cooler Tops $4M on Kickstarter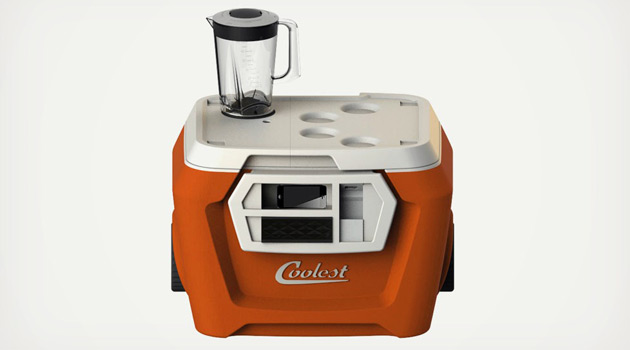 This morning, our local news station did a story about a Kickstarter campaign that was breaking all kinds of records. Naturally, I thought they were talking about the potato salad campaign that has raised almost $50K so far. But they were actually talking about a 21st century cooler called the COOLEST cooler, which to date has raised $4,273,991.
So is this high-tech cooler cool enough to be called the COOLEST? You decide. Regular coolers are boring, break easily and are a hassle to haul around just to carry the ice. The COOLEST is 60 quarts of AWESOME packed with so much fun you'll look for excuses to get outside more often.
This video shows you what the COOLEST is all about:

Maybe you want to use the built-in ice crushing blender to whip up some margaritas or smoothies on your next boat trip or tailgate? Maybe you just want to always have music on hand with the waterproof Bluetooth speaker or want to recharge your electronics with the built in USB charger?
The party doesn't stop when the sun goes down, and you shouldn't have to freeze your fingers searching endlessly for your favorite drink. The COOLEST has unbreakable lights embedded in the lid so you easily find what you're looking for with the push of a button.
Carrying your gear to and from your destination is a hassle, and your old cooler isn't doing you any favors. The COOLEST locking tie-downs are like having a roof-rack on your cooler so three trips can be done in one. Easily secure your lawn chairs, blankets, towels, toys, fishing tackle, or grill.
The COOLEST has a split lid design so you can get access to ice for the blender without letting too much warm air in. This also lets you keep your cups in the cup holders so you don't have to put everything on the ground just to grab another cold drink. The split lid design and removable divider give you some great packing options.
They've clearly thought of everything with the COOLEST cooler, and people have flocked to the COOLEST Kickstarter page to pledge their support, exceeding the original $50K funding goals by over $4 Million!
I think this is a genius product, and I might just have to pick up one of these bad boys for myself. 🙂