I Just Don't Understand NASCAR Fans
A group of "lucky NASCAR fans" received a very permanent reminder of their trip to Talladega Superspeedway this weekend – In the form of free tattoos from Jeremiah Weed Flavored Malt Beverages.
NASCAR Championship contender Matt Kenseth, who now sits in 2nd place in the Chase standings, and the flavored malt beverage maker teamed up to offer free permanent tattoos to race fans for a good cause. Fans could choose from a number of designs including Matt's signature, a No. 17 or a Jeremiah Weed Lightning Lemonade can.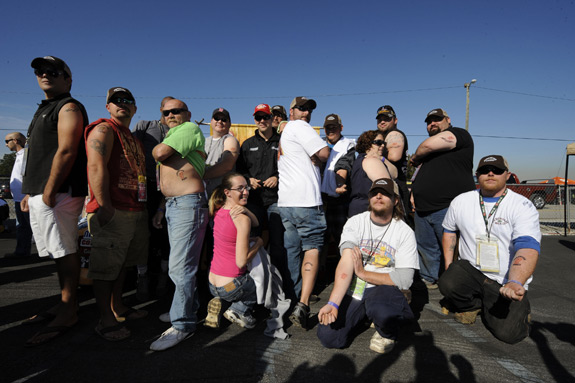 I wish I could have interviewed some of these people, I imagine it would go something like this:
Trent: So what made you decided to get the #17 tattoo?
Billy Bob: 'Merica!
Trent: Who do you think will win today's race?
Cletus: Git-R-Done
Trent: Is Matt Kenseth your favorite NASCAR driver?
John Boy: (mouth full of chewing tobacco)
Trent: Do we need to institute stricter rules in light of Dan Wheldon's accident?
Roscoe: If you ain't rubbing you ain't racing..
But in all seriousness, the tattoos were for a good cause so I can't really knock 'em.
17 fans got tatted up to show their loyalty. Jeremiah Weed was so inspired by the turnout that they increased their donation of $100 for every tattoo inked to an overall sum of $5,000 to The Air Force Enlisted Village charity, which is committed to providing safe, secure and dignified homes for indigent surviving spouses of retired Air Force personnel.