Jack-O Traveler : Traveler Beer's Pumpkin Craft Beer Shandy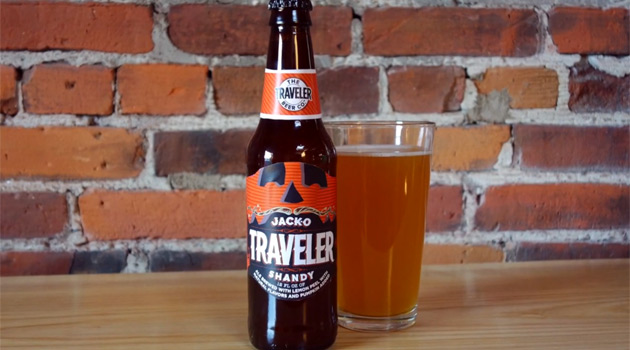 Soup? Yawn. Pie? Puhleeze. Bread? So blah. Move over Peter, there's a new pumpkin in town, and he's been brewing a better beer with everyone's favorite seasonal squash.
Meet Jack-O-Traveler, the first ever, limited edition, seasonal craft beer Shandy brewed with real pumpkin and a hint of spice. What may sound like a trick is, in fact, all treat. Dark-hued and bright tasting, Jack-O-Traveler has set a new bar representing the darker side of shandy. Jack-O-Traveler will be available through Halloween at bars and restaurants and on store shelves, alongside other Traveler Beer Company offerings.
"There's no doubt that fall is the season for pumpkin beer, and we're thrilled to bring the world's first-ever pumpkin Shandy to the market." said Alan Newman, founder of Traveler Beer Company. "With Jack-O we've turned to the tastes of the season to create something that's really quite thrilling.
Traveler Beer Company, brewers of Curious Traveler, Tenacious Traveler and Time Traveler Shandy, have drawn inspiration from the traditional European Shandy and given it new life on this side of the pond. The European original is a mix of lager and lemon soda, however, Traveler Beer Company has introduced a line inspired by the recent American passion for high quality, craft beers. Traveler's Shandys are craft beers brewed with real ingredients such as real pumpkin, lemon/lime, ginger/honey and strawberry. Flavorful, bold, refreshing and sessionable, these are Shandys for beer lovers.
A list of locations that sell and pour Traveler Beers can be found here.
Have you tried Jack-O Traveler yet? If so, let us know what you think of it!