Papa's Pilar Gets Rum Back To Its Gutsy Roots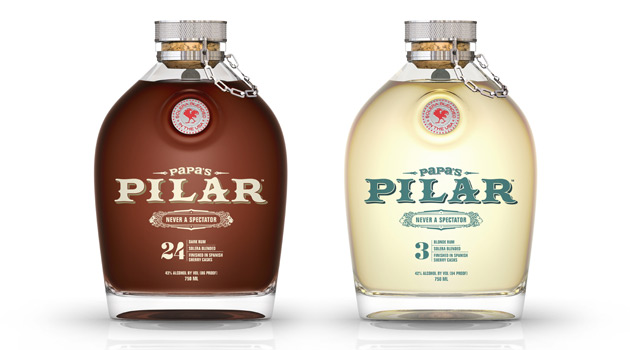 Papa's Pilar are new super-premium rum inspired by Ernest Hemingway's spirit of adventure that's hell-bent on returning rum to its gutsy roots. The inaugural Dark & Blonde varieties are born from the finest rums of the Caribbean, Central America and the U.S.A. and then solera aged and blended in a unique process here in the states, using American Oak Bourbon barrels, Port Wine casks, and finishing in Spanish Sherry casks.
Papa's Pilar is meant to rekindle a sense of adventure in us all and replace the Hawaiian shirts and umbrella drinks with which rum has become associated. "Papa" as Ernest Hemingway was known, was possibly the world's greatest adventurer. Papa's Pilar was crafted to be near that same adventure, accompanying rum enthusiasts as they sink their teeth into life. Named for his muse and one true constant, Pilar is the vessel that allowed America's literary giant to reach beyond the shoreline, feast on life and remind us to never be a spectator.
Papa's Pilar Dark received a "Double Gold" Medal at the 2013 San Francisco World Spirits Competition, and it's a bold and complex rum. At 86-proof, it is both pot and column stilled and boasts hand-selected rums up to 24 years old, and a long, velvety finish. Papa's Pilar Blonde is a crisp and nuanced rum, which includes column stilled aged rums 3-7 years old. At 84-proof, it has a layered and exceptionally smooth finish. Papa's Pilar Blonde was awarded "Best in Class" White Rum at the 2013 Rum Renaissance Festival in Miami.
Every aspect of Papa's Pilar is thoughtful and purposeful. The distinct bottle evokes Papa's exploits through a form factor reminiscent of an iconic WWII canteen. The etched compass closure reflects that same sense of adventure on either land or sea, and the chain link makes it practical for any excursion. The lion heads represent nobility while the Rooster on the Medallion pays homage to Key West, an island where Hemingway and his boat Pilar once resided and remain celebrated fixtures within the community.
Papa's Pilar was developed in conjunction with Ernest Hemingway's estate. "We worked closely with the Hemingway family to ensure the brand and product captured Hemingway's true essence," said Lindsey Kops, brand manager, Papa's Pilar. "Today, we raise a glass to this exciting new adventure and a man who inspired us all to never be a spectator."
"Two of my Dad's favorite rituals were hunting buffalo and enjoying rum, especially a Papa Doble," said Patrick Hemingway, the second son of Ernest. "From the liquid to the intricacies of the bottle, Papa's Pilar pays homage to a great man and arguably the world's greatest adventurer. My Papa would be proud."
A 750ml bottle of the Dark will set you back $39.99, and a 750ml bottle of the Blonde goes for $29.99.
If you're looking to experience super-premium rum at it's finest, try Papa's Pilar.