Malaysian Motorcycle Grand Prix Preview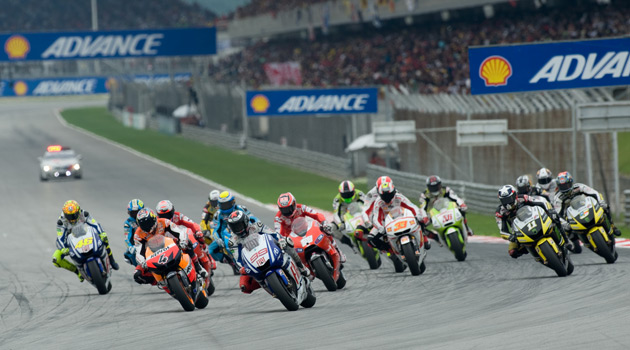 If you follow MotoGP, you know that the Malaysian Grand Prix is the 15th race of the season and could be the race in which Marc Marquez all but secures the 2013 title in his debut season.
Marquez has an impressive lead at the top of the table, and his closest rival Jorge Lorenzo will need to ride a perfect race in Malaysia if he hopes to come out on top. So let's hope Marquez has his insurance sorted out, from say the likes of say, Express Insurance, as well as hoping for some kind of error from Lorenzo if he still has any hopes of taking the title for himself.
About The Circuit
Officially known as the Shell Advance Malaysian Motorcycle Grand Prix, this circuit and all of the hotels, shops and other sporting facilities that come with it, is one of the most impressive in the sport. This is not one of those circuits where there is nothing else to do apart from watch the race; this is a wonderful compound with plenty to see and do. The track itself is one of the widest, and at just over 5.5km (3.5 miles) in length, it is also one of the longest. There are a number of slower, tighter turns which are excellent for overtaking, as well as two long straights where the riders will reach their top speeds. This is a fantastic circuit which provides a challenge for the riders, as well as plenty of excitement and spectators. Built in 1998, it is still one of the most high-tech circuits in the current MotoGP calendar.
The Season So Far
Virtually the entire 2013 MotoGP has been dominated by the Spanish triumvirate of Marc Marquez, Jorge Lorenzo and Dani Pedrosa. Marc Marquez now has a 39 point lead ahead of Lorenzo with only four races left. Mathematically, this means that Lorenzo could still overhaul Marquez, but it is very unlikely that Marquez will fail to pick up sufficient points to fail to take the title. The last race was in Aragon, Spain in which Marquez took first place ahead of Lorenzo.
Who's Going To Take The Victory?
Only Valentino Rossi has picked up a win this season outside of the three Spaniards, and the Malaysian GP will most likely prove to be no different. The safest money will certainly be going on Marquez to continue his excellent run of form, with Lorenzo and Pedrosa second and third favourites respectively. This circuit suits Marquez's exciting and consistent style, as he is equally capable of navigating the twists and turns, as well as putting his foot down on the straights.
Getting There
If you are lucky enough to have tickets to the Malaysian Grand Prix this season, you already know that you have quite a journey ahead of you. However, the Sepang International Circuit is situated only 15km from Kuala Lumpur International Airport and roughly 50km south of Kuala Lumpur itself. This makes travelling to the race a lot easier than some other circuits on the MotoGP calendar, and you should have no problem getting to the race track from your city or circuit hotel.