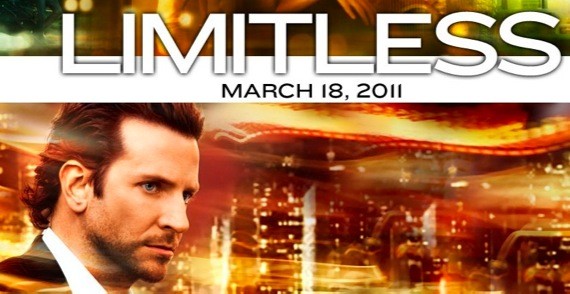 Bradley Cooper and Robert De Niro star in Limitless, a paranoia-fueled action thriller about an aspiring novelist whose life is transformed by a new top-secret drug that allows him to use 100% of his mental capacity, and become a perfect version of himself. His enhanced abilities soon attract shadowy forces that threaten his new life in this darkly comic and provocative film.
If somehow you missed the million commercials on TV for the movie, you can watch the theatrical preview below:
I wasn't sure Limitless was worthy of my $10.50, but I'm glad I saw it on the big screen as opposed to in my home, as the special effects are just out of this world! Wild psychedelic effects that I've never seen used in a movie before, and it's a real visual treat. Some of my friends want to go see the movie a second time while on something. 'Nuff said.
So the premise of the movie is pretty simple: Eddie is a down-and-out author-to-be, and his life is crumbling around him. He scores a mind-enhancing pill through a chance encounter, and it transforms him into the person he wants to be. Suddenly, he's a super-genius who's able to use these powers to profit. And of course, this newfound success gets him laid. A lot. The movie could have used some better eye candy, but these scenes were pretty brief so it wasn't a huge loss.
Eddie's success attracts a lot of attention, both good and bad. For someone who claims to be able to see 50 steps ahead, you'd think he could have predicted the bad things that were about to happen to him. But that wouldn't have made for much of a movie, now would it?
I'm not complaining about this (like some fanboys on the IMDB boards are), I thought it was a fun movie and that's what I came in looking for. There's some ambiguity at the end of the movie, leaving you to come up with your own conclusions. And maybe even leaving the door open for a sequel – Unlikely, but stranger things have happened!
On a scale of 1-10, with 1 being Gigli and 10 being The Godfather, I'm giving this movie a 7.5.