Freelancers – To Serve, Protect.. and Steal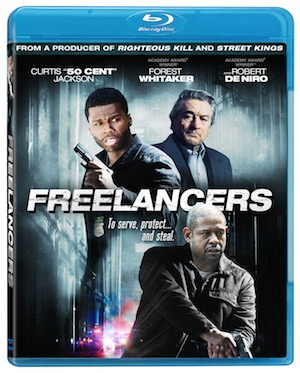 The brotherhood between cops is sacred, but it's not stronger than the bond between a father and son, especially when it's a matter of justice.
Freelancers is an action packed police thriller that enjoyed a limited release in NY and LA, and now comes to DVD on August 21st. The film stars Curtis "50 Cent" Jackson, who plays Malo, the son of a slain NYPD officer who joins the force only to discover the villainous story behind his father's death.
Jackson is surrounded by an all-star supporting cast that includes Robert De Niro and Forest Whitaker, who head up the band of rogue New York City cops that recruit Jackson and his partners into their corrupt ranks. But when the truth about his father's death is revealed, revenge takes over and he won't stop until justice has been truly served.
I enjoyed the movie for what it was, an entertaining cop drama with a pretty solid cast. It's a fun way to pass a few hours, especially if you like crooked cop movies like me.
Here's a red band clip from the movie:

Freelancers comes out August 21st, and is currently available for pre-order from Amazon.