New PAPAGO! GoSafe Dashcams Will Be On Display At Computex 2014

If you're headed to the Computex Trade Show next week, make sure you stop and visit the PAPAGO! booth in Exhibition Hall 1, 1F Booth# D0611a. There, you'll be able to check out the company's two newest GoSafe Dashcam models, the GoSafe 200 and GoSafe 260.
The two newest GoSafe dashcams are both incredibly different. Each covers specific creative technological qualities for consumers with specific needs in mind. The stealth design of the GoSafe 200 is like nothing else on the market today with its' ability to clip on your rearview mirror and a hideaway LCD screen. The GoSafe 260 replaces your rearview mirror and records footage with a crisp, clear quality that overshadows all the similar products of its' kind.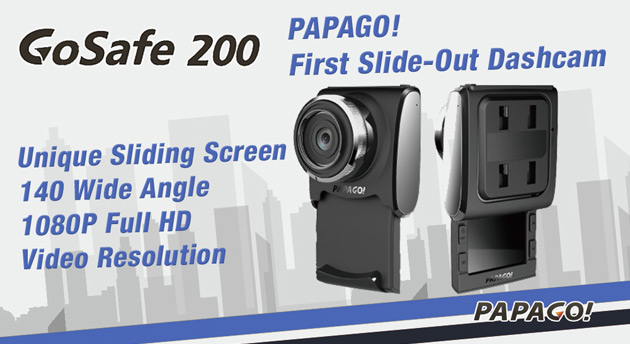 The GoSafe 200 has an ergonomic design that clips on the back of the car's rearview mirror and allows for the driver to use or hide-away the 2" LCD screen so you will not break any placement laws and avoid getting distracted while driving. The GoSafe 200 has a mini-compact design that weighs 0.2 lbs. with a large viewing range of 140° angle and 1080p HD resolution so you are sure to record everything. The PAPAGO! research and design team diligently works towards providing features that promote safety. In line with that motto, the sliding LCD screen was designed so the driver can put it away or use it when they want to snap a picture or manage the device.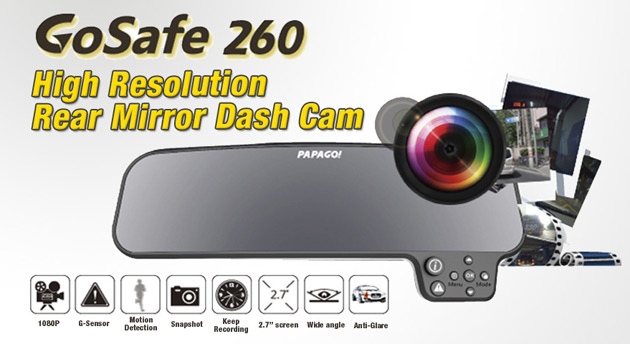 The GoSafe 260 is also designed with safety in mind for those individuals that do not want to add another device into the car but would rather just use it in replace of their car's rearview mirror. The GoSafe 260 outweighs its' competitors by using a highly developed anti-glare mirror that helps the driver avoid obtrusive flares of light that can cause accidents. Far surpassing other rearview mirror dashcams, the 2.7" LCD screen allows the driver to have a wider viewing range of the events behind them, while the camera's 1080p HD capture rate records vivid footage of your drive or lets the driver zoom in and out so they can snap a photo.
These two PAPAGO! GoSafe dashcams will be available for purchase in the US and Canada starting June 6th at select retailers. Visit us.papagoinc.com for more information.