NY Giants Justin Pugh Stays Trimmed With Conair 2 Blade Cutting System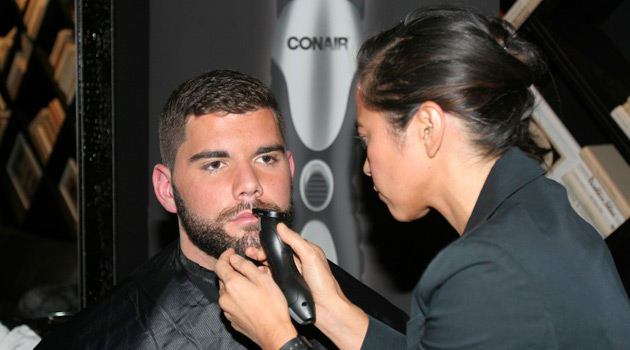 A few weeks ago, Conair and NY Giants player Justin Pugh debuted the newest in men's grooming with the Conair 2 Blade cutting system. Of course like most New York City events, both beautiful people and drinks were plentiful. We had a chance to speak with Justin on football, grooming and being a rookie in the NFL.
We sat down with Justin and asked him a barrage of questions including, How do you stay groomed during the season? It's all about keeping things simple and actually wanting to stay groomed. And now with the new Conair 2 blade my grooming just got a bit easier As a football player, what do you think of the latest incident involving the Miami Dolphins players and bullying? I think the whole thing was taken too far, all those things that happened outside of football like picking up a 30k tab at a restaurant was excessive. What are the Giants doing differently during the winning streak that you guys weren't doing during the first 6 games? Nothing, the coaches and the players work extremely hard, it was just that things weren't going our way, but now the tide has changed. Who is the coolest NY Giant? Justin Tuck, he's an inspiration to us, what he had to go through to get to this point is remarkable. Justin is so poised and chill all the time.
Conair for Men's new 2-Blade All-In-One Trimmer is the only cordless rechargeable trimmer with two stainless steel cutting blades, for twice the precision and twice the cutting action. It includes 14 different parts to help you achieve grooming from all angles.
Here are some tips straight from Justin Pugh on how to be a better man:
Tackle your dreams. You should never sit back and let things happen. As a rookie, I'm not the most experienced guy on the field, but I get out there and fight. In my family nothing's given to you – you've got to earn it.
Perfect your game face. I have a baby face, so I always maintain a beard to bring the edge on the field. Conair for Men's new 2-Blade All-In-One Trimmer brings twice the power and precision to keep any look fresh.
Train year-round. Even when I'm off the field, I'm constantly striving to stay in shape so that I can perform at my best. During the offseason, my go-to workout regime takes me back to Syracuse to train with former teammates. I lift, do field work, yoga, and conditioning six days a week.
Be big on the little things. Arrive five minutes early. No cellphones on the field or on the dinner table. Grooming should go beyond your facial hair. By doing these little things right all the time, you're going to be the one who comes through to make the big play in the end.
The world should be your oyster. Travel as much as you can. When I'm in the offseason, I'm always exploring new places. Most recently, I visited Rome and Barcelona. My favorite part was The Coliseum. Next stop, Australia!
Celebrity groomer Anna Bernabe also gave us her top ten grooming tips:
Even, Steven. To achieve even sideburns, look at the mirror and point your index finger to the end of one sideburn. Then do the same for the opposite sideburn. From there, you can determine if one side needs to be trimmed shorter.
Blending is key. Make sure the neck area is clean and trimmed at the shortest level or no guard. From there, always remember to blend from the area above your Adam's apple to your beard.
Brush up, wise one. Take an old toothbrush and brush eyebrow hair up. You will notice a few owl-like hairs that are longer than the rest. Take small scissors to trim excess.
Avoid the pinch. Before using nose hair trimmers, remember to turn it on before placing it into nose. This will avoid the pain and agony of ripping your hair out.
Extend the freshness. Clean your trimmers with an old toothbrush once a week and always brush off excess stubble when the trimmer is turned off. Bonus tip – place a few drops of oil on blade while trimmers are on so they are evenly lubricated. It will give your trimmers a longer life.
Dress to impress. Lint rollers are handy to touch up any dandruff around your suit jacket or sweater.
First impressions are key. Neatly trimmed nails are a must. Treat yourself to a manicure every once in a while!
Shine on. Exfoliating once a week will promote a healthy glow and help you avoid any ingrown hairs.
You need beauty sleep, too. Be generous at night with facial moisturizer because your skin will fully absorb the benefits and be supple and vibrant by morning.
Keep up with the up-keep. Always be sure to tweeze the random stray hairs between eyebrows to avoid that unibrow look.
Follow these expert tips, and you're well on your way to being a better man!