Pizza Hut Takes WingStreet National By Offering America Free Wings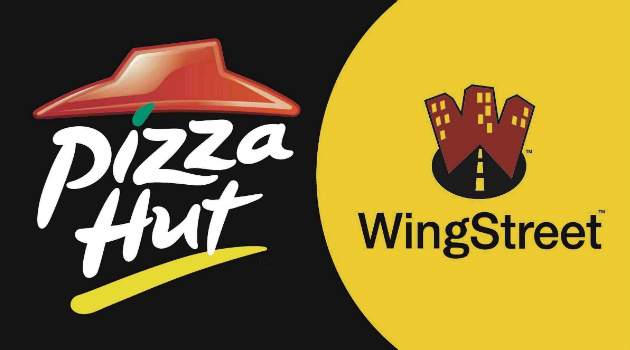 For wing-loving basketball fans who think bellying up to a sports bar or picking up from a wing restaurant is the only way to get their hands on quality chicken wings during this year's men's basketball tournament, life just got a lot saucier.
Pizza Hut's WingStreet concept has been rolled out nationally, now present in more than 5,000 restaurants across America. That's right, a whole new chicken kitchen is available at Pizza Hut. And as self-proclaimed wing connoisseurs, we had to put them to the test, ordering up some Buffalo Mild and Honey BBQ wings to sample. The verdict? Delicious!
The award-winning WingStreet wings are kitchen-fried and tossed with a choice of one of eight sauces to give customers a wing-joint-quality experience from America's largest pizza chain. The sauce flavors include: Buffalo Mild, Buffalo Medium, Buffalo Burnin' Hot, Spicy Asian, Spicy BBQ, Honey BBQ, Lemon Pepper and Garlic Parmesan. You can also choose from several varieties of wings including Traditional, Bone-Out or Crispy Bone-In.
Customers can get an order of eight WingStreet wings with choice of any sauce–starting at just $5 and have them delivered, just like their favorite Pizza Hut pizzas.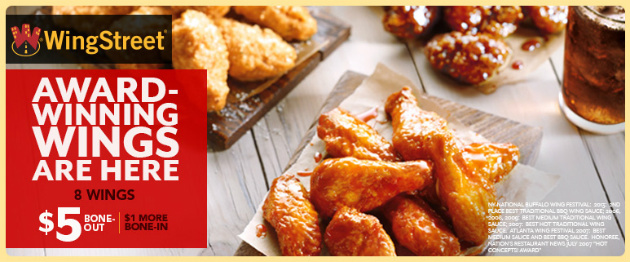 "People are serious about their wings, and the pizza category as a whole has not delivered a quality chicken product that consumers demand," said Jared Drinkwater, Senior Director of Marketing, Pizza Hut. "But that all changes now that our WingStreet wings are available in more than 5,000 Pizza Hut restaurants nationwide. We pride ourselves in being the only national pizza chain to offer delicious, kitchen-fried chicken wings with a variety of sauces that live up to what wing lovers want. And the fact that we'll deliver them to your door sets us apart from even the most respected wing joints in America."
Sportscaster and radio host Scott Van Pelt stars in the Pizza Hut's ad campaign that features wing experts in many forms, all searching for kitchen-fried, impeccably-sauced wings. In addition to starring in commercials, Van Pelt is helping Pizza Hut and WingStreet rally support of the brand's "winged" team challenge during the men's tournament. If a "winged" team takes home the title on April 7th – that's any team with a nickname or mascot with wings – America can come to participating locations to carry out a free sample four count of WingStreet wings on April 10th between 1-4pm local time, while supplies last.
(Offer details can be found at www.pizzahut.com/wingedmascotgiveaway.html)
With the challenge in place, wing aficionados and basketball fans could be in luck, as the 1st ever tournament title winner in 1939 boasted a wing mascot, as did last year's champion. This year there are 12 "winged" teams in the field, including several title contenders.
"I do this for a living, and I can tell you that there is a decent chance that a 'winged' team is cutting down the nets on April 7 in Dallas," said Van Pelt. "And let's be honest, the tournament and wings just go together. I know I'll have a few orders delivered as I tune in. I'm a fan of the Buffalo Medium – they're the real deal."
Throughout the tournament, Pizza Hut is also making daily free deliveries of WingStreet wings to select fans who tweet @PizzaHut using the hashtag #WingsDelivered. More details about the sweepstakes to follow.
For more information and the latest brand happenings or to order WingStreet wings, visit PizzaHut.com.