Pledge To Drink Guinness This St. Patrick's Day!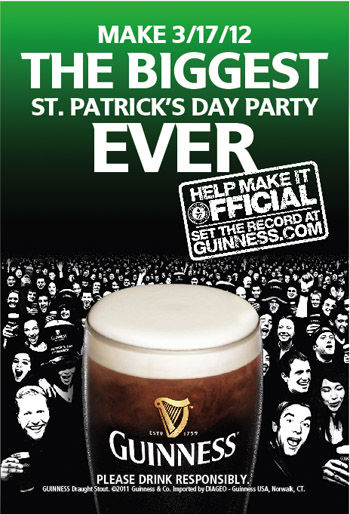 As we mentioned a few weeks ago, we're working with Guinness to help set a Guinness World Records title for 'The Largest St. Patrick's Day Celebration' ever, and we need your help!
Guinness is asking you to pledge that you're going to celebrate this St. Patrick's Day in true Irish fashion – with Guinness, and of course remembering to always drink responsibly!
All you have to do is visit www.Guinness.com, where you'll be prompted to "Join The Party". On the next page, click on the "Count Me In" button, where it'll ask you for your first name and zip code. On that screen, there's an optional code field, where you'll want to enter GUYS.
We've gotten more than 32,000 pledges so far, but we need your help if we hope to break the world record! So be sure to help spread the word by sending this link to your friends on Facebook and Twitter.
You can also use the new Guinness Pub Finder to locate a pub in your area, and to rate your Guinness pint on St. Patrick's Day!
Let's set a Guinness World Records title!