Reduce Computer-Induced Eye Fatigue With Gunnar Eyewear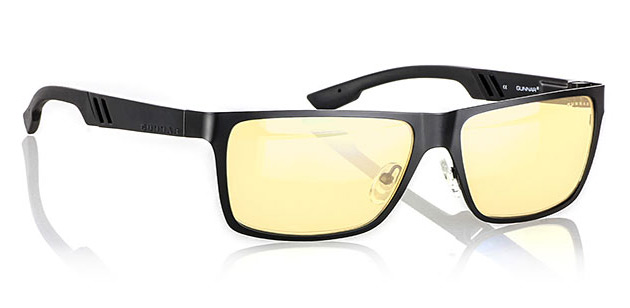 I typically spend 8-10 hours a day glued to a computer screen, and my eyes have been paying the price. As I get older, eye fatigue has become a bigger problem for me.. Not to mention the occasion tension headaches.
So when I heard about Gunnar Optiks and their high-tech computer eyewear that's specifically designed to "protect, enhance and optimize your vision", I had to try them out for myself and see how they worked.
Here's how Gunnar describes the science behind their glasses:
GUNNARS increase contrast, comfort and focus while minimizing eye fatigue and visual stress for anyone who spends long hours staring at digital screens. GUNNAR eyewear is powered by i-AMP lens technology comprised of a proprietary lens material in an advanced geometry tuned for intermediate viewing distance and finished with custom formulated lens filters, tints and coatings.
I tested out a pair of Gunnar Vinyl Onyx glasses, which you can see in the photo above. They're good looking glasses, modern digital lines combined with a vintage silhouette. Made of a hybrid lightweight metal alloy, you quickly soon forget you're even wearing them..
Until you get up from your desk and notice everything around you looks yellowish and kind of weird. Yes, as the label "computer eyewear" would suggest, these glasses are only meant to be worn in front of a computer.
That specially formulated tint conditions and shifts the color spectrum to provide superior contrast, detail and resolution. When I first put the glasses on, I swore the lenses were magnified, because text looked noticeably bigger and crisper. If you're in an environment with harsh fluorescent lights, the difference is very dramatic.
In addition, the curved shape of the lenses helps trap humidity near the eye, great for those who suffer from dry and itchy eyes at the office. As I don't really suffer from dry eyes, I can't speak on their effectiveness, but this YouTube video seems pretty convincing! But if you're suffering from swollen eyelids, that could be a sign of something more serious.
If you're a designer, you might want to go with the crystalline lenses so you don't have to keep taking your glasses on and off. In addition, Gunnar offers prescription lenses for far-sighted folks who need 'em.
After spending two weeks with the Gunnars, I can honestly say that I've noticed a big difference. My eyes still feel fresh come quitting time, and I haven't had a headache since I started wearing them.
For $99, I'd say it's money well spent!