Review: 2015 Ford Mustang 2.3L EcoBoost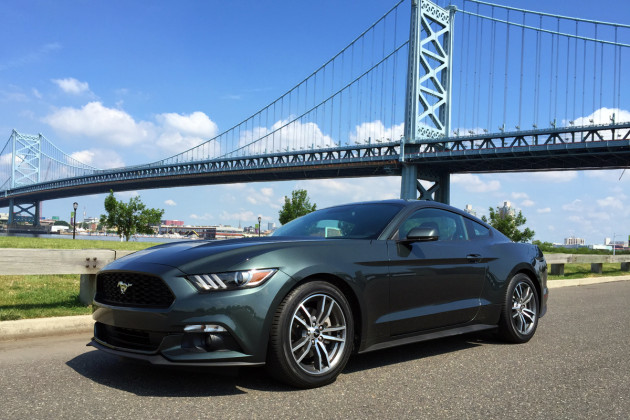 When Ford told me they were bringing us a 2015 Ford Mustang loaner for the week, I was psyched. But that euphoria would be short lived, as I noticed something amiss when the the car drove up, that all important 5.0 fender badge. "But wait, there's more!" When I looked through the window, my worst fears were confirmed.. Our Mustang came equipped with an automatic transmission!
That's right folks, we'd be spending the next week behind the wheel of a 2015 Ford Mustang 2.3L EcoBoost Automatic, aka the rental car special. But as we learned during our week with the car, this Mustang is no one trick pony. You see what I did there?
Exterior
The 2015 Ford Mustang was completely redesigned for 2015, but there's no mistaking it for anything but a Mustang. Compared to the outgoing model, you'll notice several key design features: A lower, wider stance with a reduction in roof height, and wider rear fenders and track, a sleeker profile enabled by a more steeply sloped windshield and rear glass, a three-dimensional, tri-bar taillamps with sequential turn signal, and a contemporary execution of the signature shark-bite front fascia and trapezoidal grille.
We received an overwhelming number of compliments about the car, with more than a few folks saying that this was the first Mustang they'd ever consider buying. I honestly can't remember the last time we had a car that received as much attention as the Mustang did, which really says something..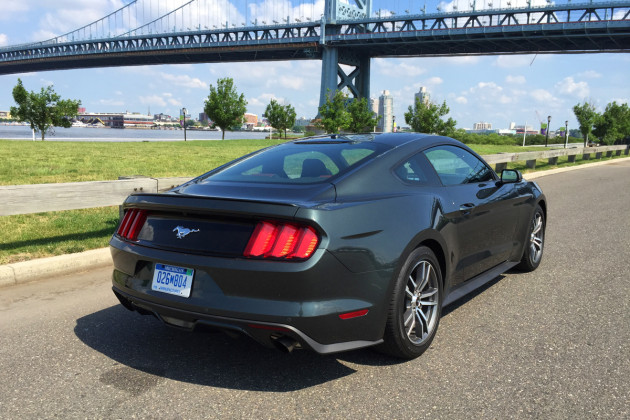 Interior
The interior of the 2015 Ford Mustang received a complete overhaul as well, boasting the highest degree of craftsmanship ever found in a Mustang. Large, clear instrumentation puts vehicle information right in front of the driver in the roomier cabin, while improved ergonomics and tactile switches and knobs provide better control. The added width and a new rear suspension contribute to improved shoulder and hip room for passengers, and a more usefully shaped trunk can accommodate two golf bags.
While the interior is not without it faults, it's still a HUGE improvement over the outgoing Mustang, especially when equipped with all the bells and whistles. I remember getting into the new Mustang at the Detroit Auto Show last year, and my first reaction was literally "Wow!" Needles to say, I was pretty impressed.
Performance
The 2015 Ford Mustang EcoBoost is no slouch in the performance department, with 310HP and 320lb-ft of torque propelling it to 60 mph in 5.2 seconds, on it's way to a 13.9 second quarter mile at 98 mph. Yes, it's hard to believe, but that's about what a 2010 Mustang GT once ran. And we're doing this with a little 2.3L four-cylinder turbo, while getting 21/32 MPG to boot!
While the automatic transmission sucks a little fun out of the experience, putting the car into Sport+ mode really transforms the car, with more responsive steering and throttle response, plus different shift points. It's perfect for more spirited driving on twisty roads. There's even a Track mode for those owners planning on doing weekend track days and autocrosses events, though I don't know how competitive it'd be in either.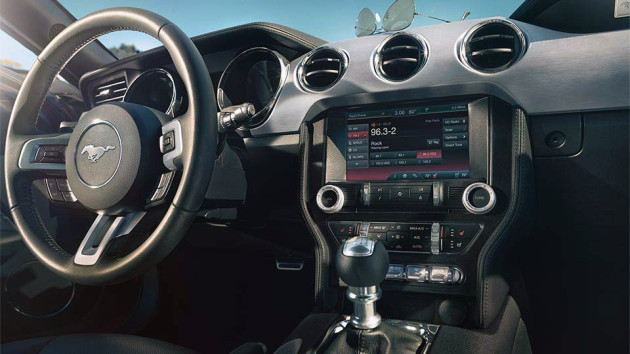 Of course, the big news is the all-new integral-link independent rear suspension, something that people have been clamoring about for years. The geometry, springs, dampers and bushings all have been modified and tuned for this high-performance application. New aluminum rear knuckles help reduce unsprung mass for improved ride and handling.
Overview
The 2015 Ford Mustang EcoBoost should appeal to a larger crowd than it's predecessor, with improvements across the board that make it a more enjoyable daily driver. Sure, the Mustang isn't without it's faults – The EcoBoost's exhaust note is pathetic (though a more throaty sound is piped in through the speakers), it's not the most practical car in the world, and those fuel economy numbers can only be achieved if you drive like a nun.. But when you get behind the wheel, all of those concerns magically disappear.
Ford has done a remarkable job with the new Mustang, and if you're in the market for a new pony car, you owe it to yourself to go test drive one. Have you driven a Ford lately?
2015 Ford Mustang 2.3L EcoBoost:
Base Price: $29,300
As-Tested Price: $35,795
More information: https://www.ford.com/cars/mustang/