Review: 2016 Hyundai Elantra GT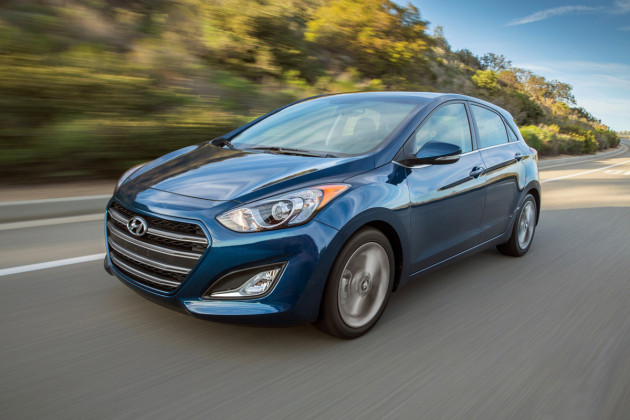 The 2016 Hyundai Elantra GT is a hidden gem in Hyundai's lineup, one that's often overshadowed by more popular models like the Elantra and Sonata. But for those active individuals looking for a sporty and versatile hatchback that provides a lot of bang for the buck, it doesn't get much better than the GT.
Refreshed for 2016, the Elantra GT receives a more distinctive front fascia and all-new 17-inch alloy wheels, which further enhances the vehicle's signature sporty styling. From some angles, you might see a little of the Veloster in there, but the GT's body style allows for more cargo room and overall passenger space, along with a more mature (dare we say upscale) look.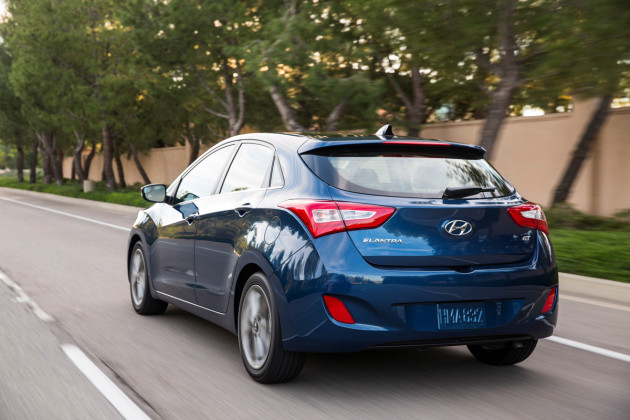 The Elantra GT is much peppier than you might think, with 173HP and 154lb-ft of torque. Those are best-in-segment numbers, outpowering the VW Golf, Ford Focus 5-door, Mazda3 5-door, and Subaru Impreza. With a curb weight of just 2,904 pounds, the car really gets up and goes. While you won't win any street races, it's more than adequate for most people's needs.
The car's handling can best be described as sporty and comfortable. There's very little body roll, yet the ride isn't punishingly stiff either. There's also a pretty trick Driver Selectable Steering Mode, which lets you choose between three operating modes (Comfort, Normal and Sport). While I kept the car in Normal mode most of the time, if your commute includes some twisty roads, you'll appreciate having the Sport mode available.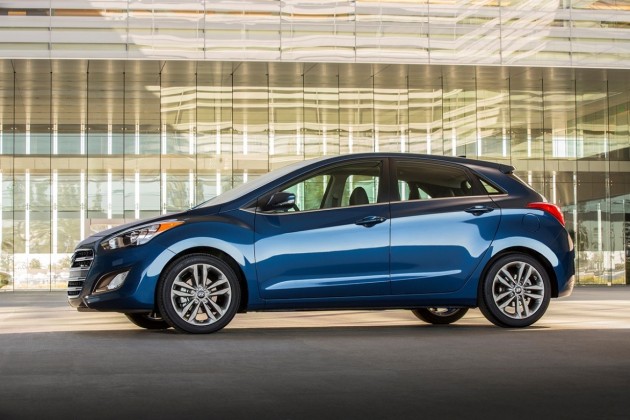 The Elantra GT defies stripped-down compact car tradition with standard smartphone/USB and auxiliary input jacks, and SiriusXM Satellite Radio. The Elantra GT offers Proximity Key entry with electronic push button start, while high-tech upgrades include an available 7-inch color navigation information display and an available rearview camera to help with parking and backing up.
Our tester had the Tech Package ($3,950), which loads the car with pretty much every piece of technology you could ask for. Couple that with the Style Package ($1,975), and all of a sudden the price balloons from $19,800 to nearly $26,000!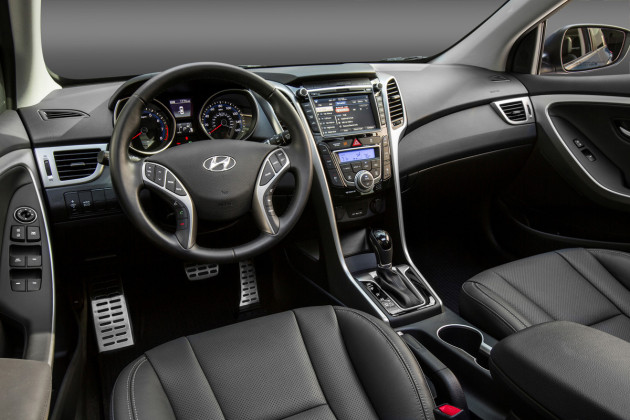 There's no question that the Hyundai Elantra GT is an attractive package for buyers looking for a sporty car with ample cargo space for wherever the weekend takes them. The trade-off is a somewhat awkward looking rear-end, slightly lower fuel economy (24/33), and a potentially high price tag if you go crazy with options.
At the end of the day, it's all comes down to what you're looking for in a daily driver. If you want something a little flashier, the Veloster might be more your speed. If you're hauling lots of cargo, the Santa Fe might be a better fit. But if you're looking for a good compromise between the two, the Elantra GT is exactly what you're looking for.