Review: Barrington Single Watch Winder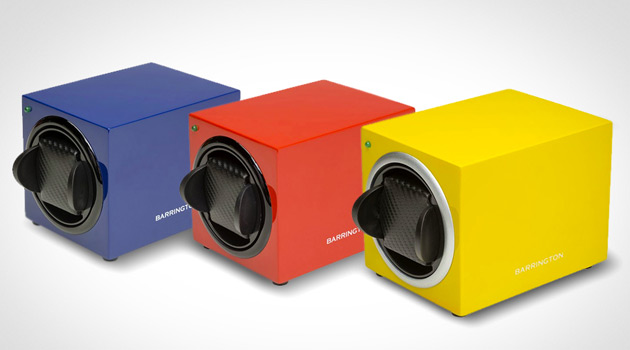 If you own multiple automatic watches, you know what a pain it is having to constantly reset the time. Unlike battery powered watches, automatic watches are powered by movement, which means that if you don't wear your watch for a prolonged period of time, it will most likely stop. First world problems, am I right?
Thankfully, there's a solution – Using a watch winder.
As the name suggests, a watch winder keeps your watch wound, by simulating the motion of a human hand. Watch winders come in all different shapes and sizes, and prices vary dramatically.
I've been looking for a well-priced quality winder for awhile now, and the Barrington Single Watch Winder fit the bill perfectly. The compact and stylish Barrington single watch winder offers an elegant and efficient way to keep a single timepiece wound while you're not wearing it.
Available in a range of seven striking colors, their watch winders combine a simple, classic design with quality precision engineering that includes an ultra-quiet Japanese motor and multiple rotation settings (can be set to rotate clockwise, anti-clockwise or alternating, and can be switched to 650, 750, 850 or 1,000 turns per day to suit any weight of watch).
The Barrington watch winder applies a gentle rotation method to wind watches. Unlike some other winders on the market, theirs don't rotate continuously, as this can lead to overwinding and potentially damage watch mechanisms. Instead, it pauses regularly between each one-minute rotation cycle, as well as resting for 12 hours in every 24. This means you can be sure that your watch is never at risk of being overwound.
I've been using this watch winder for a few weeks now, and I couldn't be happier with it. The Midnight Blue finish is absolutely stunning, it's whisper quiet, and it works exactly as advertised. I keep my unit plugged in, but you can also power it with two AA batteries if you don't have any power outlets nearby.
For £99.00, the Barrington single watch winder is a great deal, and an absolute must for anyone with multiple watches. Visit www.barringtonwatchwinders.com to learn more.