Review: SlideBelts Canvas Belt Collection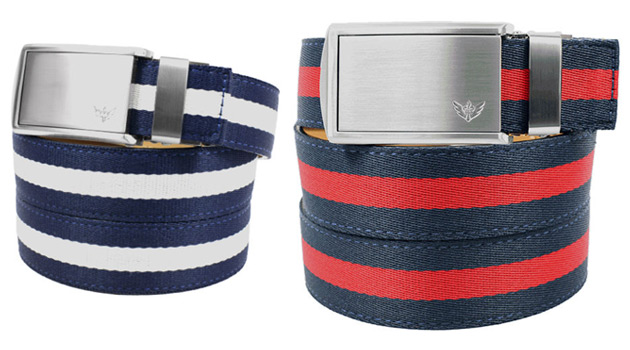 The guys at SlideBelts recently sent us one of their no-holes ratchet belt from their new canvas belt collection to check out, and we were beyond impressed with it.
SlideBelts are belts that let you freely adjust the waist size without the limitation of holes in a belt. That's right, there are no holes at all on these belts! Saw-teeth are intricately sewn onto the inside of their belts, providing robust durability and functionality. The buckle has a lever that catch these "teeth" on the belt — giving you over 30 size options with only 1/4″ between sizes. This is perfect for people like me who inevitably seem to fall in between two belt holes, making my belt either too tight or too loose.
While SlideBelts offers traditional leather and premium full grain leather belts, it's their new canvas straps that really caught our attention. These canvas belts have a cotton/polyester top layer and genuine leather back, and they're perfect for those going for a more casual and relaxed look. The blue and white Sailor belt with the silver buckle is wonderfully Hamptons chic, and it goes great with a pair of white pants. I went with the Red and Navy belt that you see above, which adds a little flair to a pair of jeans or khakis.

Another thing that's great about the SlideBelt is that the buckle is removable and interchangeable, so you can pick up a few different straps and swap styles and colors depending on the occasion.
Each SlideBelt can be trimmed to your ideal length. Measurements are stamped onto the underside of each leather corresponding to pants waistband sizes, so it's easy to trim the strap to your waist size. Their longest custom size will fit a maximum pants waist size of 48 inches (full leather length is 55 inches). So if you lose some weight, you can just trim down the strap instead of having to buy a new belt! And if you accidentally trim too much, they'll even exchange it for you for free! How great is that?
Overall, I was really impressed with SlideBelts, as they make great looking belts that fit like a dream. It's such an innovative product, and once you've experienced the magic of a micro-adjustable belt for yourself, you'll never go back to a holed belt again. The SlidesBelt Canvas Belt sells for $38.95 (with free shipping within the US), so what are you waiting for? Purchase one today, you'll be glad you did!
Visit www.slidebelts.com to learn more about the SlideBelts.