Road Test: 2011 Can-Am Spyder RS-S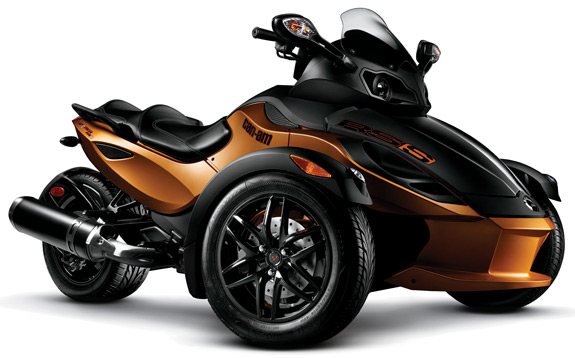 Bombardier Recreational Products (BRP), a Canadian company best known for their Ski-Doo snowmobiles and Sea-Doo watercraft, took the motorcycle world by storm in 2008 with the introduction of a three-wheeler called the Can-Am Spyder.
BRP took a traditional trike, flipped it around (2 wheels in the front, 1 in the rear), fitted it with electronic gizmos to keep things safe, and a new segment was born.
Part motorcycle, part convertible, pure thrill, this roadster is a whole new riding sensation on pavement. It's revolutionary 3-wheel stance alters the chemistry between vehicle and asphalt, delivering what's come to be known as the Y-Factor.
Our friend Chris recently picked up a 2011 Can-Am Spyder RS-S, and I asked him if I could take it for a ride and see what all the fuss was about. He was nice enough to let me take it out for a quick trip around his work area.
At the heart of the Can-Am Spyder is a Rotax 990 V-Twin engine that puts out 106 HP and 77 lb-ft of torque. It might not sound like a lot of power on paper, but it was plenty fast for me. 0-60 times are claimed to be in the mid 4 second range.
The Spyder RS-S package offers all the standard Spyder RS features, plus black 6 double-spoke front wheels, two-tone coloration, painted front spoiler and a-arm covers, carbon-black aluminum parts, RS-S graphics, a stitched seat, and your choice of transmissions – A 5-speed manual with reverse (SM5) or a 5-speed semi-automatic with reverse (SE5).
Our Can-Am Spyder had the SM5 transmission, which took a little getting used to. The SM5 is a manual 5-speed transmission with the standard motorcycle left-foot-actuated shifter and left-hand-actuated clutch. It's a one-down-four-up system with real reverse. It also has foot pedal-only operated brakes, much like a traditional car.
Riding the Can-Am Spyder, it feels like you're riding a street legal ATV. About the same size and weight, and with a similar riding position to most current big bore ATVs. Four wheeler riders will feel a lot more familiar on this machine than either bikers or car guys.
But there's a lot of computer technology compared to the average quad. The Spyder's Vehicle Stability System (VSS) combines stability control, traction control, anti-lock braking and dynamic power steering to keep all three wheels on the ground, gripping the road.
If the idea of three wheels appeals to you, and you love the attention it'll bring you, I can't think of a better way to spend $17,699 (base MSRP) than on a Can-Am Spyder RS-S.