See How Much You Can Really Drink With The Bevometer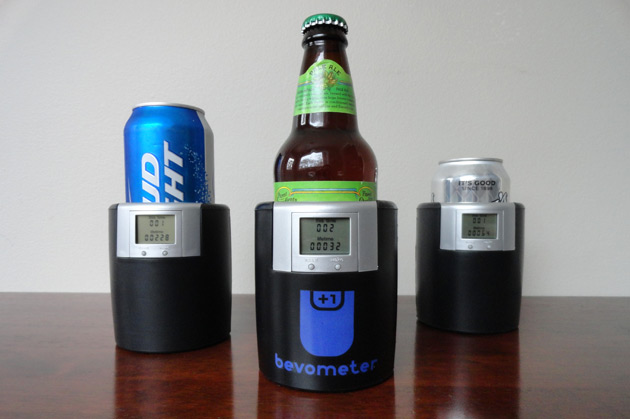 Now I have to start this off by stating my affection for koozies. They keep your hands warm, beers cold and it covers your Natty logo when you're embarrassed to share what your drinking. Like any koozie lover, we have that one koozie that fits like a glove on every bottle and can, and for the life of you, you can't seem to throw it out. Mine happens to be from my cousins wedding, and it reads "To Have and To Hold and To Keep Your Beer Cold." Thanks Emily and Jeff, my beers have never been colder during my time at school. But now I might just have to retire that koozie, put it in the koozie Hall of Fame, and call up one of the most simple yet innovative ideas that I have ever seen.
A husband and wife from Des Moines, Iowa came up with The Bevometer, a different approach on the traditional koozie. This isn't just any regular old koozie. Sure, it keep your beers as cold as the Rockies, but it also tracks the number of drinks you've consumed that day and over your lifetime. I know that you've had nights with your friends where you challenged each other to see who can drink more. Well now's your chance to electronically keep track of that tally. Let's see who really is the best!
The Bevometer recently launched a Kickstarter campaign that is already 70% funded. If you stake your claim and back the Bevometer on Kickstarter, you will receive a 1st edition Bevometer.
There is nothing else out there like the Bevometer, it's truly one of a kind! In addition, you can also use the Bevometer for your business needs. If you're running a conference or festival, you can get your logo decaled on the Bevometer. You can give them to your groomsmen at your wedding, or the whole family at your next reunion.
Be sure to follow them on Facebook and Twitter for all of the latest news regarding the Bevometer. Make sure to help them out on Kickstarter, and grab your Bevometer today!