Stay Fully Charged On The Road With A Mophie Powerstation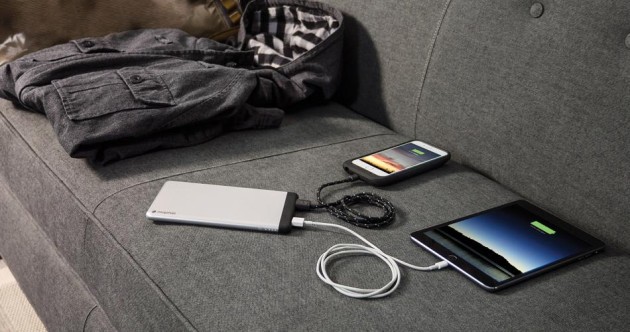 We were recently over in London covering a media event.. And while packing all of our gear (laptop, iPhone, iPad, digital camera, headphones, etc) for the trip over the weekend, I made a startling discovery – We didn't have a power adapter for those funky outlets they have over in the UK!
What I did have were a few new mophie powerstation external batteries. The question was, would they be enough to get us through 4 days on the road? I crossed my fingers and hoped for the best.
For those of you unfamiliar with the mophie powerstation, it is a slim external battery that can charge virtually any USB device. They sport a durable aluminum finish, are incredibly thin and lightweight, and some models are even capable of quick-charging two devices at once, as seen in the photo above.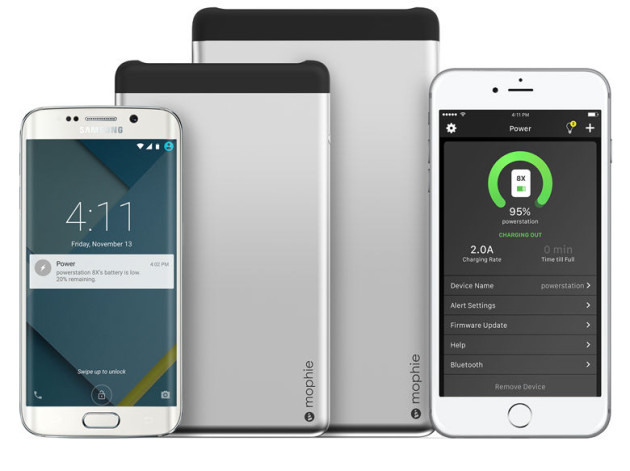 There are a number of mophie powerstation models to choose from, including the 1X, 2X, 3X, 5X and 8X. As you might have guessed, the names represent the amount of extra battery life they deliver, so a powerstation 2X has enough battery capacity (4,000mAh) to deliver two full charges to most smartphones.
While the powerstation 2X is more than enough for most people, I knew that we'd need something bigger, as we had a lot of devices to keep charged. So I brought along the most powerful external battery they make, the mophie powerstation 8X. This bad boy is a beast, with a massive 15,000mAh of battery capacity, more than enough to keep us charged throughout our trip. (And I brought along our 2X just in case)
A word of warning if you go with one of the higher-capacity powerstations – They take a LONG time to charge up, which makes sense when you consider their battery capacity. Don't be like me and check the battery four hours before your flight, or you may not have time to fully recharge it. Luckily for me, my seat had a USB port, so I just plugged my powerstation in, and by the time we landed in Heathrow, it was fully charged.
Unlike other batteries which simply use an LED indicator to let you know how much battery life you've got left, the mophie powerstation 5X and 8X allow you to monitor your battery life straight from your phone using the mophie Power app. In addition, you can opt to receive notifications when power is low or when charging is complete. It's ridiculously cool, and once you use it you'll wonder how you ever lived without it.
I'm happy to report that the mophie powerstation 8X kept us charged up for our entire trip, with juice to spare! Not bad considering that I was using my iPhone extensively for navigation (HERE Maps is awesome if you're traveling abroad and don't want to pay for roaming charges), e-mail, and photos & video. I also made sure to charge up my iPad for the flight home, as I don't know if I could have dealt with an 8.5 hour flight without a bunch of movies and games to keep me occupied.
All in all, I couldn't be happier with the mophie powerstation. It really exceeded my expectations, and I will be bringing mine with me whenever I travel. If you're a mobile warrior who can't afford to be disconnected from the world, you should definitely consider picking one up. Pricing is as follows: $39.95 (1X sold exclusively at mophie.com), $59.95 (2X), $79.95 (3X), $129.95 (4X), $149.95 (8X).
For more information, visit www.mophie.com.