The 2015 Hyundai Sonata Grows Up, Gains Confidence
The Hyundai brand is busy reconfiguring itself to become associated less with being the "cheap alternative" and more with contemporary upscale appeal. It's an uphill battle, but the Korean automaker isn't pulling any punches as it struggles away from the generic store brand cliche. The all-new 2015 Hyundai Sonata is an excellent showcase of that transformation and brings a lot of surprise and much more premium appeal than expected.
The previous-generation Sonata differentiated itself with bold, polarizing styling. This was a good breakaway for the brand, but it drove away as many buyers as it attracted. Now, for 2015, that in-your-face style has been toned back to a more contemporary look that still manages to be stand out and great-looking, even if it is less exciting. This isn't necessarily a bad thing, though, and this new 2015 Sonata is much more at home pulling into the valet at the theater.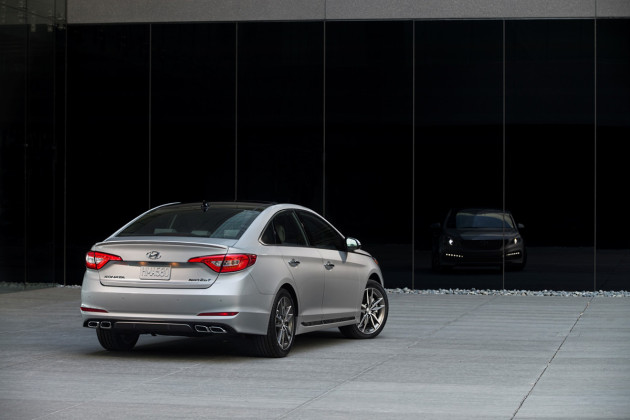 Inside, the new 2015 Sonata also sees a lot of improvement. A slightly larger wheelbase means more interior room, especially in the back seats. Four adults can now comfortably use this sedan without complaint and five can make do in a pinch. Standard 60/40 split-fold rear seating remains, but may not be needed often given the huge 16+ cubic foot trunk. Speaking of which, a new hands-free trunk switch option opens the trunk if the key fob is near it for more than three or four seconds.
In the front, the driver and front passenger are treated to excellent seating that is beyond what was expected from a Sonata. We were surprised at the comfort and stylish appeal of the cabin. It might be a bit simplistic compared to some luxury brands, but it's definitely of quality. Sometimes, simplicity is its own premium appeal and the Sonata definitely does that.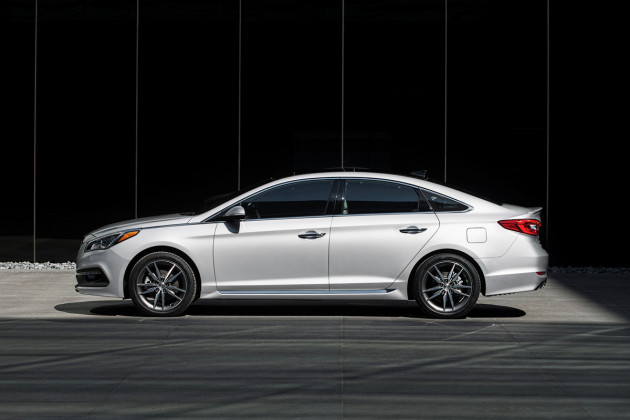 Where we really noted big differences in the 2015 Hyundai Sonata versus last year, though, is in the drive. We had the Sport 2.0T trim, which features a 2.0-liter four-cylinder turbocharged engine that pumps out 245 horsepower and 260 pound-feet of torque. It's meant to compete with bigger-displacement six-cylinder rivals, but we'd say it's more competitive with its rival in the Sonata, the 2.4-liter base engine. Power output in the 2.0T looks good on paper, but doesn't really deliver if you're looking to run for bragging rights at the light with your buddies.
What the Sport 2.0T does deliver, though, is much more fun to the 2015 Sonata than it has with its other two engine options (the other being a 1.6-liter fuel economy option). We attribute relatively poor performance to the six-speed automatic transmission in the Sonata, which is fairly slow to shift, causing delays in the get-up. That's our chief complaint in this new Hyundai, but few are likely in the market for a Sonata as a sports car.
What the 2015 Sonata brings in this 2.0T trim is a great everyday drive. It just feels really good on the road. Steering is precise, though not overly-tight, and the suspension and handling are great for what's essentially an economy sedan. It accelerates up the onramp well, passes easily on the highway, and gets around town with aplomb. Even more surprising, it does all of this quietly. The 2015 Sonata is one of the quietest cars we've ever driven, including luxury models.
In everyday driving, where it counts, the 2015 Hyundai Sonata 2.0T Sport is a great sedan. It is comfortable, feels sporty, drives very well, and is far more upscale than its price tag would suggest. That's my takeaway from the new Sonata. It's a confident drive.