The 2017 Mercedes C-Class Coupe Is An Absolute Stunner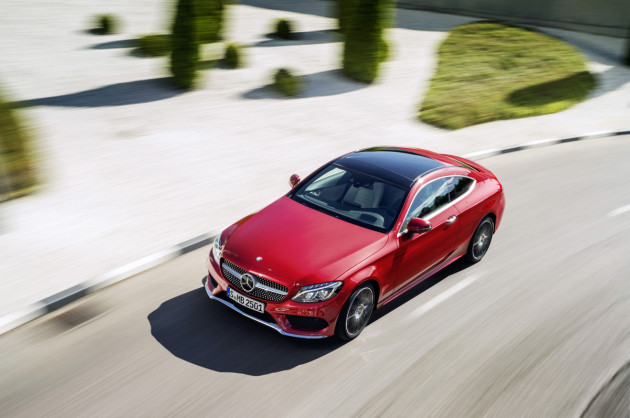 When the 2015 Mercedes-Benz C-Class sedan was introduced a few years ago, we were immediately taken with the car's aggressive and sporty styling, a bold departure from its predecessor. And now Mercedes-Benz is taking it a step further, with the 2017 Mercedes-Benz C-Class Coupe getting a sleek and sexy facelift.
If you're in the market for an entry-luxury coupe, you've probably noticed that there aren't too many models to choose from, with the BMW 4 Series and Audi A5 leading the pack. But Mercedes is determined to give them a run for their money, with a new car that combines thrilling design with agile sportiness and modern luxury.
Athletic and sporty, the vivid, sensual design of the new 2017 C-Class Coupe cuts a fine figure on the road and embodies modern luxury. At the same time, its interior raises elegance and style to a sporty level.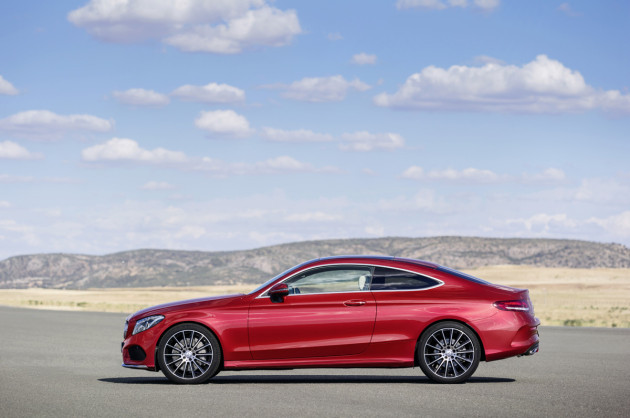 As the sportiest variant of the C-Class, the new Coupe displays its driving enjoyment-oriented character in an emotional and at the same time formally distinct design. A sportily striking front section featuring diamond radiator grille and long hood – the new Coupe is 2.4 inches (60mm) longer than its predecessor between the firewall and front axle alone gives way to a low greenhouse whose lines flow into a bold and powerful-looking rear end incorporating the Mercedes coupe genes. A high beltline and frameless doors with free-standing exterior mirrors underscore the sporty character.
Clean lines and sensually arranged surfaces structure the side sections into vivid light and shadow effects. One particular highlight is the long, drawn-out dropping line typical of a coupe. In contrast to the C-Class Sedan, the dropping line extends further past the rear wheel arch. To underscore the Coupe's sporty disposition, the suspension is .6 inches (15mm) lower than that of the Sedan, making it a very sporty proposition when combined with the standard 18-inch wheels.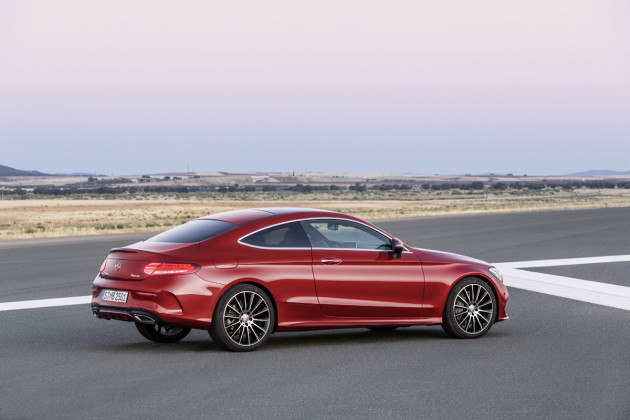 Inside, the driver and passengers enjoy an ambience that leans toward the interior of the C-Class Sedan, yet raises it to a new, sporty level. Flowing forms characterize the center console as well as the door and rear side paneling, which smoothly merge into one another to emphasize the coupe character. The individually designed trim elements underscore the sporty character of the interior. A seating system including integral sports seats designed specifically for the Coupe offers sporty comfort, while the standard automatic belt feeder offers additional convenience. The choice of materials and the finish have a hand-crafted feel with high-class appeal and deliver a new take on modern luxury: sportiness without compromising on comfort and exquisite style.
With a 3.1 inch (80mm) longer wheelbase, the C-Class Coupe is 3.7 inches (95 mm) longer and 1.6 inches (40 mm) wider. The increased vehicle volume above all creates more spaciousness for the driver and front passenger. There is more shoulder room, elbow room and headroom in all seats.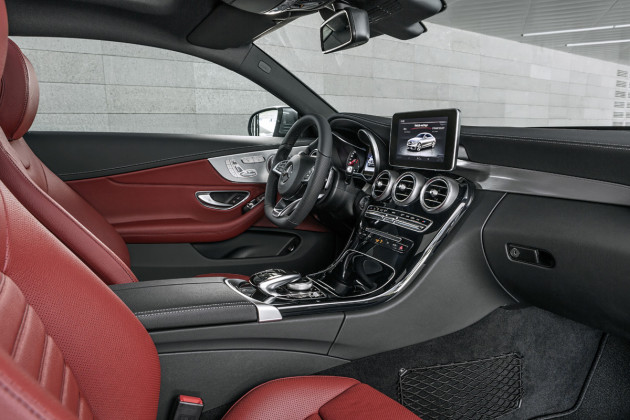 The 2017 Mercedes-Benz C300 Coupe comes equipped with a powerful and efficient 2.0L, four-cylinder gas engine that delivers 241HP and 273 lb-ft of torque. While that might not sound like much on paper, when you consider it's lightweight construction, excellent aerodynamics and dynamically configured chassis, it provides you with sporty performance, agile handling, and enhanced driving pleasure.
The 2017 C-Class Coupe features a wealth of equipment as standard, including LED headlights, PRE-SAFE, KEYLESS START, Sport Suspension and a Panorama Sunroof. The Sport Appearance Package is available as an alternative to further underline the dynamism of the Coupe. It differs by virtue of exterior features such as special bumpers and sills featuring AMG bodystyling, a diamond radiator grille with pins in chrome and 18-inch AMG light-alloy wheels. Interior highlights of the Sport Package include exclusive touches such as a sports steering wheel with flattened bottom section and AMG sports pedals.
With its high-class appeal and generous interior, the new C- Class Coupe sets new standards in its segment. The 2017 Mercedes-Benz C-Class Coupe goes on sale in the U.S. next spring. Pricing and other details will be released closer to that time.