The 600HP Toyota C-HR R-Tuned Is A Sport Compact In A Crossover Body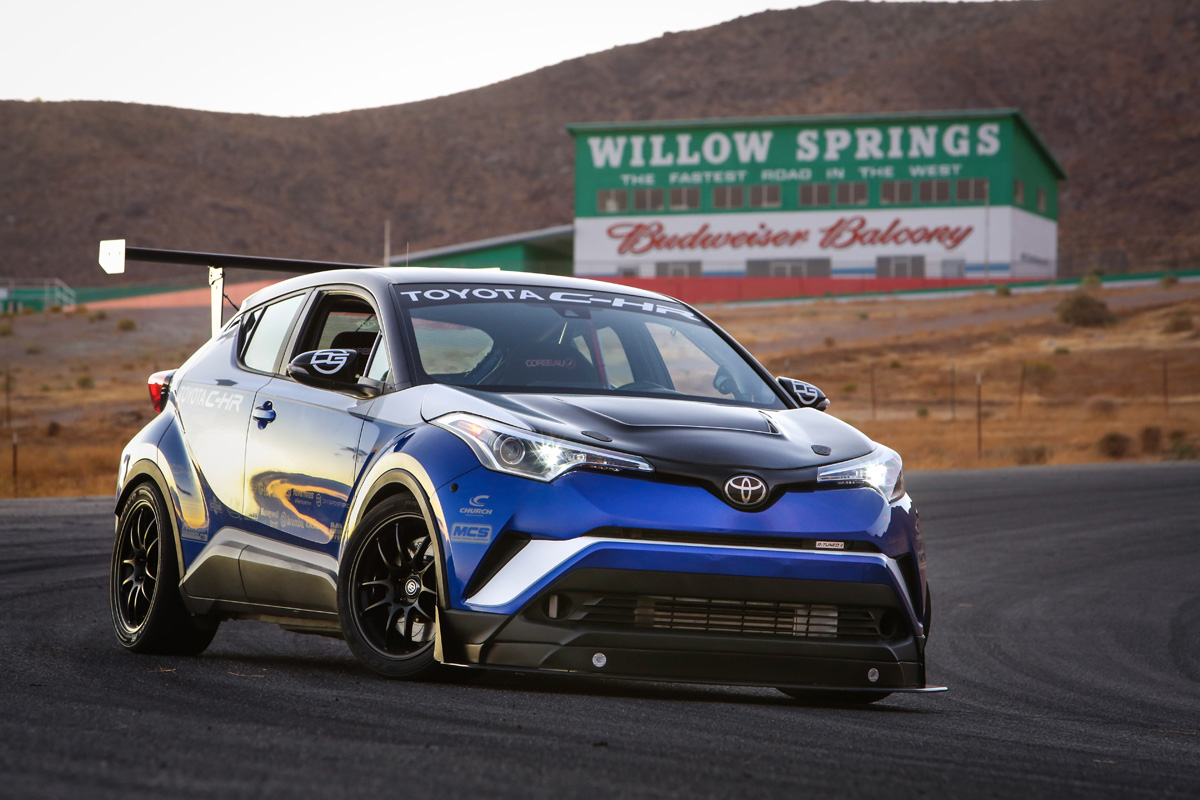 There's no doubt that the Toyota C-HR is a great little crossover, with aggressive styling that helps the CUV stand out from the competition. Sadly, the C-HR is all show and little go, with a 2.0-liter four-cylinder engine that puts out 144 HP and 139 lb-ft of torque, and a CVT transmission sending power to the front wheels.
We had a chance to drive the C-HR last year when it first came out, and I praised the crossover for it's quick steering, tight handling, and lack of body roll, but lamenting that "this excellent chassis doesn't get utilized to it's fullest," and that more power would take the C-HR to a whole other level.
Clearly I wasn't the only one who felt this way, as Toyota unveiled a 600-horsepower Toyota C-HR R-Tuned concept at SEMA last year, a racetrack-tuned crossover that showed the public what the C-HR was capable of from a tuning perspective, delivering supercar performance for a fraction of the price. The car was the talk of SEMA, and I could only imagine what it was like on the track.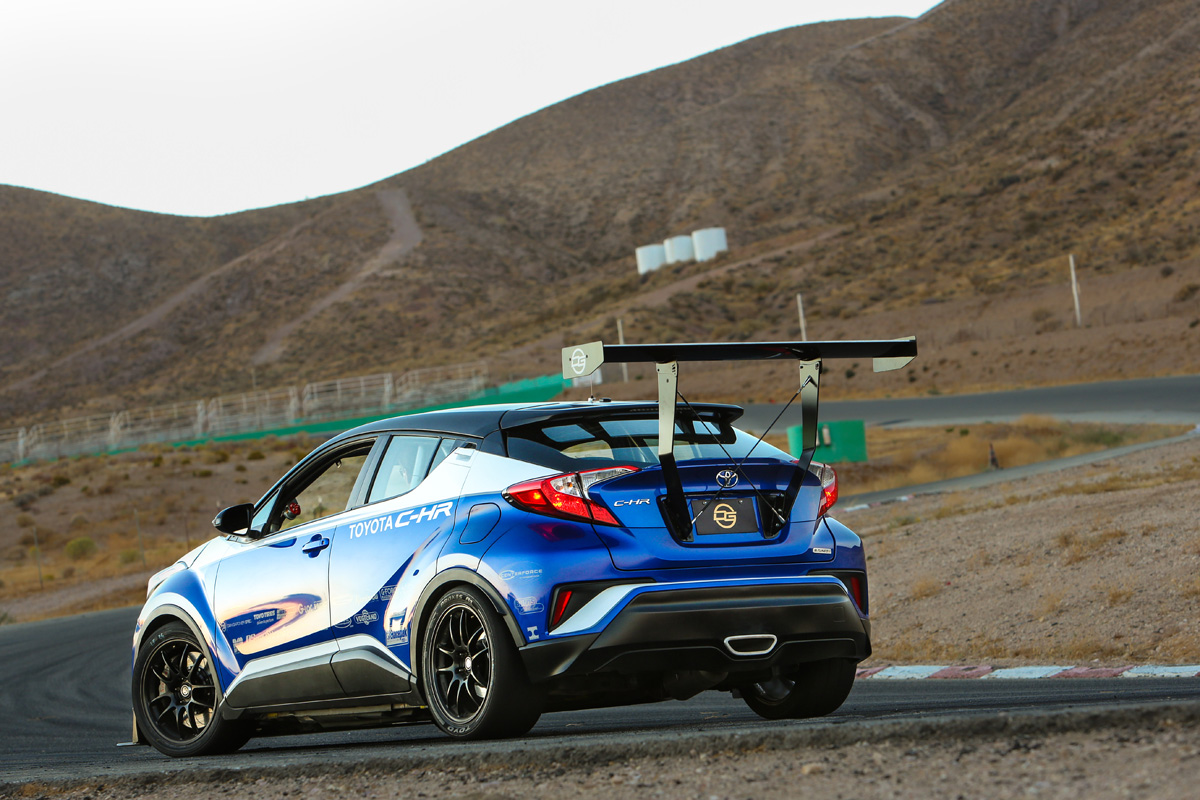 So you can only imagine my excitement when Toyota invited me out to Willow Springs (a track that has long been on my automotive bucket list) to experience the C-HR R-Tuned firsthand on the very same track where it set a scorching 1:25.22 lap time last fall, beating out supercars like the Ferrari 488 GTB, Porsche 911 GT3, Nissan GT-R NISMO, and McLaren 650 S Spyder, to name a few.
After we arrived at the track and signed the necessary waivers, we got to learn more about the Toyota C-HR R-Tuned and what makes it the exotic-slaying track monster that it is. And what we learned is that while this car is still four-cylinder-powered and retains its front-wheel-drive setup, this CUV is far from stock.
Dan Gardner and his team at DG-Spec replaced the stock 2.0-liter engine with a 2.4-liter Toyota 2AZ-FE with Dezod-supplied forged internals, a titanium and Inconel valve-train, and a custom DG-Spec Garrett turbo system that pushes power output beyond 600 horsepower at approximately 23 psi of boost.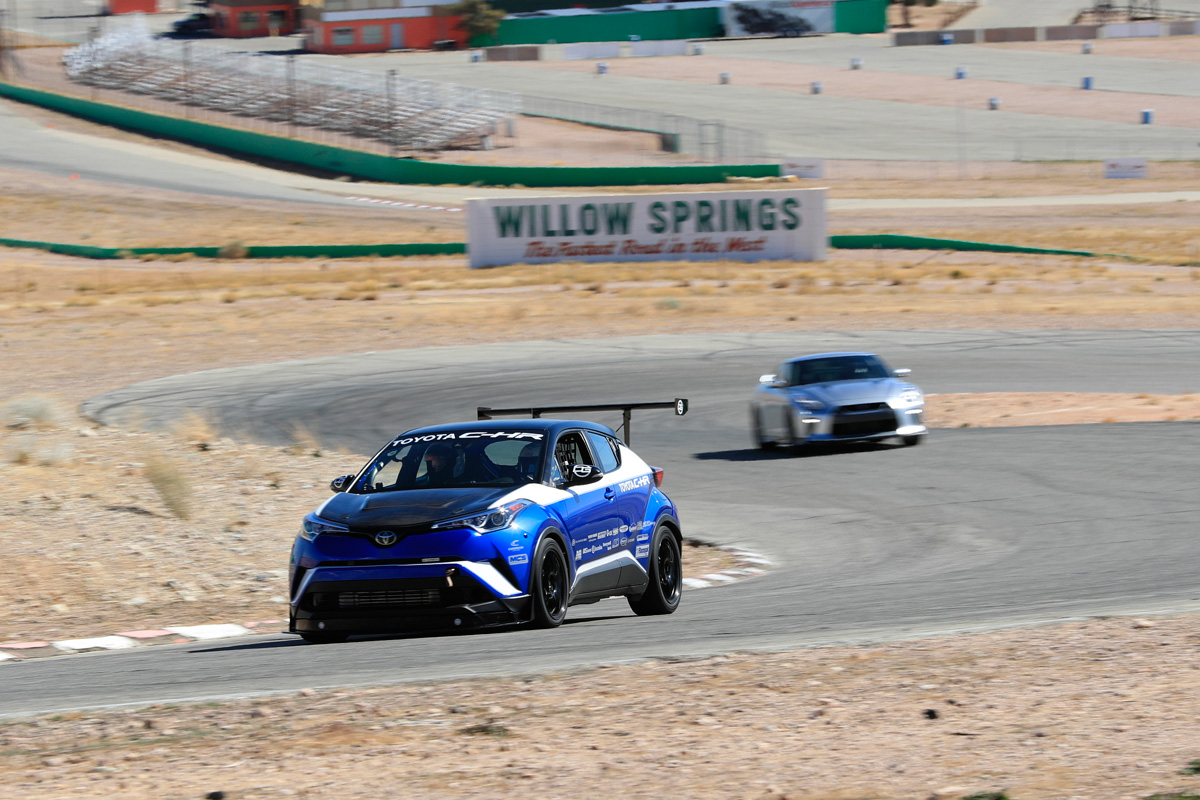 The stock CVT was tossed in favor of a five-speed Toyota E-Series manual transmission, with an OS Giken limited-slip differential. Brembo racing brakes with 14″ rotors and 4-piston billet aluminum monobloc calipers up front, and remote-reservoir, triple-adjustable DG-Spec Motion Control Suspension motorsports dampers help in the braking and handling department, along with a host of other custom, go-fast goodies.
Finally, to help augment the mechanical grip made by the massive 275/35R18 Toyo Proxes RR tires, an air-dam, side dams, adjustable front splitter and imposing rear wing with gurney flap were grafted into the body to endow this C-HR with an honest 300 pounds of downforce at triple-digit speeds.
All in all, the C-HR R-Tuned is a pretty bad-ass machine, and honestly photos don't do the car justice, as it looks even more menacing in person. This was going to be one fun day!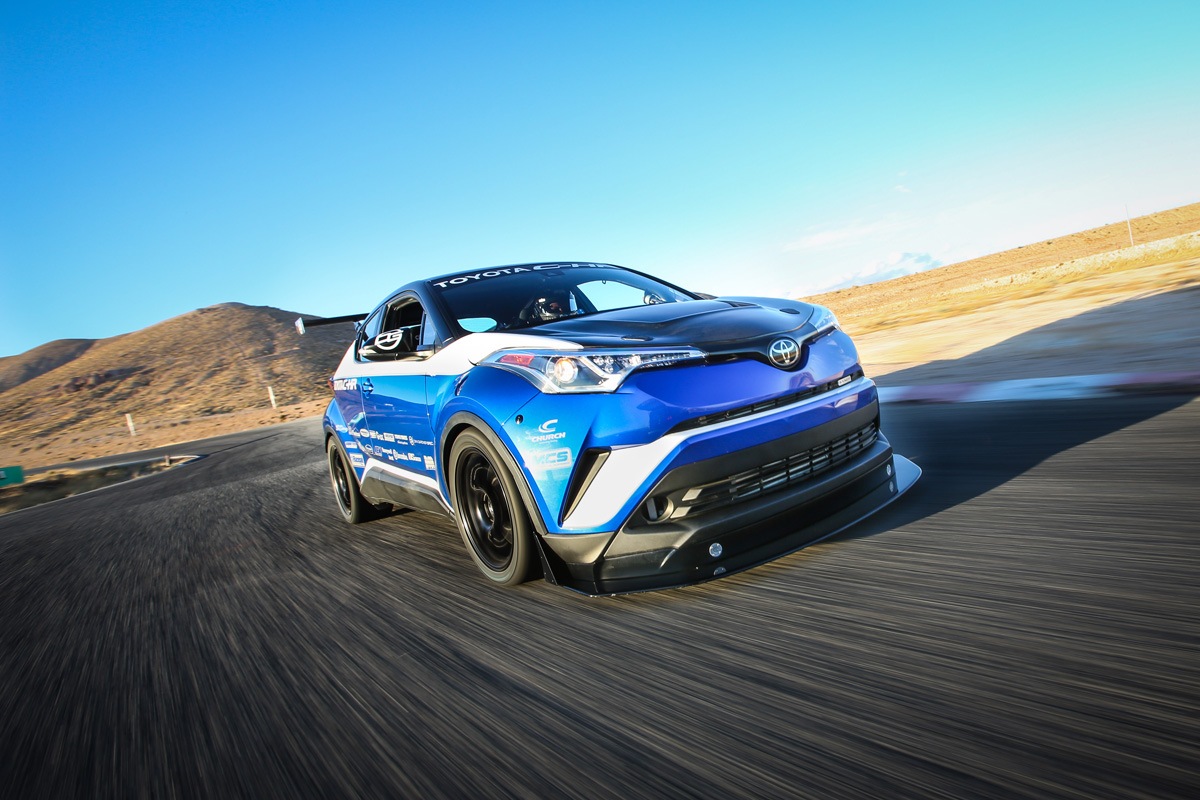 Before hopping into the C-HR R-Tuned, we got the chance to drive some stock C-HRs around The Streets of Willow Springs, with some pro drivers riding shotgun to show us the optimal lines and give us pointers along the way. Surprisingly, the C-HR proved to be very capable on track, even though it could have used an extra 60HP or so to really dial up the excitement.
Later on, I was able to convince them to let me take the C-HR out on Big Willow, and holy crap that was a ton of fun! This course can get you into a lot of trouble if you're not careful, but the C-HR was perfectly suited for it, and I ran along the back straightaway with my foot to the floor, hitting about 105mph before braking for that long sweeper at the end.
Seriously, who knew a stock CUV could be so much fun at the track?!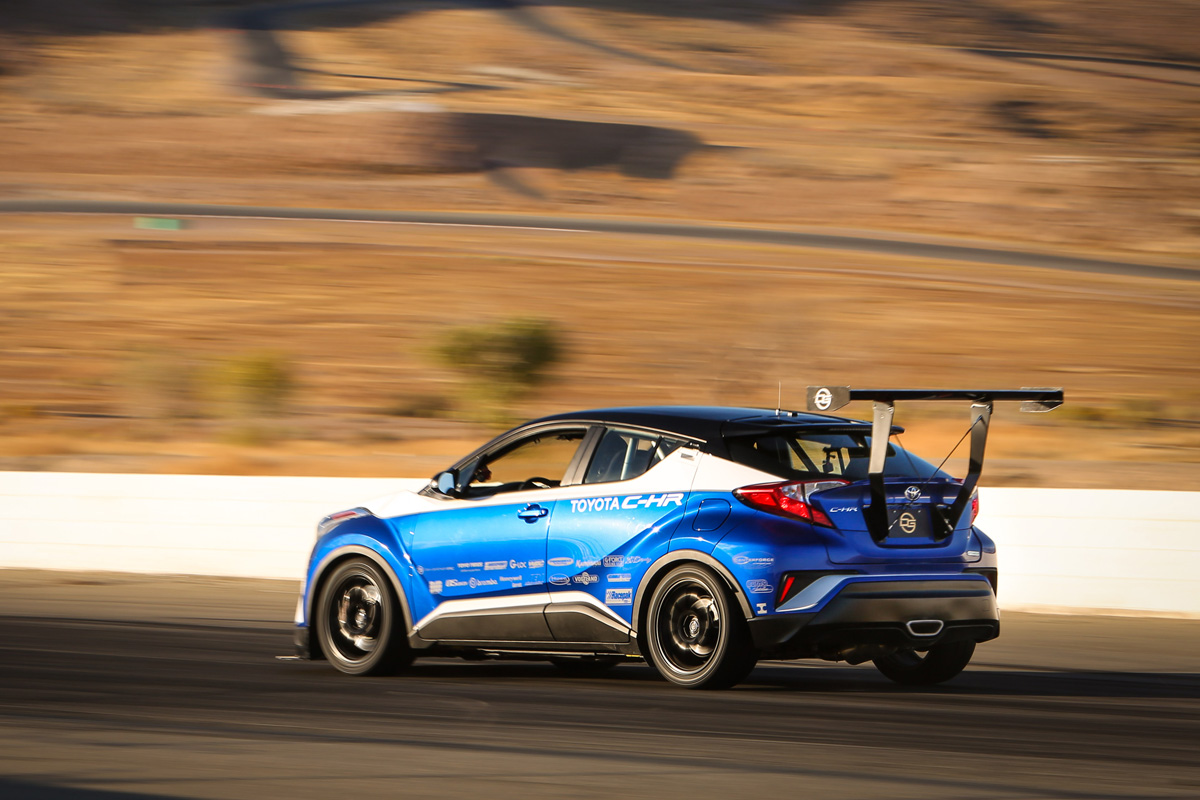 Between sessions, I watched as the other group took turns in the C-HR R-Tuned, which they pitted against a brand new Nissan GT-R. As you can imagine, the poor GT-R didn't stand a chance, with the C-HR R-Tuned passing it halfway through the first lap and never looking back.
After lunch, it was finally my turn to hop into the 600HP C-HR R-Tuned and race it around Big Willow. Sadly, on the previous lap the car started smoking and Dan had to nurse it back to the garage. Turns out a liquid-filled bearing on the C-HR overheated, causing it to throw a belt.
While the timing couldn't have been worse for me, it's a race car, and these things happen, it's just the name of the game. The DG-Spec mechanics worked feverishly to get the car patched up, and while I wasn't able to do a full lap, I was able to experience the C-HR's explosive acceleration (0-60 in 2.9s) and braking (1.2g of braking force) before shutting it down and calling it a night.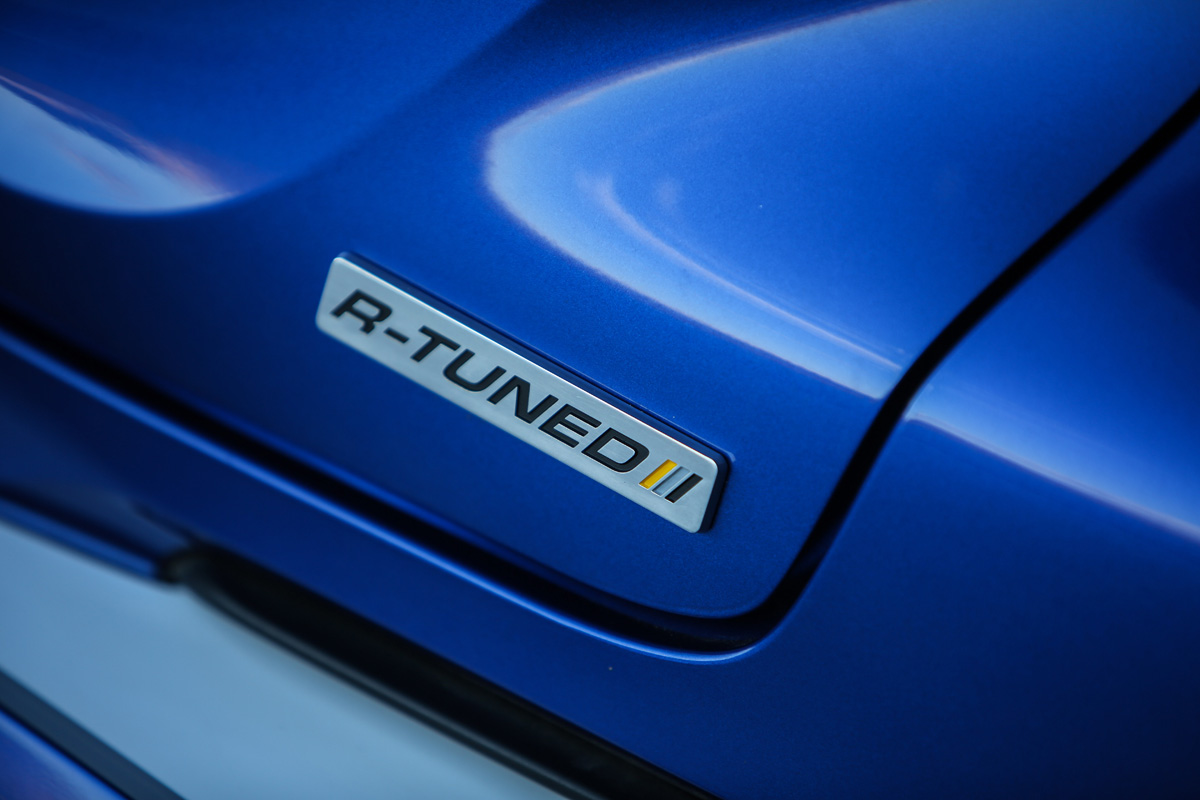 Overall, I could not have been more impressed with the Toyota C-HR. It's a well-handling, practical crossover that stands out from the crowd with it's edgy styling. And as we saw with the R-Tuned version, the platform is ready for whatever modifications you decide to throw its way.
So who's ready to buck convention and build a tricked out, souped up Toyota C-HR "hot hatch" like no other?