The Five Traits Of Ultimate Fandom
There are NASCAR enthusiasts, and then there are those who live and breathe it. What defines an ultimate NASCAR fan? Here are five traits to look for.
They've Won the Speedway's "Best Campsite" Trophy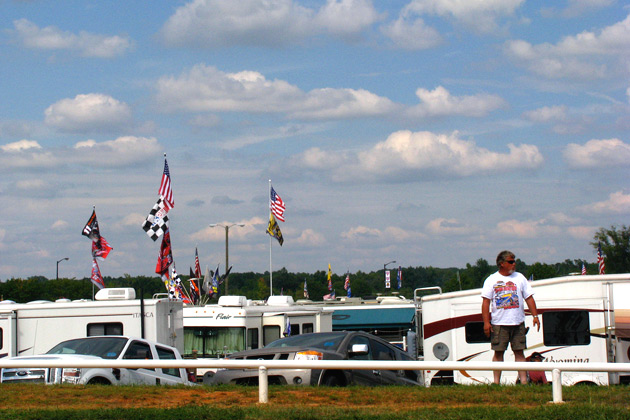 Image via Flickr by alex_ford
These are the tailgating champions. We're talking about the type of guy who would buy a school bus and turn it into a race weekend haven. In fact, that's exactly what Frank McCullough did back in 2000. By the time he was through with it, the black bus could carry a dozen people and included three televisions, three grills, a roof patio, and a slew of flags that represented his favorite sports teams and drivers. And yes, he won the Michigan International Speedway's best campsite award.
They Wear a Tire by Their Favorite Driver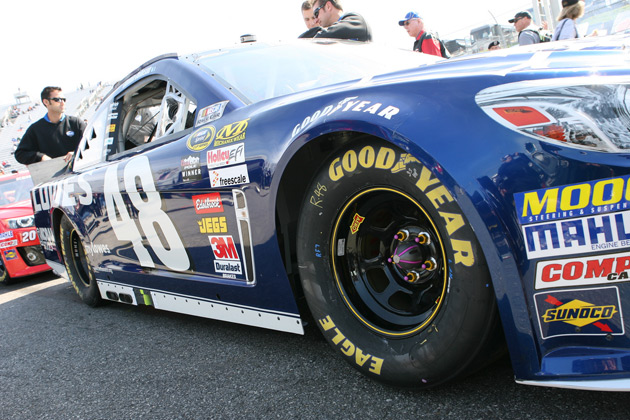 Image via Flickr by raniel diaz
The Talladega Tire Man first made a splash in the media in 2010 when social media realized that a half-naked man was walking around wearing a tire at every Talladega event. That man, Chris MacNicol, is celebrating his 10th year in the role.
It all started back in 2004 when he bought a tire that Joe Nemechek qualified with. He couldn't carry the tire, his drink, and his cooler all the way back to his campsite, so he decided to wear the tire around his waist instead. That tire is still the one he wears today. But don't start thinking this is a side job. He makes it clear that he does it for the fun of it and that he simply enjoys being able to convey his passion for NASCAR.
They Have a Shrine in Their House Dedicated to NASCAR Collectibles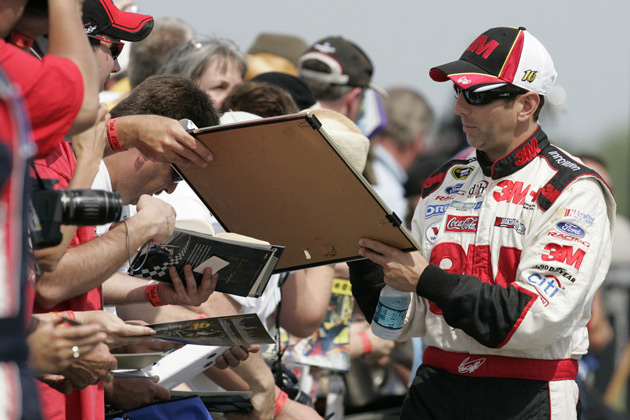 Image via Flickr by Ford Racing
When MacNicol first bought his Joe Nemechek tire, he was putting together a tire side table for his man cave. The room, as you might have guessed, was full of NASCAR collectibles and memorabilia. If you're looking for a memorabilia fanatic, you'll have to look to Ryan Richmond. He's got a display case in his room to display NASCAR memorabilia in addition to a Gordon street sign (his favorite driver) and a blanket with Gordon's numbers and colors. He's so dedicated that The Pocono Record picked him as the most die-hard fan in the area.
They Cling to the Racetrack Fence for the Best View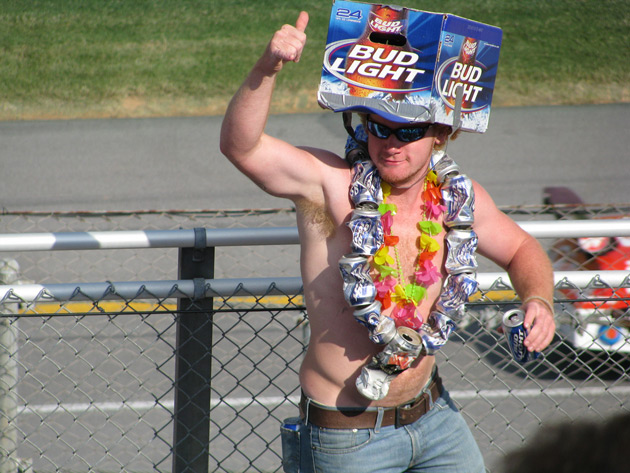 Image via Flickr by o_dmentd_o
There's a fence around the racetrack for a reason — cars can go flying. But that doesn't stop this guy. With a beer in hand, he's got his face smashed up against the fence so that he can feel the rush of cars flying past him at more than 200 mph. If there happens to be a crash that sends him flying, at least he'll die happy. At least that's probably what he told security when they hauled him out of the restricted area.
They'd Rather Go Hungry Than Accept Food From an Enemy Sponsor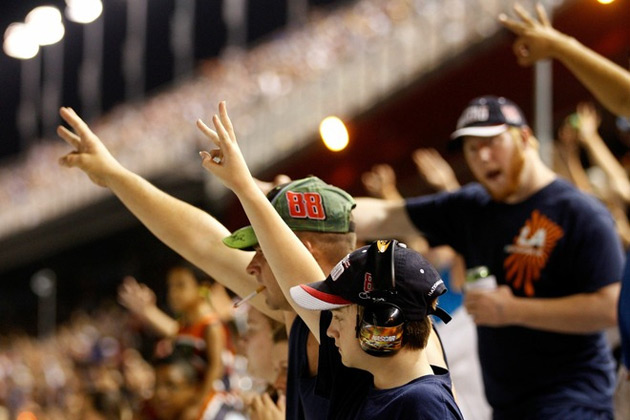 Image via Flickr by Jr 88 Rules
Jordan Dodson of Popular Speed points out that, in other sports like baseball and football, the competitors represent cities, and this allows people's fandom to become a natural extension of their hometown pride. In NASCAR, however, the competitors represent sponsors, but this doesn't stop fans from expressing their support. In fact, Performance Research shows just how loyal NASCAR fans are: 70 percent of NASCAR fans would choose a NASCAR driver-sponsoring company over a different company based on their sponsorship alone. That's more than golf enthusiasts give to golfer's sponsors (just more than 40 percent) and way more than Olympic sponsors get (about 15 percent) from fans.
Basically every NASCAR fan will shop selectively to help their driver, if they can. It's one of the things that keep the sport alive. But here's what separates the casual enthusiast from the die-hard fan: An ultimate Dale Earnhardt, Jr. fan would rather die of thirst than accept a bottle of water from a Coca-Cola spokesman because they know Pepsi's Mountain Dew is supporting Earnhardt; an ultimate Joe Gibbs fan would rather let his house burn down than stop at Lowe's instead of Home Depot. Now that's a dedicated fandom.
Are you an ultimate fan? What's the craziest thing you've done to support your team?