The Top 5 Paul Walker Movies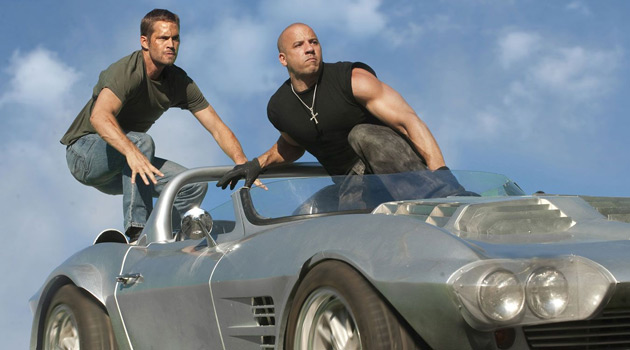 When news broke about Paul Walker passing away on Saturday, social media went into a frenzy. Just about every celebrity tweeted about Paul, and how he was such a remarkable man. He was an adventurer, traveled off the coast of Mexico catching great white sharks. While his day job was as an actor, a man that everyone wished they could be, he would often give back to communities in need and travel to countries like Haiti and Chile during their times of crisis.
I've compiled a list of some of his greatest hits. I truly enjoyed much of his work. Sure, he wasn't going to be an Oscar contender, but he made some pretty manly movies. Enjoy the list, and if you haven't seen any of these films, I highly recommend you give them a chance!
Into the Blue (2005) – Ironically this was on Saturday night. This movie isn't amazing by any stand point but it is beautifully shot. Walker plays Jared who lives in the Bahamas and happens to find smuggled drugs at the bottom of the ocean with a few friends and his girlfriend Sam (played by Jessica Alba.) Its a fun action film that isn't going to blow you away but you will be highly entertained. Throw in Scott Caan and Josh Brolin for cheeky supporting roles adds a little more flare to the film. Plus combine beautiful views of the Bahamas with an even more beautiful view of Jessica Alba.
Varsity Blues (1999) – Once again this isn't the ideal amazing sports movie, but once again we get a truly entertaining film that has been spoofed dozens of times. It's essentially Friday Night Lights before Friday Night Lights came to the small screen. Walker plays Lance the starting two year all state quarterback who blows out his knee and can't play for the rest of his career. Walker takes more of a supporting role in this flick but its a feel good drama none-the-less. James Van Der Beek stars and Jon Voight, Amy Smart and once again Scott Caan play supporting roles.
Running Scare (2006) – This movie is just odd, but I really enjoyed it and was kept on the edge of my seat. It's an extremely fast paced film with subplots out the wazoo. Basically, Walker plays Joey Gazelle who is a low level mobster. Gazelle has to stash a gun for his boss, but when his son's best friend finds the gun and uses it on his abusive step-father it becomes a race to who can find Oleg (the neighbor) first. Cameron Bright and Bates Motel's Vera Farmiga co-star.
Joy Ride (2001) – Now I was going to put this at the #1 spot, but I thought there would be backlash. Joy Ride is one of my favorite thrillers from the 2000's. It's funny, intense and original. Written by Lost's J.J. Abrams, Joy Ride tells the story of Lewis who offers to pick up his childhood crush Venna from college and take her home. Along the way he has to pick up his brother Fuller (played by Steve Zahn) from jail. When Fuller buys a CB radio to play pranks on truckers, he coaxes his brother into playing a prank on a trucker intending to meet up at a hotel room together. When the plan goes horribly wrong, the trucker called "Rusty Nail" is out for blood for both Lewis and Fuller. This is early Walker but its a great movie and still holds up to thrillers coming out in 2013.
Fast and the Furious Franchise (2001-2014) – I feel obligated to put Walker's most iconic role at number one because they have become one of the most successful franchises in cinema history. Though some have been duds (I'm looking at you 2009's Fast and Furious), they have largely been critical successes including the last two Fast Five and Fast & Furious 6. The seventh installment was slated to hit the big screen in 2014. The last I read, they were still in the midst of shooting the movie, and that given these recent developments, it would be put on hiatus for now. But I can't imagine that they would scrap the movie altogether. With loopy timelines and limited acting, there are people who can't stand these fast paced racing films. We should just take them for what they are, mindless entertainment with some pretty sweet women and some pretty sweet racing.