The Vozz RS 1.0 Motorcycle Helmet Does Away With The Chinstrap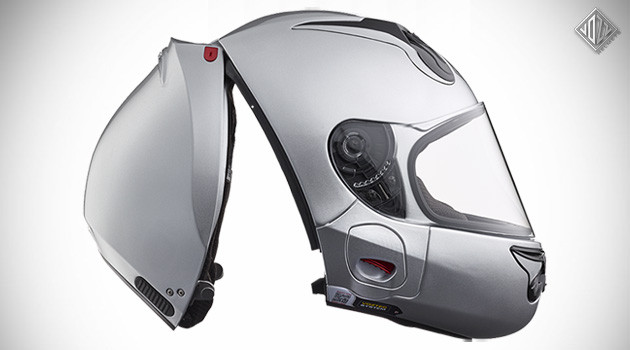 Australian company Vozz Helmets is getting ready to introduce a revolutionary helmet design that challenges the nearly century-old pull on-pull off helmet with a chinstrap, and all I can say is that it's about time!
Riders who wears glasses know all too well the challenges of wearing a full-faced helmet, having to take off your glasses first and then slip them back on through that little opening. The Vozz RS 1.0 helmet solves that problem by splitting vertically in two parts that pivot around a hinge at the top back of the shell. This opening offers ample space for the head to slide into the helmet and then it only takes is a little pressure to reattach the two parts via two locking mechanisms.
By eliminating the need for an opening big enough for the head to slide in, the helmet can be tailored for a closer fit. The tighter fit and more chin coverage means less air can enter from under the helmet, resulting in less aerodynamic lift to the head at high speeds, less noise and better heat insulation in the cold.
And in the event of an accident, the helmet can be separated into two parts by removing the two screws that hold the upper hinge in place, making it possible for emergency personnel to remove the helmet without moving the neck or applying any pressure to the rider's head.
The video below shows you the Vozz RS 1.0 helmet works:

While pricing hasn't been announced, Vozz claims that it will be offered at a competitive price. But we won't have to wait too long to find out, as the helmet goes on sale on December 23rd at www.vozzhelmets.com.