Tomorrow Is National Whiskey Sour Day!
We're a sucker for drinking holidays. It's not that we need an excuse to drink, but justification is always nice. So it's with open cabinets and freezers that we welcome National Whiskey Sour Day, celebrated each August 25th.
A regular Whiskey Sour is really easy to make, but why not turn things up a notch? The folks at Wild Turkey have a great drink recipe to try out this on this special day, take a gander: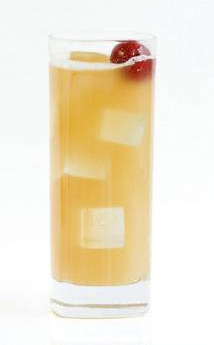 Wild Turkey Whiskey Sour 101
Ingredients:
1 1/2 ounces Wild Turkey 101 Bourbon
1/2 ounce fresh squeezed grapefruit juice
1/2 ounce fresh squeezed lime juice
1/2 ounce honey
1 fresh cherry
1 ounce Wild Turkey American Honey
Dollop of egg white
Preparation:
Slice cherry from top to bottom five times around pit, and soak in a cup of Wild Turkey American Honey. Combine Wild Turkey Bourbon, grapefruit juice, lime juice and honey in a cocktail shaker. Froth egg white and add a dollop to the mixture. Shake and serve over ice. Garnish with Wild Turkey American Honey-soaked cherry.
—
Recipe and photo provided by Campari America for consumers of legal drinking age. Please enjoy our brands responsibly and in moderation.