Rollin' Around In A 2015 Cadillac Escalade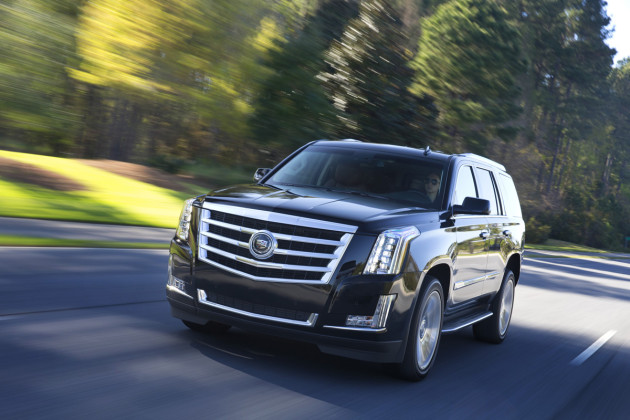 They see me rollin'.. they hatin'.. If you finish that with "white and nerdy," I will bust a cap in yo' ass. Word.
For a week, I trolled the various roads and byways of Eastern Wyoming in a 2015 Cadillac Escalade 4WD Premium with 22-inch ultra-bright aluminum wheels, Dark Granite Metallic paint and a Kona Brown leather interior. This $84,000 piece of magnificence is all-new for 2015 and proved to me that Cadillac knows they have a winning formula with this big sport utility and didn't want to mess with it any more than they had to.
The Escalade's signature look is its squared, blocky appearance accentuated by angular edges and gleaming trim. The 2015 Escalade keeps that look and makes it even more in your face with added sharp edges that somehow all look horrid individually yet fall together into a package that's oddly appealing.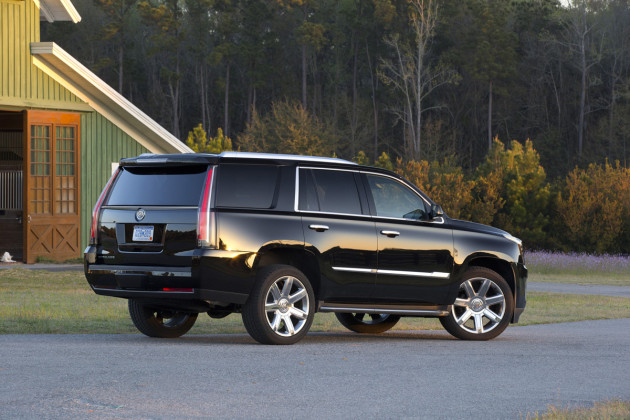 The knife-edge square front fenders are quite atrocious, as is the weird fin-like rear tail lamp tower jutting off the back end. Yet when these two corner elements are combined with the squared body, boat-like grille prow, and chrome-enhanced doors, it all comes together in a wonderful piece of street art. It's oddly luxurious and ostentatious at the same time. That's signature Cadillac right there.
Inside is even more Cadillac-idness. The plush, ultra-magnificent interior fittings and flashing display of added chrome, wood, and leather is only made more rich by the $2,000 Kona Brown leather with Jet Black accents. Those twenty bills add that luscious leather to all three rows and it's seriously swank.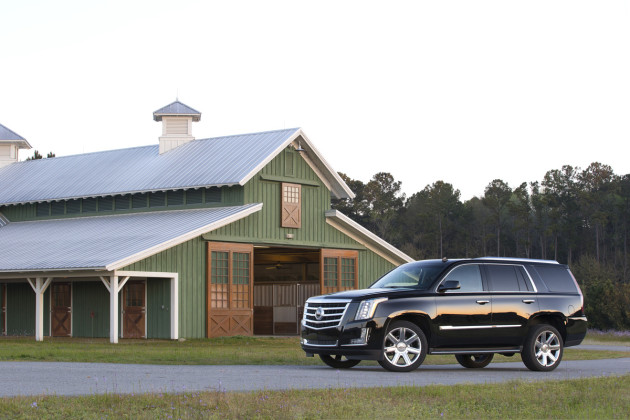 Climbing inside (with the help of the $1,695 auto-retracting assist steps), the driver is met with a wondrous display of LCD displays and combinations of car and truck controls that dazzle with their statements of muscular luxury. A beefy gear selector rides to the right side of the steering column, demanding a full fisted pull to get this rig moving. Yet directly below is a padded console edge so your delicate knee isn't bruised while driving and a "do everything for you" infotainment system waits nearby for your CUE. (You see what I did there?)
This mixture of power and comfort isn't unique to the 2015 Escalade, of course, but it's a juxtaposition that really works in this ride. One look at the specs on the Escalade show why.
This is a big SUV. Powered by a 6.2-liter V8 – which also runs the big GMC Sierra 1500 Denali I reviewed earlier this year – the Cadillac Escalade has a massive 420 horsepower, 460 pound-feet of torque, and the ability to tow up to 8,300 pounds thanks to a beautiful new eight-speed automatic transmission. That 8-speed replaces a less robust 6-speed automatic, which may appear on some early production 2015 Escalades. The 8-speed enabled us to coax a 16 mpg average out of the big SUV during our week behind the wheel.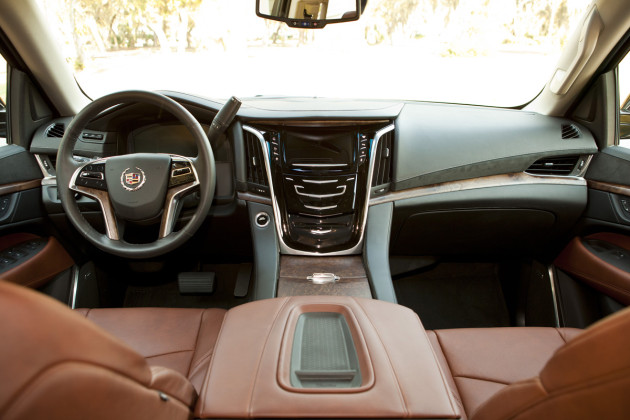 Driving the big beast is perilously enjoyable. The Escalade attracts attention with its bold styling and it rides very well considering its truck roots. The plush interior means that everyone inside is comfortable and the addition of some much-needed goodies like a power-folding third row, fold-forward second row, adaptive cruise control, and rear entertainment system are big bonuses.
Although we didn't commit any drive-bys, I was informed by a friend that the "gun port" (aka sunroof) was too small for such activity. Which may have been Cadillac's newest and least-touted safety measure for the 2015 Escalade. On the other hand, we did commit mass acts of child hauling and grocery getting in the big SUV and there were episodes of Sponge Bob involved. It was quite Krayzie.
OK, I'll stop now. I got some JavaScript to code in Klingon.